Two high-powered defense lawyers, one local and one not, have officially entered the Mar-a-Lago classified documents criminal case as attorneys of record for former President Donald Trump.
The court docket shows that Christopher Kise and Todd Blanche respectively noticed an appearance and received permission to appear pro hac vice in the historic 37-count national security case brought by Special Counsel Jack Smith. With fellow attorneys Jim Trusty and John Rowley out of the picture, the new faces of the criminal defense team are tasked with saving the former president from centuries' worth of criminal liability while also reining in the unhelpful out-of-court attacks that have become a mainstay of Trump's response to investigations — whether those probes be political, civil, or criminal.
"WHEREFORE, Christopher M. Kise, moves this Court to enter an Order for Todd Blanche, to appear before this Court on behalf of President Donald J. Trump, for all purposes relating to the proceedings in the above-styled matter and directing the Clerk to provide notice of electronic filings to Todd Blanche," local counsel Kise wrote in a Tuesday motion seeking on Blanche's behalf pro hac vice permission to defend Trump in court against the Espionage Act prosecution alleging 31 counts of willful retention of national defense information, a conspiracy to obstruct, and more. U.S. District Judge Aileen Cannon the same day granted Blanche permission to appear.
Here's what you should know about Kise and Blanche before their motions challenging the government's case heat up.
Chris Kise
Chris Kise burst onto the scene in the weeks after the FBI searched Mar-a-Lago in August 2022, as the Trump team launched its ill-fated lawsuit seeking the appointment of a special master and an injunction blocking the feds from reviewing materials seized as part of the search. Kise, reports soon said, was paid $3 million by Trump's Save America PAC to represent the former president in both the Mar-a-Lago and Jan. 6 probes headed by Special Counsel Smith.
At the time of his hire, Law&Crime noted that Kise was formerly Florida's solicitor general and had a link to Gov. Ron DeSantis (R). Kise served on DeSantis' transition team and played a role in derailing the campaign of Democratic rival Andrew Gillum back in 2018. DeSantis narrowly won the race after Kise publicized that Gillum accepted free tickets to the Broadway musical Hamilton from an undercover FBI agent posing as a developer.
Federal prosecutors went on to charge Gillum with wire fraud and lying to the FBI in an indictment that cited the ticket scandal. As recently as May 4, a jury acquitted Gillum of lying to the FBI and did not reach a verdict on numerous wire fraud counts, prompting prosecutors on May 15 to dismiss the indictment against the former Tallahassee mayor and his co-defendant.
Kise is currently of counsel at the law firm Continental PLLC, which represents "clients facing complex legal, political, and business issues."
According to his bio, the Florida State University College of Law grad has "litigated on behalf of major corporations and high-profile business and political leaders for over 30 years, providing legal and strategic advice in cases involving complex corporate, environmental, healthcare and white-collar defense issues."
Kise also touted his history of arguing cases in the U.S. Supreme Court, a frequent stop for Trump cases in recent years.
On top of his experience counseling the DeSantis transition team, Kise also served as general counsel for then-Gov. Rick Scott's (R) transition team, his bio noted.
Todd Blanche
Todd Blanche, a former federal prosecutor in the Southern District of New York, is a white collar criminal defense attorney perhaps best known for representing former Trump campaign chairman Paul Manafort in New York and for representing Trump in the Manhattan DA's felony falsification of business records case.
Blanche, who appeared alongside Trump at the Manhattan arraignment in April, spent time that day defending his client's out-of-court and online responses to the indictment. He also railed against leaks to the media.
"It is true that President Trump has responded, and responded forcefully," Blanche said at the time. "It is true that as part of that response, he's absolutely frustrated, upset, and believes that there is a grave injustice happening with him being in this courtroom today."
Aside from the Trump Manhattan case, Blanche's law firm bio lists the dismissal of Manafort's state indictment on double jeopardy grounds among his career accomplishments. He also referenced his representation of former Rudy Giuliani associate Igor Fruman.
Blanche wrote that some of his "most successful" cases can't even be talked about with specificity.
"Beyond these high-profile representations, Todd has successfully represented both companies and individuals facing grand jury subpoenas, criminal charges, regulatory inquiries and actions, and investigating and responding to internal investigations. Many of Todd's most successful representations remain confidential because the government or regulator declined to prosecute or otherwise proceed against the individual or company."
Blanche's history as a federal prosecutor and supervisor of "investigations and prosecutions involving public corruption, securities fraud, bank and wire frauds, Medicare and federal program frauds, RICO violations, violent crimes, and other criminal violations" is the kind of legal experience Trump's defense sorely needs.
What about Walt Nauta's lawyer?
As of Wednesday morning, Trump's accused co-conspirator Waltine "Walt" Nauta — a U.S. Navy veteran and aide who reportedly satisfied the 45th president's Diet Coke demands while working as a White House valet — does not have an attorney of record listed on the Mar-a-Lago docket. Because Nauta was not represented by local counsel on Tuesday, he did not enter a not guilty plea and will have to appear later in June for an arraignment. Washington, D.C., attorney Stanley Woodward Jr. is, however, known to represent Nauta.
Woodward, whose law firm bio touts "a decade of experience counseling companies and individuals responding to government and internal investigations as well as complex civil litigation," has in recent months and years represented former Trump trade adviser Peter Navarro, Jan. 6 defendant Ryan Samsel, Jan. 6 defendant Freddie Klein, and Florida Oath Keeper Kelly Meggs.
The attorney's bio also noted his experience working as a law clerk at both the D.C. Court of Appeals and the D.C. Superior Court. The Catholic University of America Columbus School of Law alumnus' application for a judgeship at the latter court has been a source of controversy in the Trump case.
In November 2020, Woodward was one of the candidates selected by the Judicial Nomination Commission to fill a vacancy on the D.C. Superior Court. The Guardian recently reported about a Nov. 2022 exchange between Woodward and Jay Bratt, the Justice Department's chief for Counterintelligence and Export Control Section in the National Security Division, as the government tried to secure Nauta's cooperation.
The report said that Bratt brought up Woodward's pending judicial application during a meeting, potentially as small talk, out of genuine surprise, or, as Trump allies have suggested, due to an untoward motive:
Bratt then turned to Woodward and remarked that he did not think that Woodward was a "Trump guy" and that "he would do the right thing," before noting that he knew Woodward had submitted an application to be a judge at the superior court in Washington DC that was currently pending, the letter said.

The allegation, in essence, is that Bratt suggested Woodward's judicial application might be considered more favorably if he and his client cooperated against Trump. The letter was filed after Trump's lawyers submitted a motion on Monday seeking grand jury transcripts, because of what they viewed as potential misconduct.
That Woodward-Bratt meeting is what Trump was talking about in two Truth Social "truths" he posted last week: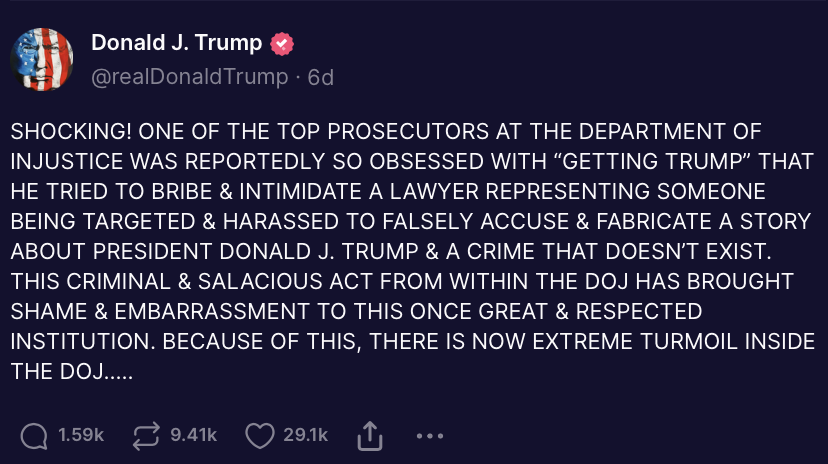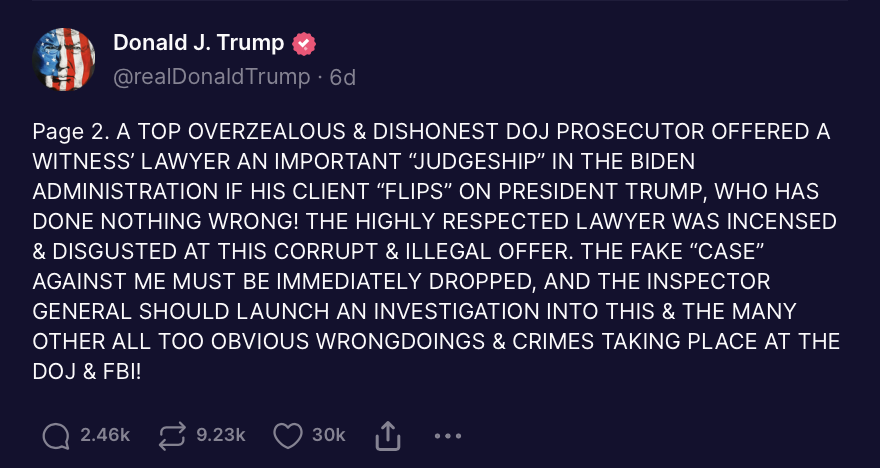 The Mar-a-Lago docket lists Bratt as the prosecutor, along with David Harbach and Julie Edelstein.
A Tuesday minute order said that Woodward would file a motion to appear pro hac vice in the case. Nauta's arraignment was set for 9:45 a.m. on June 27.
Adam Klasfeld contributed to this report.
Have a tip we should know? [email protected]