Donald Trump's federal indictment in the Mar-a-Lago classified documents criminal investigation has been unsealed, revealing that the former president faces decades of prison time if convicted as charged.
The indictment contains dozens of counts of willful retention of national defense information, plus charges for conspiracy to obstruct justice, false statements, corruptly concealing a document, and more.
Special Counsel Jack Smith spoke Friday afternoon and commented on the "gravity" of the charges.
"This indictment was voted by a grand jury of citizens from the Southern District of Florida and I invite everyone to read it in full to understand the scope and the gravity of the crimes charged," Smith said. "The men and women of the United States intelligence community and our armed forces dedicate their lives to protecting our nation and its people. Our laws that protect our national defense information are critical for the safety and security of the United States and they must be enforced."
"We have one set of laws in this country, and they apply to everyone," he added. Smith, who took no questions, said he would seek a speedy trial.
According to the indictment, classified documents were kept at various places at Trump's Mar-a-Lago club, including in a bathroom, a shower, and the former president's bedroom.

"The classified documents TRUMP stored in his boxes included information regarding defense and weapons capabilities of both the United States and foreign countries; United States nuclear programs; potential vulnerabilities of the United States and its allies to military attack; and plans for possible retaliation in response to a foreign attack," the indictment said. "The unauthorized disclosure of these classified documents could put at risk the national security of the United States, foreign relations, the safety of the United States military, and human sources and the continued viability of sensitive intelligence collection methods."
The special counsel alleged that there's proof that Trump showed off the documents in July 2021 at Trump National Golf Club in Bedminster, N.J., "during an audio-recorded meeting with a writer, a publisher, and two members of his staff, none of whom possessed a security clearance."
This is the development that CNN reported about earlier Friday, that prosecutors had Trump on a 2021 tape saying that he had "secret" military documents about attacking Iran that he could have declassified, but didn't.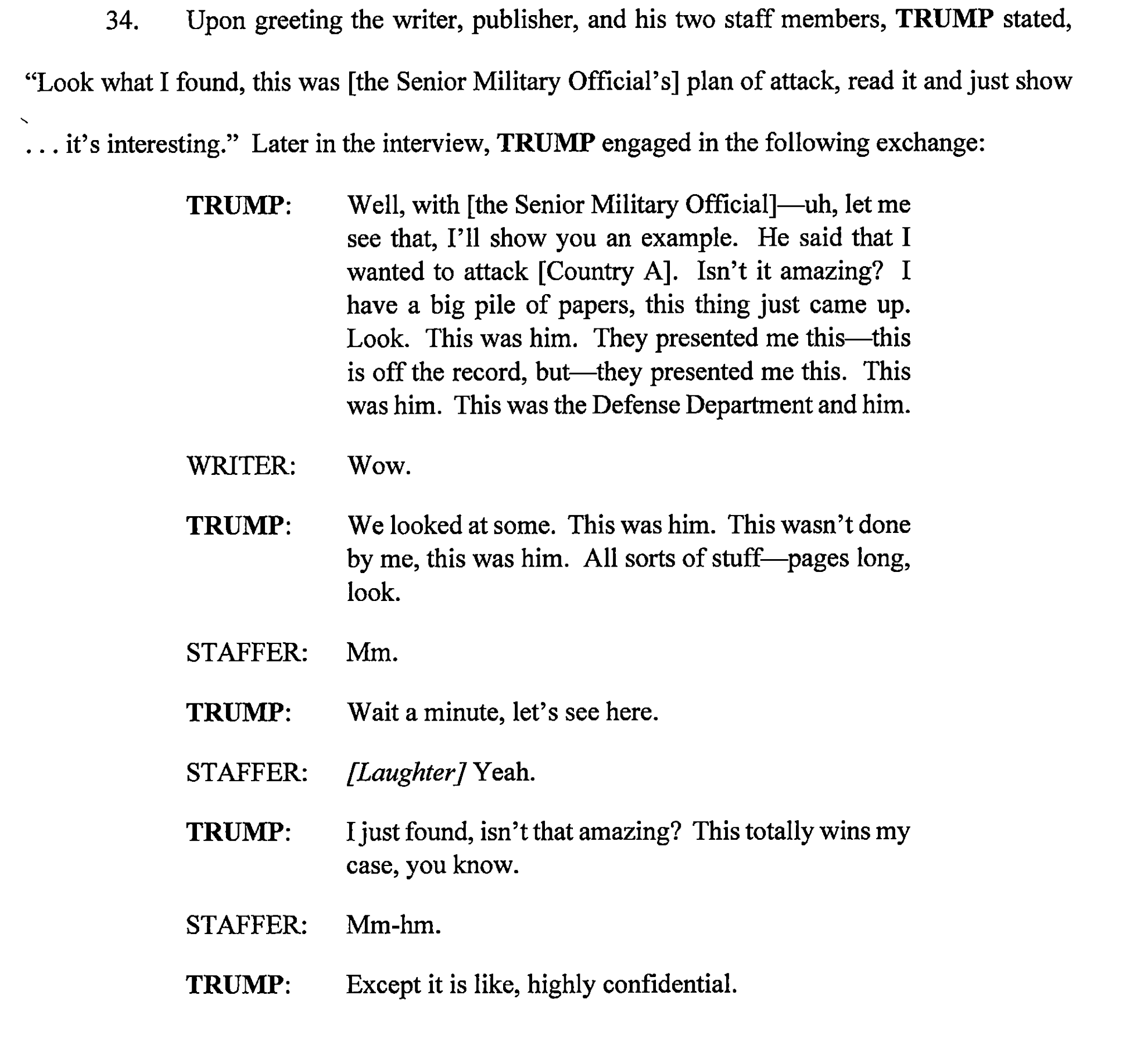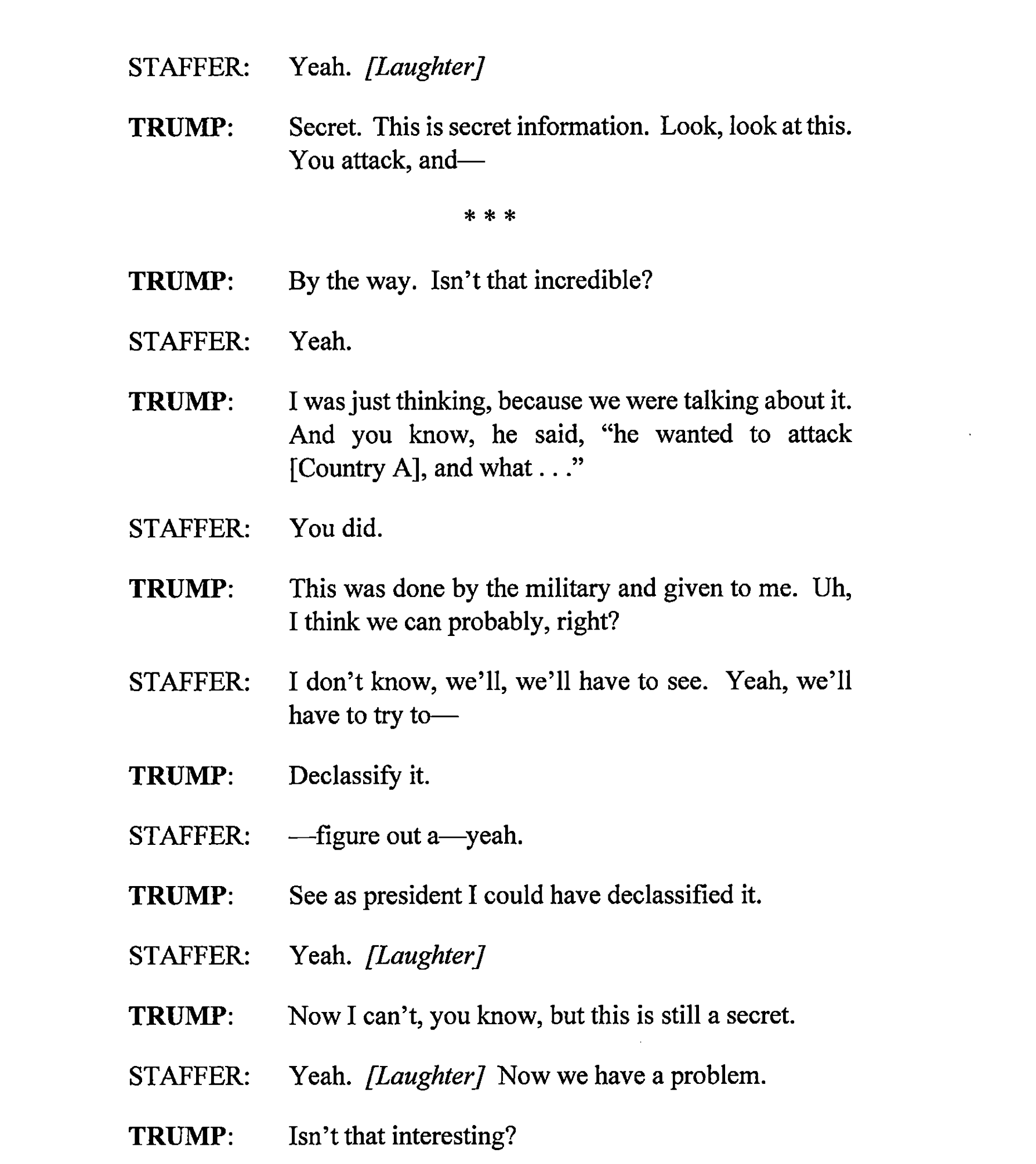 "TRUMP told the individuals that the plan as 'highly confidential' and 'secret,'" the indictment said. "TRUMP also said, 'as president I could have declassified it,' and, 'Now I can't, you know, but this is still a secret.'"
Prosecutors said that Trump in August 2021 or September 2021 at Bedminster also showed a "representative of his political action committee who did not a possess a security clearance" a classified map related to a military operation. Trump allegedly admitted to this person that he shouldn't be showing the map in question.
The indictment also features an alleged co-conspirator, Trump aide Walt Nauta, as reported earlier Friday.
According to the feds, Trump "endeavored to obstruct the FBI and grand jury investigations and corneal his continued retention of classified documents" in several ways, including by allegedly "directing" Nauta to "move boxes of documents to conceal them from TRUMP's attorney, the FBI, and the grand jury."
The indictment said that Trump's alleged scheme to hide the documents was why his lawyer ended up signed a false disclosure that the classified materials were returned to the U.S. government.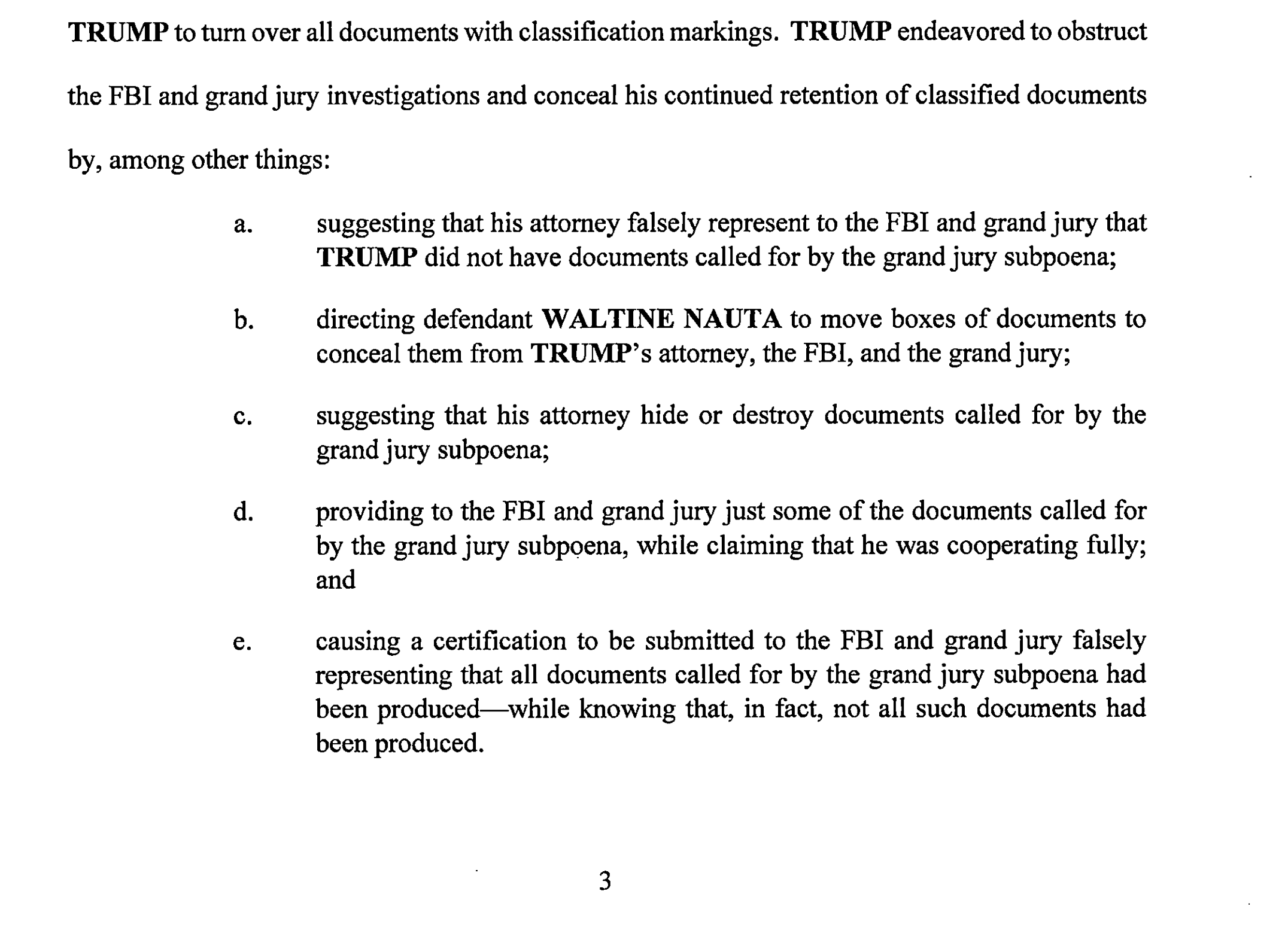 As Law&Crime previously reported, attorney Christina Bobb signed the disclosure in June 2022 attesting that Trump had returned all of the documents subject to a May 2022 subpoena. The statement Bobb signed, however, was authored by Trump attorney Evan Corcoran, according to The New York Times.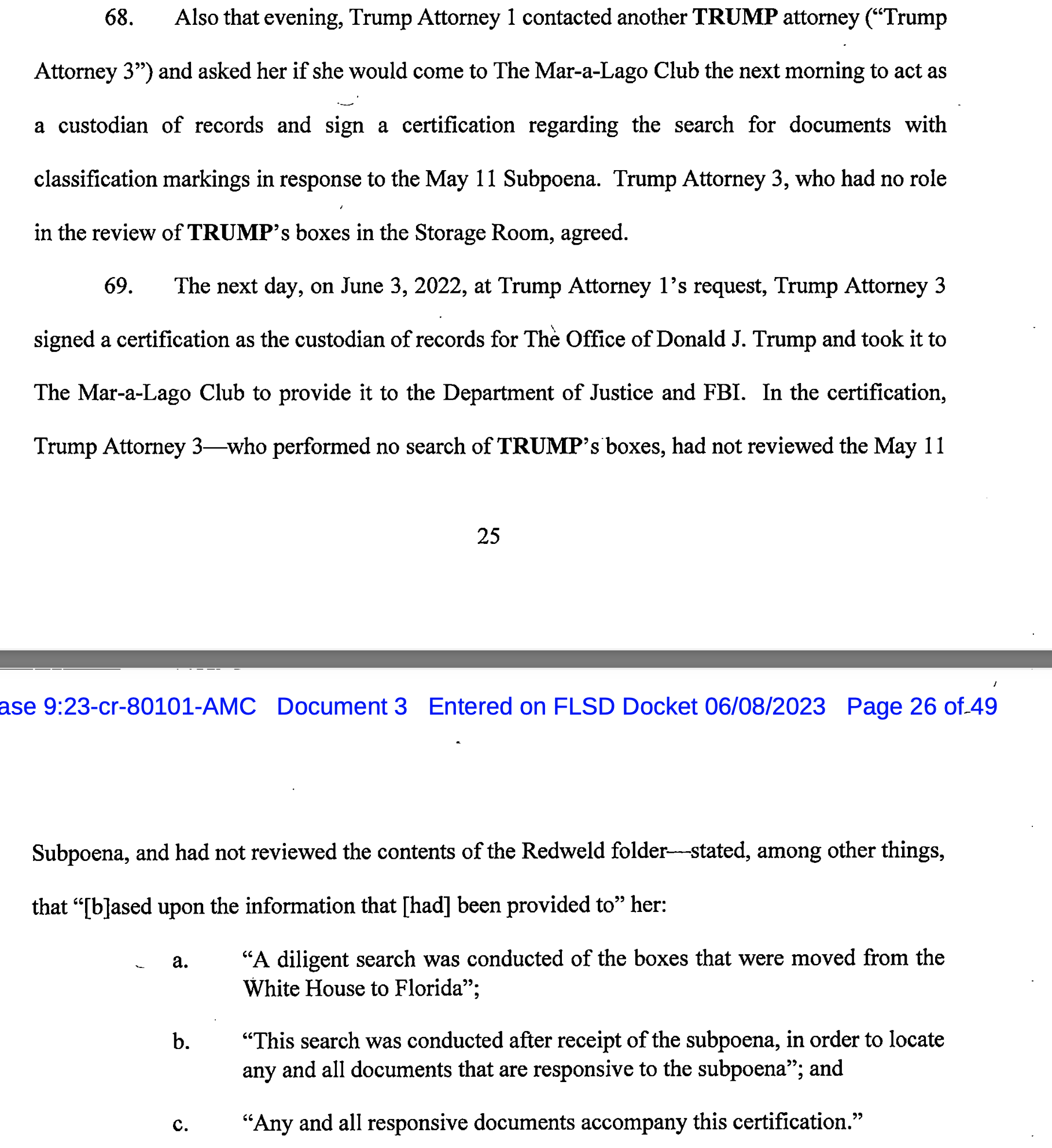 The first 31 counts Trump faces are for willful retention of national defense information, under 18 USC §793(e), the Espionage Act.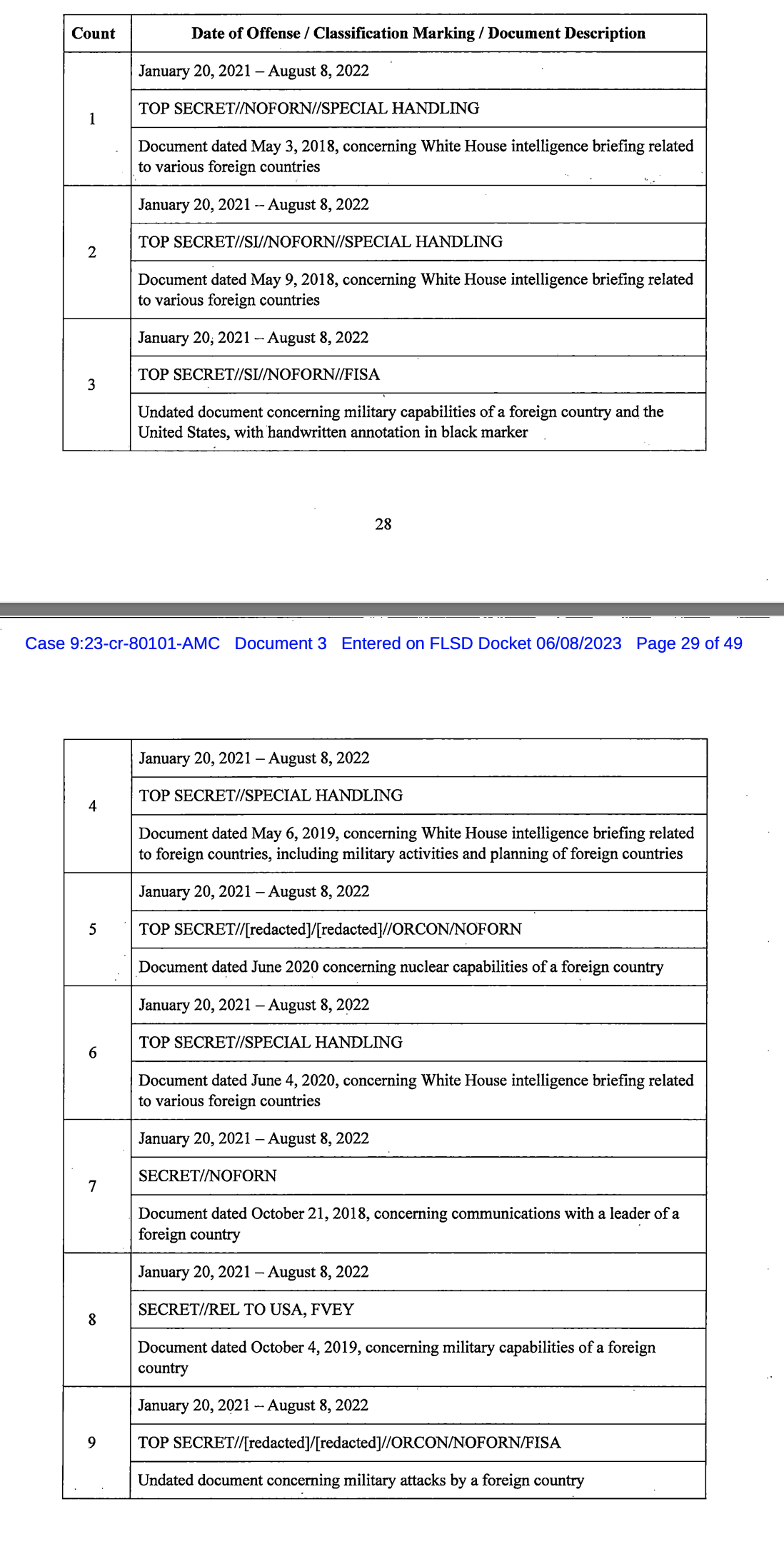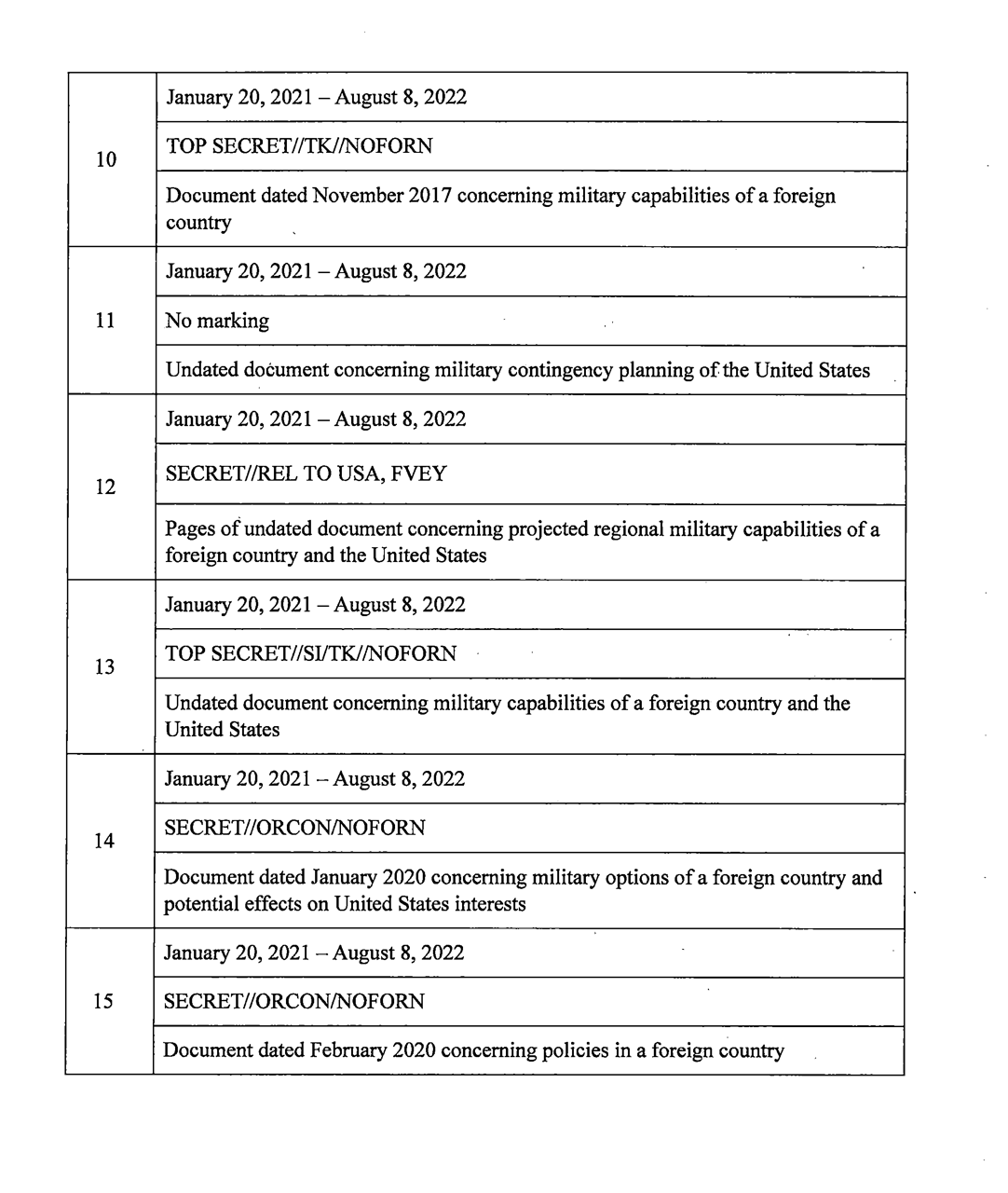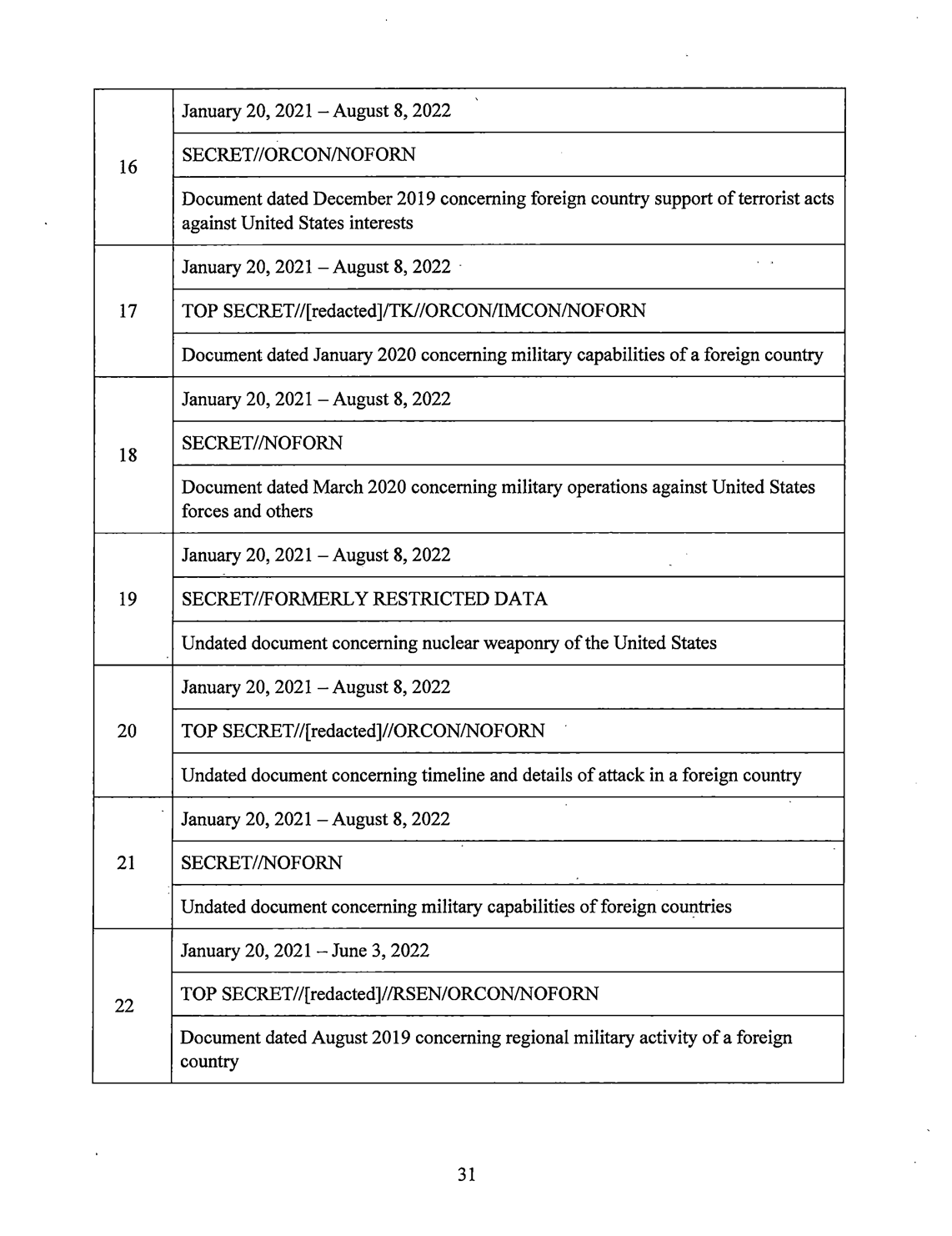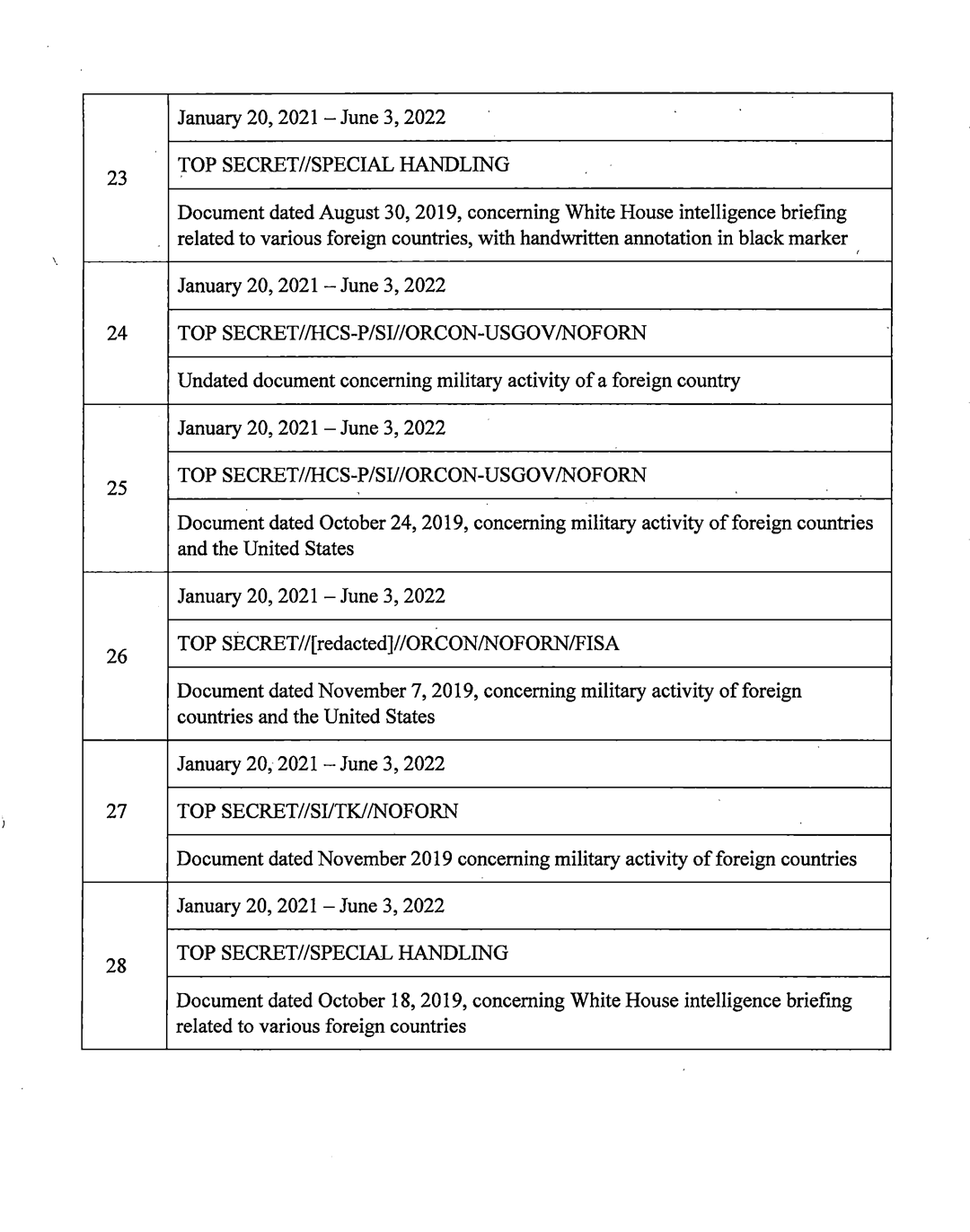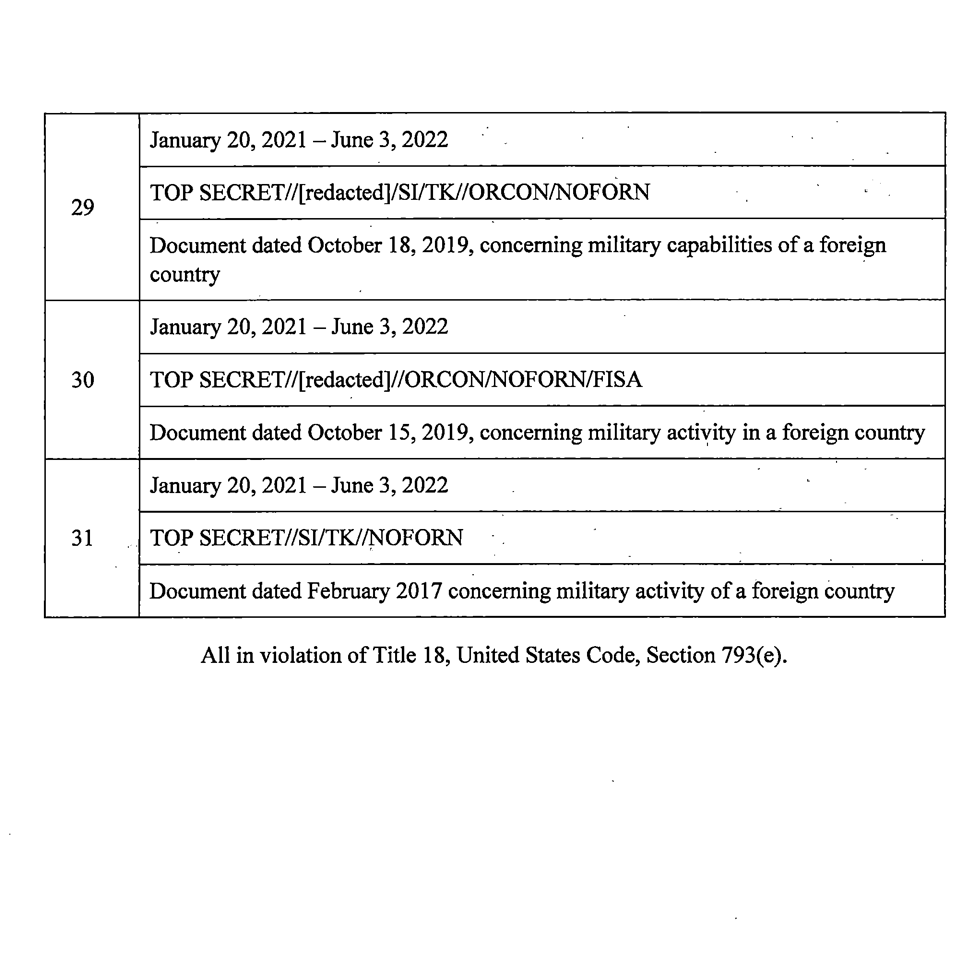 Count 32 is conspiracy to obstruct justice, under 18 USC §1512(k); counts 33-36 (withholding a document or record, corruptly concealing a document or record, concealing a document in a federal investigation, and scheme to conceal) name both Trump and Nauta; count 37 is a false statements charge against the former president for his alleged role in the false attestation his lawyers submitted to the feds; and count 38 is a false statements charged against Nauta.
The lattermost charge alleges that Nauta lied during a voluntary interview with the feds, claiming to investigators that he "honestly just [doesn't] know" about where the boxes of classified documents were kept or how they were moved.

As for potential prison time? Technically speaking, a willful retention charge is punishable by up to 10 years (and there are 31 of those counts). The rest of Trump's charges are, again, technically punishable by a sum total of 90 years, according to the numbers of the penalty sheet that the government included with the indictment. For those counting, that's a total of 400 years worth of criminal liability.
While any eventual prison sentence will not realistically equal centuries behind bars, prominent national security lawyer Bradley Moss told Law&Crime that this case nonetheless puts the former president in serious "danger" of going to prison for years.
"These allegations, and the charges derived from them, represent and clear and concise danger to Mr. Trump," Moss said. "It is easily conceivable to see him facing years in prison over this."
Trump is set to be arraigned at 3 p.m. on Tuesday. The court docket confirms what was reported earlier, that U.S. District Judge Aileen Cannon, a Trump appointee, has been assigned the case. A panel of Republican-appointed judges on U.S. Court of Appeals for the 11th Circuit previously found Cannon "improperly" ruled in Trump's favor when she appointed a special master and blocked the feds from continuing their criminal investigation after Mar-a-Lago had already been searched.\
The docket also shows that Chief U.S. Magistrate Judge Edwin G. Torres unsealed the indictment Friday, following Special Counsel Smith's motion to unseal the case "in the public interest."
Have a tip we should know? [email protected]