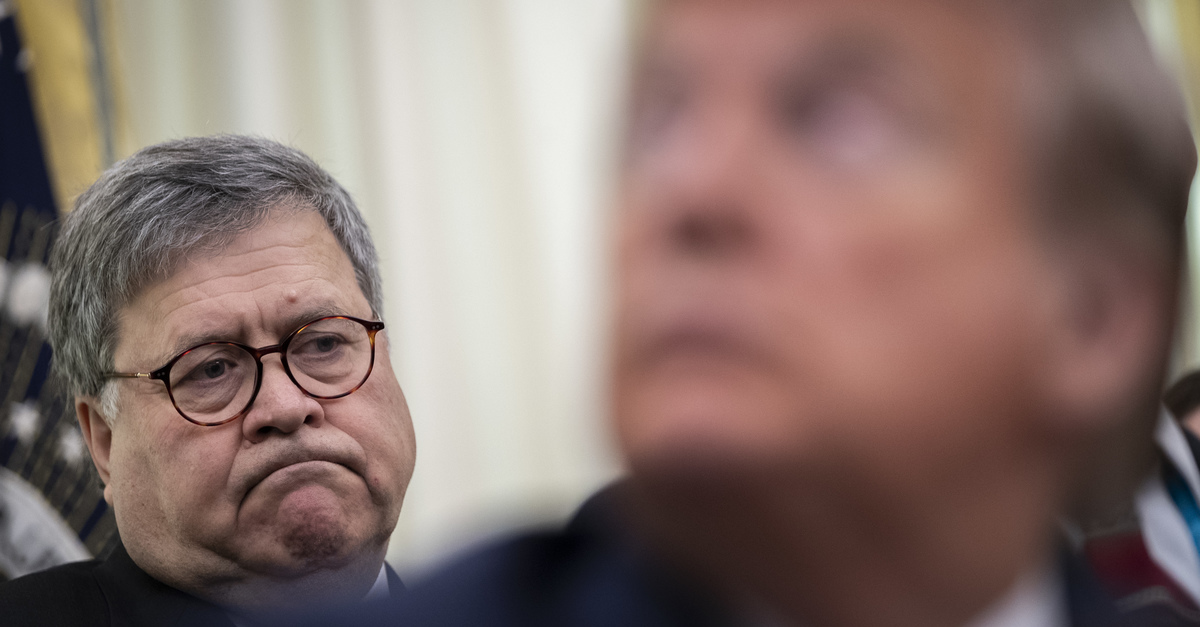 The Justice Department on Thursday told a federal judge in Washington, D.C. that the House of Representatives can legitimately impeach a sitting president for refusing to comply with congressional subpoenas, an assertion that candidly belies one of the central tenets of the president's legal defense in his Senate impeachment trial, where his attorneys have repeatedly argued that the charges are invalid because they fail to "allege any crime or violation of law."
James Burnham, one of the DOJ's top attorneys, said that a subpoena issued by the House for documents relating to the Trump administration's efforts to add a citizenship question to the 2020 Census could not be enforced by a federal court, contending that lawmakers were only permitted to utilize legislative tools and strategies in seeking compliance from the executive branch.
"If [the subpoenas] are enforceable in the courts that would be a revolution in the history of the relationship between the branches," Burnham said, adding, "These cases would multiply like rabbits."
When pressed by U.S. District Judge Randolph Moss to explain the difference between a subpoena detached from judicial enforcement and a voluntary request, Burnham replied, "without hesitation," that lawmakers could tactically enforce the subpoena by withholding appropriations or impeaching the president.
Contra to the DOJ's stance on congressional subpoenas, Republican lawmakers and the president's attorneys have steadfastly maintained that the House's impeachment inquiry is fatally flawed because Democrats failed to try and enforce subpoenas for documents and testimony in court. The Trump legal team has repeatedly hammered the House on that point.
House impeachment manager Rep. Adam Schiff (D-Calif.) brought up the DOJ's arguments on Thursday.
"Today, while we've been debating whether a president can be impeached for essentially bogus claims of privilege, for attempting to use the courts to cover up misconduct, the Justice Department in resisting House subpoenas, is in court today," he said.
"So the judge says, 'If the Congress can't enforce its subpoenas in court, then what remedy is there?' And the Justice Department lawyer's response is: 'Impeachment! Impeachment!'" Schiff exclaimed as the chamber erupted in laughter.
SCHIFF: "While we've been debating whether POTUS can be impeached for bogus claims of privilege, the DOJ is resisting subpoenas in court today… the judge says 'if Congress can't enforce its subpoenas, what remedy is there,' & DOJ's response is impeachment! You can't make it up" pic.twitter.com/Tim1HHDgBO

— Aaron Rupar (@atrupar) January 30, 2020
"You can't make it up!" Schiff said, adding, "What more evidence do we need of the bad faith of this effort to cover up?"
This is the third time since the Senate impeachment trial began last week that conflicting positions like the one above have been noticed. The DOJ has argued in opposition to enforcing congressional subpoenas in court in an effort to prevent former White House counsel Don McGahn from testifying. DOJ has also argued that Congress cannot access Robert Mueller's grand jury materials because impeachment is not a "judicial proceeding" (Ken Starr argued in the Senate that an impeachment is a judicial proceeding).
[Image via Drew Angerer/Getty Images]
Have a tip we should know? [email protected]