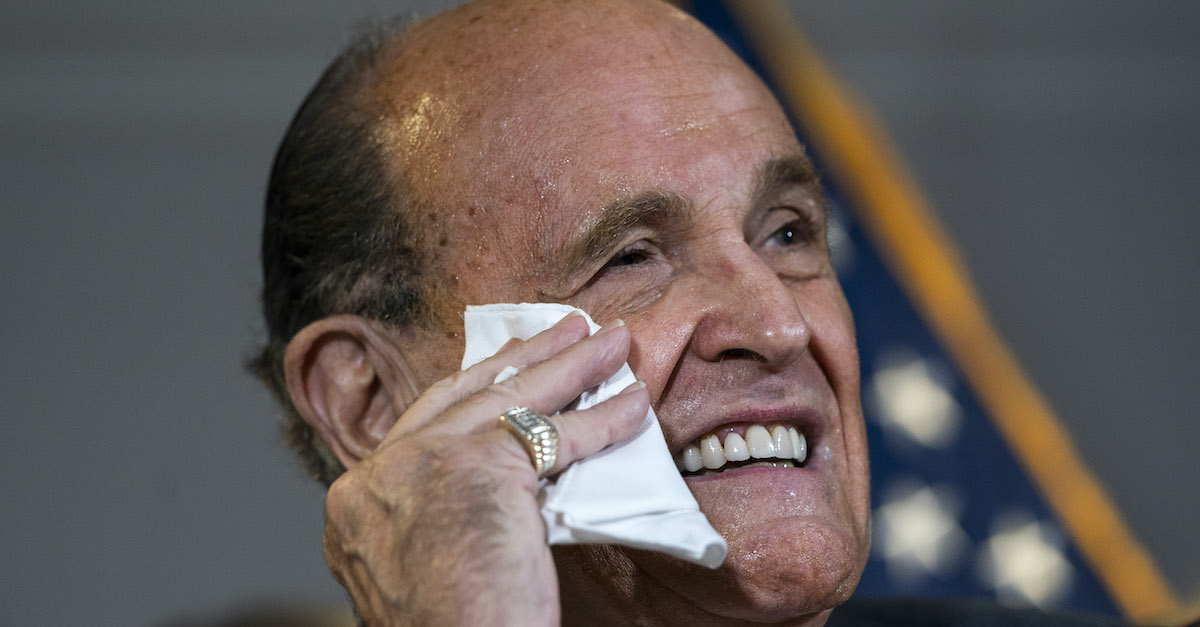 Former New York City Mayor Rudy Giuliani, reportedly stiffed after trying and failing to overturn the 2020 election for Donald Trump, has been sued—like Sidney Powell was before him-for a billion dollars. Dominion Voting Systems began its lawsuit on Monday by noting that Giuliani did not use his unforgettable federal court appearance in Pennsylvania to allege fraud. Instead, Giuliani "cashed in" on the "Big Lie" by making those allegations outside of the courtroom, hawking cigars and gold coins along the way, because he "knew those allegations were false," Dominion's lawyers claimed.
"As a result of the defamatory falsehoods peddled by Giuliani—in concert with Sidney Powell, Russell Ramsland, L. Lin Wood, Mike Lindell, Patrick Byrne, Lou Dobbs, Fox News, Fox Business, Newsmax, One America News Network ('OAN'), The Epoch Times, and other like-minded allies and media outlets determined to promote a false preconceived narrative about the 2020 election—Dominion's founder and employees have been harassed and have received death threats, and Dominion has suffered unprecedented and irreparable harm," said the lawsuit filed in the U.S. District Court for the District of Columbia.
Thomas Clare, a defamation attorney representing Dominion, did not rule out suing now-private citizen Trump down the line. He told the New York Times that the Giuliani suit could be a vehicle for learning just how involved the 45th president was behind the scenes in all of this.
"We're not ruling anybody out. Obviously, this lawsuit against the president's lawyer moves one step closer to the former president and understanding what his role was and wasn't," Clare said.
Recall that the Trump campaign publicly distanced itself from Powell—the chief purveyor of the absurd theory that Hugo Chavez had played a role in robbing Trump of reelection from beyond the grave—after she, Giuliani, Jenna Ellis, Joe diGenova and others styled themselves as an "elite strike force" legal team that would soon unleash the "Kraken." As of late Nov. 2020, this was reportedly too "crazy" for Trump to get on board with, but that quickly changed.
Even still, as Dominion noted, the Trump campaign and Rudy Giuliani did not sign Powell and Lin Wood's "Kraken" suits:
Knowing That the Claims Against Dominion Were False, Rudy Giuliani and the Trump Campaign Decline to Sign on to the Sham Litigations Filed by Sidney Powell and L. Lin Wood

On November 25, Powell and her Georgia-based ally and co-counsel L. Lin Wood filed lawsuits together in federal courts in Georgia and Michigan. (Wood is known for using Twitter—until his account was permanently suspended on January 6, 2021—and Parler—before it was de-platformed—to falsely accuse Chief Justice John G. Roberts of being a child-murdering pedophile and to call for Vice President Mike Pence to be executed by "firing squad" for "treason.") In their lawsuits, Powell and Wood alleged "massive election fraud" in the 2020 election, claiming that Dominion was "founded by foreign oligarchs and dictators to ensure computerized ballot-stuffing and vote manipulation to whatever level was needed to make certain Venezuelan dictator Hugo Chávez never lost another election."
The article of faith on the right that Dominion Voting Systems handed Joe Biden the presidency, repeated time and again by Trump and his allies outside of court but never succeeding in court, culminated on Jan. 6 with a deadly siege of the U.S. Capitol. At the rally the preceded the invasion, Giuliani said, "Over the next 10 days, we get to see the machines that are crooked, the ballots that are fraudulent. And if we are wrong we will be made fools of but if we're right, a lot of them will go to jail."
People went to jail, all right.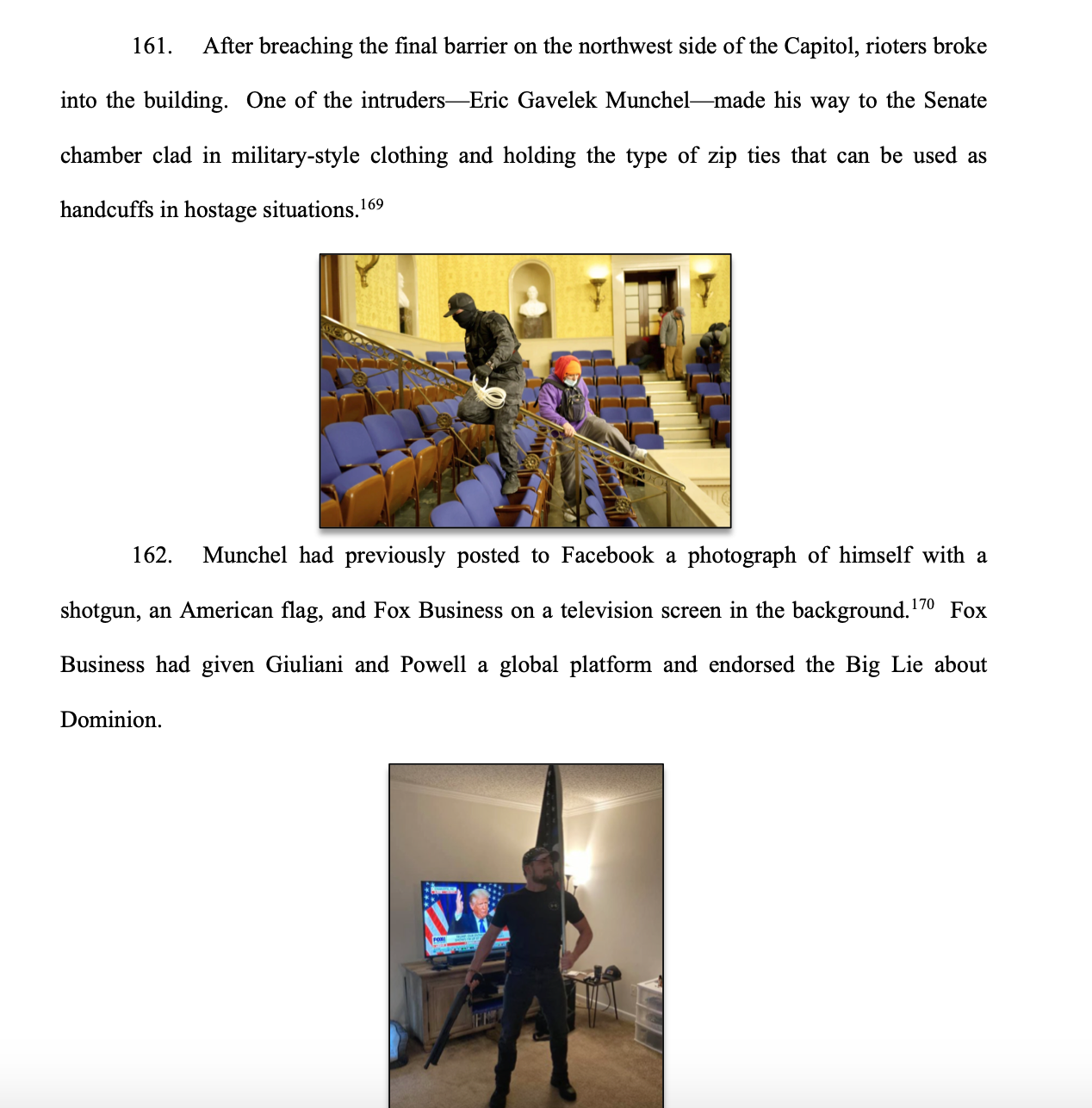 "So let's have trial by combat. I'm willing to stake my reputation," Giuliani went on. "The president is willing to stake his reputation on the fact that we're going to find criminality there."
Now Dominion is saying let's have a trial.
The stated goal of the lawsuit is to "set the record straight, to vindicate the company's rights under civil law, to recover compensatory and punitive damages, and to stand up for itself, its employees, and the electoral process."
The lawsuit provided several examples of disturbing threatening messages sent to Dominion employees and Dominion offices. Per the filing, this one was sent to Dominion's "customer support line":
You're all fucking dead, You're all fucking dead. We're bringing back the firing squad and you fuckers are all dead, everybody involved up against the wall you motherfuckers. We're gonna have a fucking lottery to fucking give people a chance to shoot you motherfuckers you fucking wait you cocksuckers you commie pieces of shit. We're going to fucking kill you all you motherfuckers. After a fair trial of course you pieces of shit. The American people are fucking coming for you this is the end of your fucking line guys your fucking days are numbered you better enjoy your Thanksgiving because you'll never see another one you fucking cocksuckers. You will be gone soon. Happy Thanksgiving. Cock suckers. You're almost done just watch and see what happens. Check out the executive order from September 12, 2018. You'll see what's going to happen. You'll own nothing. You'll be on the fucking 2030 plan because you'll own nothing you fucking cocksuckers. It's coming. Buckle your fucking seatbelts. Watch what's going to happen next.
Dominion, alleging defamation per se, seeks "compensatory damages of not less than $651,735,000" and "punitive damages of not less than $651,735,000."
"Giuliani has not retracted his false claims about Dominion, and many of his false and defamatory television and radio appearances and tweets remain available online to a global internet audience. Indeed, to this day, he continues to double down on the Big Lie," the lawsuit said.
Giuliani responded to the lawsuit by threatening a countersuit and seemingly welcoming the billion-dollar litigation as a vehicle to investigate Dominion through discovery.
"Dominion's defamation lawsuit for $1.3B will allow me to investigate their history, finances, and practices fully and completely. The amount being asked for is, quite obviously, intended to frighten people of faint heart," Giuliani said. "It is another act of intimidation by the hate-filled left-wing to wipe out and censor the exercise of free speech, as well as the ability of lawyers to defend their clients vigorously. As such, we will investigate a countersuit against them for violating these Constitutional rights."
Read the 107-page lawsuit below:
Editor's note: story was updated with Giuliani statement.
[Image via Drew Angerer/Getty Images]
Have a tip we should know? [email protected]