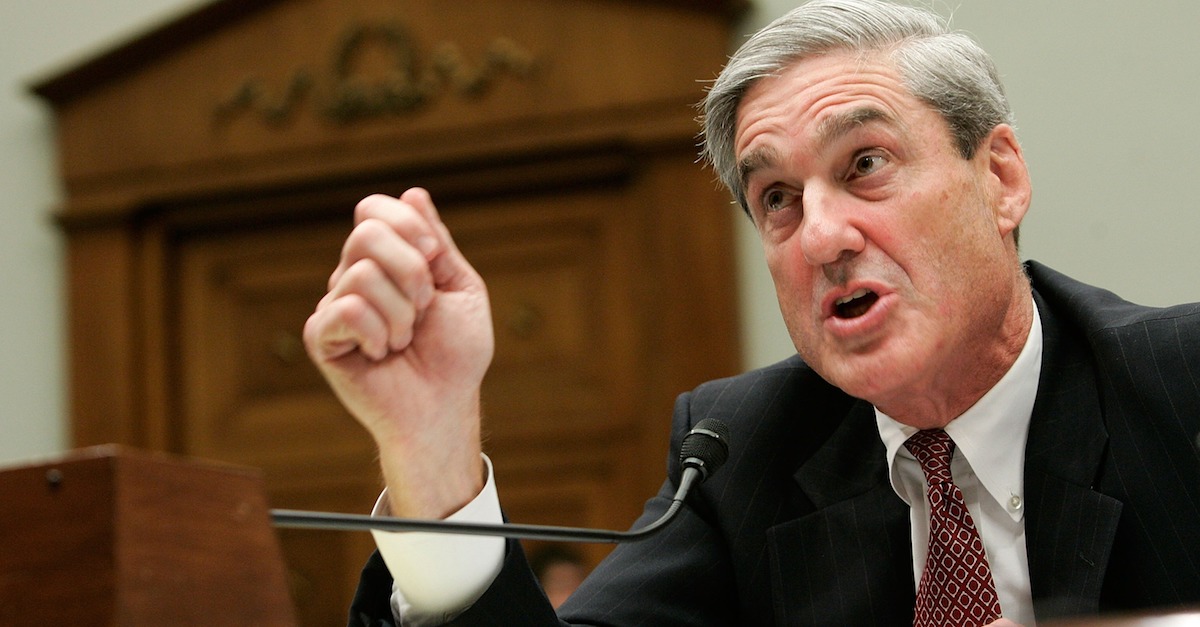 Special counsel Robert Mueller broke his silence on Matthew Whitaker's appointment as acting Attorney General of the United States in a supplemental brief filed on Monday in the United States Court of Appeals for the District of Columbia.
Mueller took great pains to point out that Whitaker's appointment had no legal bearing whatsoever on former Roger Stone aide Andrew Miller's challenge of his authority as special counsel.
Controversy over Whitaker's replacement of Jeff Sessions continues and Mueller, fully aware of this, explained why Whitaker isn't a threat to him — at least as far as the Miller appeal is concerned.
Even though no challenge of Mueller's authority has up to now been successful, George Papadopoulos, the former Trump foreign policy advisor guilty of lying to the FBI, recently revealed he was hopeful that Miller's appeal would be "successful," so that it would be shown that Mueller "lacked constitutional authority" to prosecute him in the first place.
You may recall that Miller refused to comply with a Mueller grand jury subpoena, even after a judge ordered him to appear before said grand jury. Miller's attorney Paul Kamenar explained that Miller didn't show so he would be held in contempt — so that he could appeal U.S. District Chief Judge Beryl Howell's order in the District of Columbia.
Mueller is now explaining why Whitaker is irrelevant here.
This was the very first line of Mueller's argument: "The President's designation of Acting Attorney General Matthew G. Whitaker on November 7, 2108, has no effect on this case."
Mueller, who was appointed as special counsel by Deputy Attorney Rod Rosenstein (given Sessions' recusal), reminds us that he is currently facing three legal challenges to his authority: First, "whether Congress vested the Attorney General with statutory authority to appoint Special Counsels, consistent with the Constitution's Appointments Clause"; second, whether he is a "principal" or "inferior" officer as defined by the Constitution (his opponents argue he is a principal officer who needed to be confirmed by the Senate); third, whether Rosenstein as Deputy Attorney General had the authority to appoint Mueller as special counsel.
"All of those arguments turn on the May 17, 2017 appointment of the Special Counsel and the legal and regulatory frameworks that existed at the time of appointment," Mueller said. "None of those arguments is affected by the change in the identity of the Acting Attorney General while this case is on appeal."
"Acting Attorney General Whitaker's designation neither alters the Special Counsel's authority to represent the United States nor raises any jurisdictional issue. The Special Counsel continues to exercise the same authority, and the jurisdiction of the district court and this Court is intact," he added on the Whitaker situation.
It appears Mueller is filing this in an attempt to head off any attempt by Miller or his lawyer to use the Whitaker appointment against Mueller in appellate court. This is just one indication of that:
To the extent that Miller seeks to raise any new issues based on the designation of Acting Attorney General Whitaker, this appeal is not the proper proceeding in which to do so. Although this Court has discretion to address new issues that were not raised below, see Campbell v. District of Columbia, 894 F.3d 281, 288 (D.C. Cir. 2018), an exercise of that discretion is not warranted here.
Put another way, this is a way to prevent Miller from bogging down the appeal with extraneous arguments. Mueller said that if Miller wanted to pursue this, that would be something to take up with the lower court.
"The Court should now resolve the issues properly presented and leave any new legal claims that Miller might make for further proceedings below," Mueller concluded.
You can read the rest of the filing below.
Mueller comments on implications of Matthew Whitaker's hire by Law&Crime on Scribd
[Image via Alex Wong/Getty Images]
Have a tip we should know? [email protected]