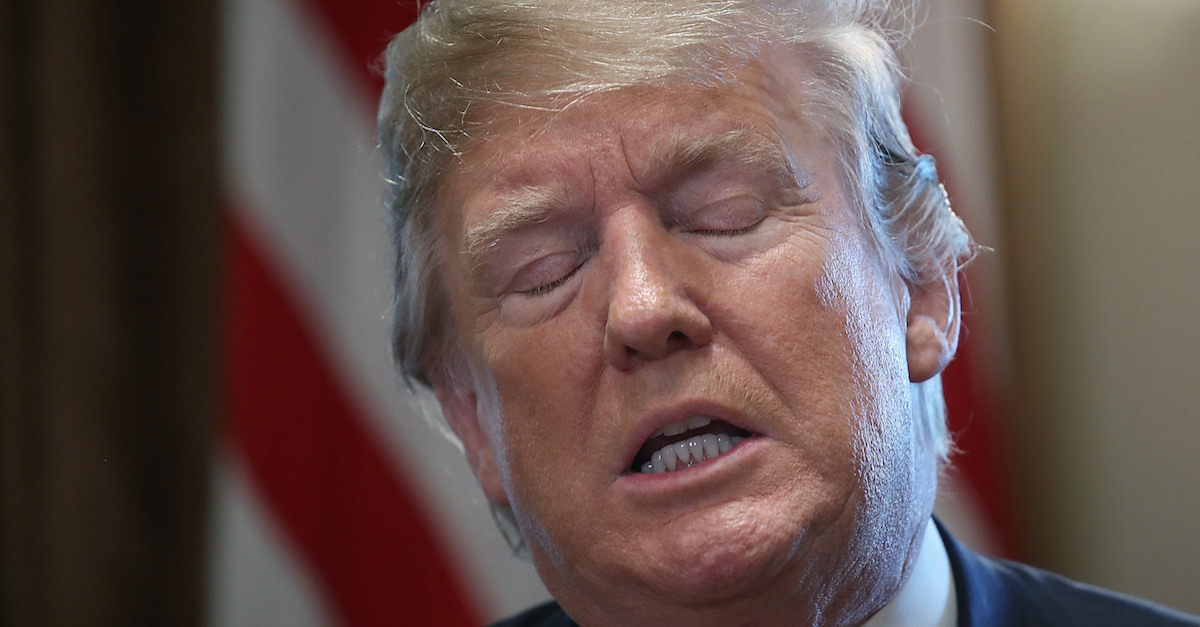 At least one former federal prosecutor who worked in the Southern District of New York (SDNY), the U.S. Attorney's office responsible for sending President Donald Trump's former attorney Michael Cohen to prison, is in agreement that it seems pretty clear prosecutors are "going after" Trump.
CNN legal analyst Elie Honig, who worked for eight years as an Assistant U.S. Attorney for the Southern District of New York and became the "worst nightmare" of mafia members, said that digesting Wednesday's events boils down to this: it was not a good day for the president.
"What it tells me from this distance is they are really focused on the President and his potential liability for the campaign finance violations," Honig told Time.  "If Donald Trump wasn't the President of the United States, I would take one look at this and say, they're circling the wagons around this guy. They're going after this guy."
Why might that be?
The SDNY also announced in a press release Wednesday that it "previously reached a non-prosecution agreement" with American Media Inc. (AMI), the parent company of the National Enquirer. AMI admitted to "catching and killing" Playboy model Karen McDougal's story about an affair with Trump and paying her $150,000 to stay quiet about it.
Long-time Trump friend AMI CEO David Pecker previously got an immunity deal and his company, we learned Wednesday, will not be prosecuted. AMI admitted to paying McDougal "in concert" with the Trump campaign to prevent damaging allegations from influencing the election:
The Office announced today that it has previously reached a non-prosecution agreement with AMI, in connection with AMI's role in making the above-described $150,000 payment  before the 2016 presidential election. As part of the agreement, AMI admitted that it made the $150,000 payment in concert with a candidate's presidential campaign, and in order to ensure that the woman did not publicize damaging allegations about the candidate before the 2016 presidential election. AMI further admitted that it's principal purpose in making the payment was to suppress the woman's story so as to prevent it from influencing the election.

Assuming AMI's continued compliance with the agreement, the Office has agreed not to prosecute AMI for its role in that payment. The agreement also acknowledges, among other things, AMI's acceptance of responsibility, its substantial and important assistance in this investigation, and its agreement to provide cooperation in the future and implement specific improvements to its internal compliance to prevent future violations of the federal campaign finance laws. These improvements include distributing written standards regarding federal election laws to its employees and conducting annual training concerning these standards.
Immunity deals (one was also given to Trump Organization CFO Allen Weisselberg) and the non-prosecution agreement for AMI suggest that prosecutors are really interested in getting to the bottom of something bigger.
SDNY prosecutors were also quite open last Friday about how Individual-1 (Trump) came to "direct" Cohen to commit felonies, saying that coordination and an intent to influence the 2016 election were involved:
On approximately June 16, 2015, Individual-1, for whom Cohen worked at the time, began an ultimately successful campaign for President of the United States. Cohen had no formal title with the campaign, but had a campaign email address, and, at various times advised the campaign, including on matters of interest to the press. Cohen also made media appearances as a surrogate and supporter of Individual-1. During the campaign, Cohen played a central role in two similar schemes to purchase the rights to stories – each from women who claimed to have had an affair with Individual-1 – so as to suppress the stories and thereby prevent them from influencing the election. With respect to both payments, Cohen acted with the intent to influence the 2016 presidential election. Cohen coordinated his actions with one or more members of the campaign, including through meetings and phone calls, about the fact, nature, and timing of the payments.
In summary, on the same day that Michael Cohen, the president's former attorney, accepted responsibility in court for "each act that [he] pleaded guilty to," including the ones implicating the "President of the United States," federal prosecutors revealed that they have a non-prosecution agreement in place with AMI. The SDNY mentioned the influence of the 2016 election, and used words like "coordinated" and "in concert with" in both instances.
There has been some debate about the degree of criminal liability Trump faces for campaign finance violations. The president himself has gone from saying he didn't know about the hush payments made to former Playboy model Karen McDougal and porn star Stormy Daniels to calling this a "simple private transaction."
It remains to be seen how all of this will end up for Trump, but let's just say he doesn't seem to be "totally cleared."
[Image via Win McNamee/Getty Images]
Have a tip we should know? [email protected]