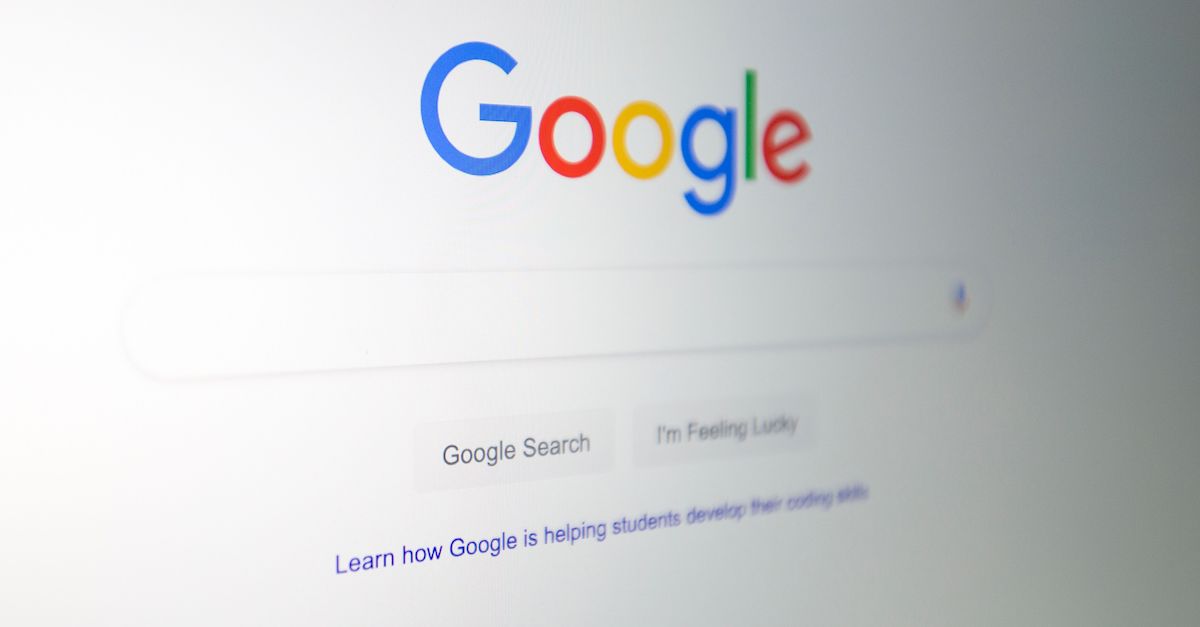 More than three dozen states, territories and the District of Columbia joined the legal onslaught against Google on Thursday, accusing the tech giant of "illegal conduct."
Attorneys general for the states, Puerto Rico, Guam, and Washington, D.C. filed the antirust lawsuit in the U.S. District Court for the District of Columbia, seeking to "restrain Google from unlawfully restraining trade and maintaining monopolies in markets that include general search services, general search text advertising, and general search advertising in the United States, and to remedy the effects of this conduct":
Google, one of the largest companies in the world, has methodically undertaken actions to entrench and reinforce its general search services and search-related advertising monopolies by stifling competition. As the gateway to the internet, Google has systematically degraded the ability of other companies to access consumers. In doing so, just as Microsoft improperly maintained its monopoly through conduct directed at Netscape, Google has improperly maintained and extended its search-related monopolies through exclusionary conduct that has harmed consumers, advertisers, and the competitive process itself. Google, moreover, cannot establish business justifications or procompetitive benefits sufficient to justify its exclusionary conduct in any relevant market.
The lawsuit comes one day after a Texas and several red states filed an antitrust lawsuit against Google. A bipartisan coalition of 38 attorneys general have filed a lawsuit of their own, noting they "also support the allegations in the complaint recently filed by a number of sister States and the United States Department of Justice."
New York Attorney General Letitia James (D), for one, said in a statement that it's time for Google's days of "unchecked corporate power" to come to an end.
"Google sits at the crossroads of so many areas of our digital economy and has used its dominance to illegally squash competitors, monitor nearly every aspect of our digital lives, and profit to the tune of billions. Through its illegal conduct, the company has ensured that hundreds of millions of people turn to Google first when looking for an answer, but it doesn't take a web search to understand that unchecked corporate power shouldn't have disproportionate control over our data and information," James said. "For decades now, Google has served as the gatekeeper of the internet and has weaponized our data to kill off competitors and control our decision making — resulting in all of us paying more for the services we use every day."
The Justice Department filed a much-anticipated antitrust lawsuit against Google in October, accusing the company of illegally maintaining a monopoly over the online search market.
The latest lawsuit alleges violations of § 2 of the Sherman Antitrust Act of 1890 ("§ 2 of the Act prohibits monopolization or attempts at monopolizing any aspect of interstate trade or commerce and makes the act a felony").
Plaintiffs first asked the court to "[a]djudge and decree that Google acted unlawfully to maintain monopolies in violation of Section 2 of the Sherman Act, 15 U.S.C. § 2, in any relevant market, including general search services, general search advertising, and general search text advertising." The attorneys general included eight more bullet points under their prayer for relief:
b. Enter any relief, as needed, to cure any anticompetitive harm from Google's conduct, prevent any future harm, and undo the continuing effects of past harm to competition, including those harms detailed herein: (a) agreements that limit the distribution to and/or use of potential or competitive general search engines by consumers; (b) the SA360 advertising tool that Google uses to further harm competition in the search-related markets; and (c) additional mechanisms of harm that artificially limit the ability of specialized vertical providers to acquire customers;
c. As needed, enter such relief to remove any ability of Google to harm competition by disadvantaging any current, potential, or nascent threat to its monopoly maintenance, including but not limited to structural divestitures as well as effective, monitorable, and measurable conduct remedies that eliminate the ability of Google to continue to reap benefits from its pattern of competitive harm;
d. Preliminarily and permanently enjoin Google from continuing to engage in the anticompetitive practices alleged herein;
e. Preliminarily and permanently enjoin Google from engaging in similar and related conduct in the future;
f. Grant such other equitable relief as the Court finds necessary to redress and prevent recurrence of Google's violations of the laws specified more fully above;
g. Enter any other preliminary or permanent relief necessary and appropriate to restore competitive conditions in the markets affected by Google's unlawful conduct and deprive Google of any advantages from its unlawful acts;
h. Award the states their reasonable attorneys' fees and costs; and
i. Enter any additional relief the Court finds just and proper.
Read the complaint below:
[Image via ALASTAIR PIKE/AFP/Getty Images]
Have a tip we should know? [email protected]