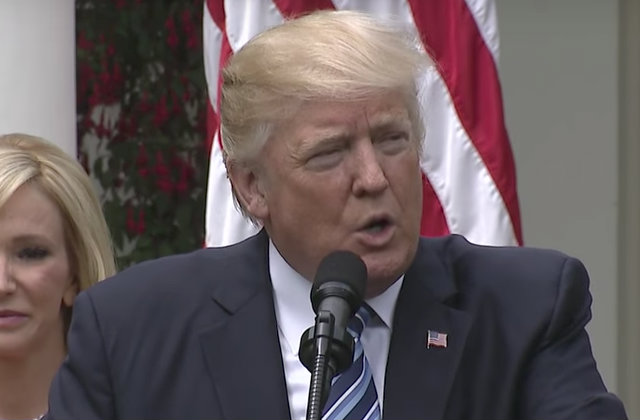 A Daily Beast report on Wednesday revealed that a company connected to President Donald Trump's campaign reached out to WikiLeaks prior to the 2016 election. Sources told the outlet that Alexander Nix, CEO of Cambridge Analytica, emailed several people related to the campaign that he had reached out to Julian Assange about getting access to emails from Hillary Clinton's private server, with a searchable database for the Trump campaign or a PAC supporting the campaign.
Assange confirmed this, but said he rejected the request. Of course, that might not matter, because just asking a foreign national like Assange for a campaign contribution is illegal.
52 U.S. Code § 30121 clearly states, "It shall be unlawful for … a person to solicit, accept, or receive a contribution or donation described in subparagraph (A) or (B) of paragraph (1) from a foreign national." Those subparagraphs describe a contribution or donation as including "money or other thing of value … in connection with a Federal, State, or local election."
This raises two questions.
First, does the information Nix reportedly requested count as a "thing of value?" It's certainly possible. Information has been deemed to count as a campaign contribution in the past. Polling data was considered to be a thing of value in a 1990 FEC advisory opinion, but that case involved data that had already been paid for by the donor prior to turning it over to a campaign. Since the data had a monetary value, it was easy to consider it a thing of value. Information alone may not necessarily count.
That being said, if there is evidence that Nix planned to pay Assange, or that Assange has charged for similar services, that might be enough.
The second question is whether the Trump campaign even knew about this. According to the Daily Beast report, no members of Trump's campaign were included on Nix's email. Still, one person included was Rebekah Mercer, who, along with her father Robert Mercer, have been accused by the Campaign Legal Center of having "de facto control" of Trump's campaign. An FEC complaint filed by the CLC in October noted that Rebekah Mercer ran a pro-Trump SuperPAC that paid Cambridge Analytica, which happens to be owned by Robert Mercer. That same complaint also mentioned that Cambridge Analytica had the same address as Steve Bannon's firm. Bannon, of course, was the chief executive of Trump's campaign.
Trump Campaign executive director Michael Glassner said in a statement, "We were proud to have worked with the RNC and its data experts and relied on them as our main source for data analytics. … Any claims that voter data from any other source played a key role in the victory are false."
That sounds like it's meant to be a denial that anyone other than the Republican National Committee played a role in the campaign, but that's not exactly what it says. It may be true that Cambridge Analytica didn't play "a key role in the victory," but the Beast's report merely says that the company tried to get information, and that's really all that matters here. Their failure to get the information, as Assange described, may have limited their impact on Trump's campaign, but solicitation is still solicitation.
With all this in mind, it would be hard to argue that the Trump campaign wasn't aware of Nix's reported activities. The evidence may be circumstantial, but it's likely strong enough to make out a reasonable FEC complaint over this.
[Image via White House]
Follow Ronn Blitzer on Twitter @RonnBlitzer
Have a tip we should know? [email protected]