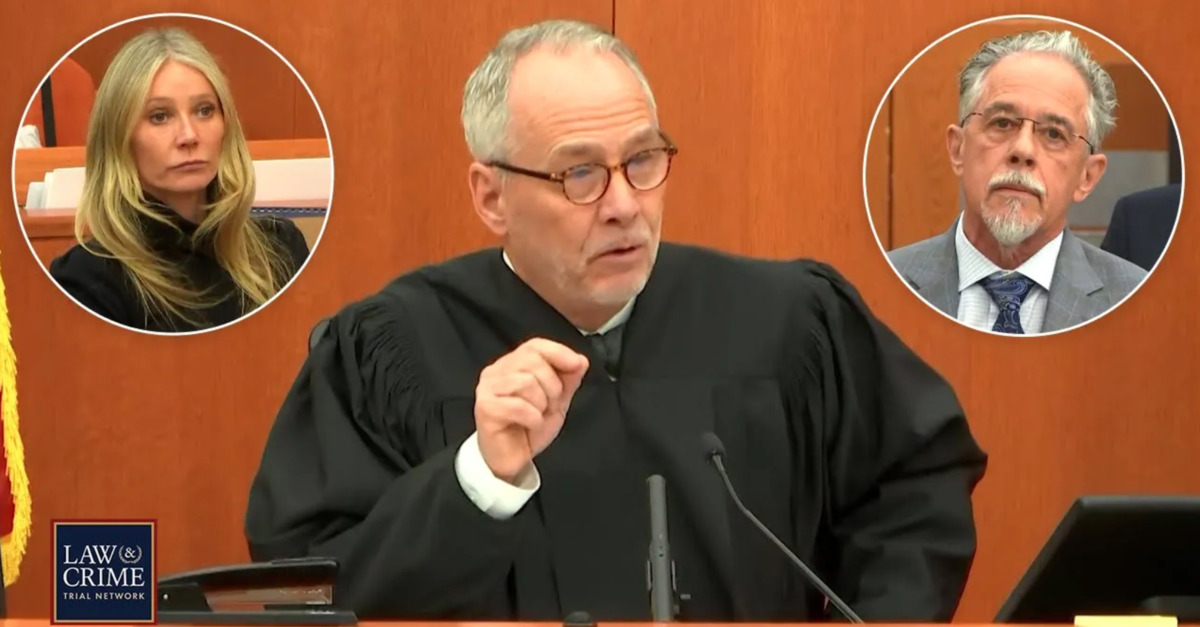 The judge overseeing the Gwyneth Paltrow ski crash trial discussed several housekeeping issues before attorneys delivered closing arguments in the high-profile negligence trial Thursday morning.
Sanderson's attorneys began by making and losing two directed verdict requests before Third District Court Judge Kent Holmberg.
Sanderson similarly lost a request to strike a spoliation of evidence jury instruction regarding the issue of what may or may not have happened to a GoPro that allegedly captured the crash on the slopes – which was added to the case by Paltrow's attorneys. No evidence during trial supported the idea Sanderson used such a device that day, however, one of the plaintiff's daughters wrote in an email that night that the incident was, in fact, captured on video by a "GoPro."
The court demurred on Sanderson's request for a directed verdict on attorney's fees – which are limited to bad faith claims under Utah law.
After hashing out the remainder of the jury instructions, Holmberg called in jurors and read out the task about to be placed in their charge – outlining the rules in which their verdicts must be reached.
The verdict does not need to be unanimous, the judge noted, there only needs to be six out of eight jurors agreeing on each question. Each question can be answered by a different set of six jurors, if necessary.
More Law&Crime coverage: Gwyneth Paltrow ski crash trial likely to be anything but simple, legal experts say
"If you decide that more than one person is at fault, you must decide each person's percentage of fault that caused the harm you determined was suffered in this case," Holmberg explained. "This allocation must total 100 percent. Mr. Sanderson's total recovery will be reduced by the percentage of fault that you attribute to him. If you decide that this percentage is 50 percent or greater, he will recover nothing. The same is true of Ms. Paltrow's recovery."
Sanderson, the judge noted, is not seeking economic damages. Paltrow, on the other hand, is seeking $1 in economic damages.
Sanderson, Holmberg explained, was seeking non-economic damages that would not be mentioned in the jury instructions themselves – but the amount would be specified later in closing arguments.
The judge explained non-economic damages as: "the amount of money that will fairly and adequately compensate Mr. Sanderson for losses other than economic."
More Law&Crime coverage: Gwyneth Paltrow's attorney tears into plaintiff in ski crash trial – refers to his old age and email saying 'I'm famous…'
Earlier in the morning, jurors heard from exactly one rebuttal witness brought by the plaintiff's side to dispute claims made by one of Paltrow's expert witnesses.
Technical difficulties with the complicated, math-and-physics-based testimony of Sanderson's witness, Dr. Richard Boehme, initially rendered those rebuttal efforts all but a waste of time. The Zoom connection repeatedly failed the plaintiff – forcing a regular phone call instead; a call that was dropped almost as soon as it started. Eventually, however, the technology issues were sorted out – though Paltrow's side complained they wouldn't be able to cross-examine the witness the way they had planned.
Boehme previously testified Sanderson's four broken ribs only could have been caused by Paltrow crashing into Sanderson from behind.
The actress' attorneys called biomechanical engineering expert Irving Scher to the stand earlier this week to dispute Boehme's claims – with his own, complicated, equations-based testimony.
"I think that accurately reflects the version that Ms. Paltrow testified to, which matches the law of physics and biomechanics as I understand them," Scher said, referring to a contested animation created by the defense that was shown to jurors. "Ms. Paltrow's version has them spooning as they're coming down together, which would make sense if their legs got caught up."
More Law&Crime coverage: Gwyneth Paltrow's attorney complains about 'new camera' pointed at Hollywood actress during negligence trial over ski crash
Boehme, on Thursday, said Scher simply did the work wrong – incorrectly using a formula by assuming the crash was akin to a "free fall event."
The upshot of the rebuttal testimony was that there was "only one possible scenario" that could "satisfy Newtonian physics" and account for the broken ribs based on Sanderson's weight and health, Paltrow's likely weight, and the velocity of the impact. He said that scenario mandated that Sanderson had to have been struck from behind.
Watch the judge's full explanation to jurors in the player below:
Have a tip we should know? [email protected]