The former Louisville Metro Police Department officer who fired the shot that killed 26-year-old EMT Breonna Taylor in her apartment more than three years ago now has a new job in a sheriff's office in nearby Carroll County.
Myles Cosgrove was one of three officers who opened fire during a March 13, 2020 raid at Taylor's apartment after a no-knock warrant was issued in connection with a drug investigation into Taylor's ex-boyfriend Jamarcus Glover. Taylor was shot and killed two months before George Floyd was murdered in Minneapolis by then-MPD police officer Derek Chauvin. Public outcry over the two cases, along with the murder of Ahmaud Arbery, led to nationwide Black Lives Matter protests at the height of the COVID-19 pandemic. The police killing of Taylor eventually resulted in still-pending federal charges against a number of former LMPD detective Cosgrove's colleagues.
The U.S. Department of Justice's case alleged "civil rights offenses, unlawful conspiracies, unconstitutional use of force, and obstruction offenses" — including the "falsification of a search warrant" that "resulted in Ms. Taylor's death."
"Specifically, we allege that Ms. Taylor's Fourth Amendment rights were violated when defendants Joshua Jaynes, Kyle Meany, and Kelly Goodlett sought a warrant to search Ms. Taylor's home knowing that officers lacked probable cause for the search," the DOJ said. "We allege that the defendants knew the affidavit in support of that warrant contained false and misleading information and that it omitted material information."
Attorney General Merrick Garland said that it was "not true" that certain LMPD officers who worked on the warrant "knew" it was "not true" that they verified the target of their drug trafficking probe had received packages at Taylor's address.
Cosgrove was never charged locally or federally, but in late 2020, LMPD sent him a pre-termination letter stating that he violated department policy when he appeared to fire 16 shots after not clearly identifying the perceived threat he was firing upon, namely Taylor's then-boyfriend Kenneth Walker.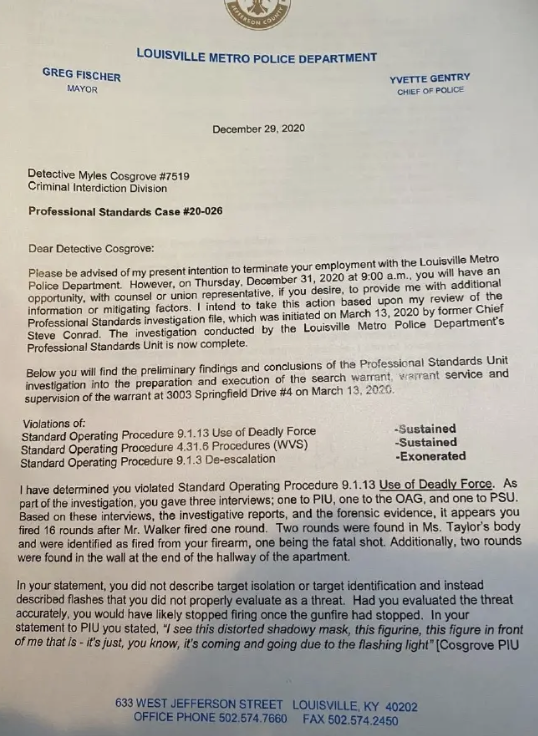 "I have determined you violated Standard Operating Procedure 9.1.13 Use of Deadly Force," the letter said. "As part of the investigation, you gave three interviews; one to PIU, one to the OAG, and one to PSU. Based on these interviews, the investigative reports, and the forensic evidence, it appears you fired 16 rounds after Mr. Walker fired one round. Two rounds were found in Ms. Taylor's body and were identified as from your firearm, one being the fatal shot. Additionally, two rounds were found in the wall at the end of the hallway of the apartment."
Cops said that it was a violation of policy for Cosgrove to use deadly force when he "did not properly evaluate" the threat or identify a target beyond "flashes."
"I see this distorted shadowy mask, this figurine, this figure in front me that is — it's just, you know, it's coming and going due to the flashing light," Cosgrove was quoted as telling the department's Public Integrity Unit.
After the shooting, Walker came forward and said that he was inside the apartment the night of the raid and that he opened fire in self-defense, believing that the door was being kicked in by intruders. After Walker fired the shot, Cosgrove and officers Brett Hankison, and Jon Mattingly returned fire. Mattingly was wounded.
Cosgrove and Mattingly did not face local or federal charges, but Hankison was brought up on failed local wanton endangerment charges for firing into a neighboring apartment. Despite the local acquittal, Hankison was brought up on federal charges because he "willfully used unconstitutionally excessive force, while acting in his official capacity as an officer, when he fired his service weapon into Taylor's apartment through a covered window and covered glass door," according to the DOJ.
A judge upheld Cosgrove's firing as recently as February 2023.
"Even normal citizens must exercise the 'highest degree of care' in ascertaining whether they are shooting at a legitimate target," Judge Melissa Bellows ruled, according to Louisville Fox affiliate WDRB. "Cosgrove seems to be arguing that he should be held to a less stringent standard than an ordinary Kentucky resident, despite having considerable more legal privileges. A normal citizen who violated these principles could be subject to criminal liability."
Chief Deputy Rob Miller of the Carroll County Sheriff's Office reportedly confirmed Cosgrove was hired and acknowledged the decision would be polarizing, but he suggested Cosgrove's law enforcement experience was potentially valuable to the small department.
"We're going to give him a chance," Miller reportedly said.
Protests against the hiring are reportedly planned.
Have a tip we should know? [email protected]