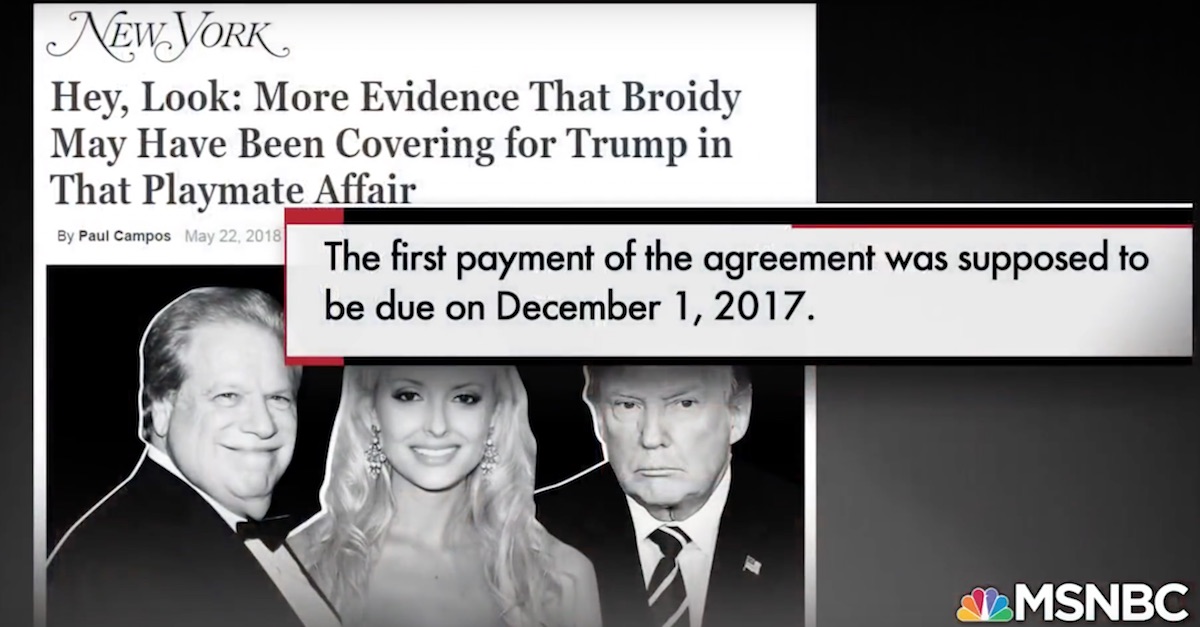 The details of former Playboy Playmate Shera Bechard's lawsuit against Republican fundraiser Elliott Broidy over a $1.6 million non-disclosure agreement (NDA) that Michael Cohen facilitated will surface Friday in all its lurid detail — or so we thought.
As Bloomberg reported earlier, a Los Angeles judge ordered the sealed complaint to be made public, but Broidy is now petitioning for an emergency stay, citing the irreparable harm such a release would cause.
"Disclosure of the underlying complaint's many salacious allegations would be devastating to Mr. Broidy's privacy, and by nature, irreversible," the petition said. "Shera Bechard asserts just one cause of action against Mr. Broidy — for failure to pay monies owed under a written contract."
"Yet, numerous paragraphs of her complaint go into graphic, sordid detail about Mr. Broidy's purported sexual history, health, and romantic relationship with plaintiff," the petition continues. "The complaint also contains numerous other false statements designed to malign and embarrass Mr. Broidy, and further includes statements intended solely to hurt Mr. Broidy's family."
In a statement to Law&Crime, Broidy reiterated what he said in the complaint:
This person tried to extract money from me by making up false, malicious and disgusting allegations. I have acknowledged making the mistake of having an affair, and I entered a confidential agreement to protect my family's privacy. I honored my agreement until her lawyer breached it—and then, when I failed to pay her demands, she did what blackmailers do and went public with her lies. I will vigorously defend myself against these false and defamatory allegations, and I will seek all relief available to me under the settlement agreement against her and her attorneys.
Although pieces of the complaint deemed irrelevant will not be able to be used in the case heading forward, that didn't mean we wouldn't learn about these details. As we're just learning now, however, Broidy isn't going to let that happen without a fight.
As Law&Crime reported before, Bechard and Broidy allegedly carried on an affair that led to a pregnancy, an abortion and the hush agreement.
Bechard has accused Broidy of sexually assaulting her, giving her herpes and getting her pregnant as a consequence of not using birth control. She claims he refused to use birth control and then strong-armed her into getting an abortion.
The case is a particularly interesting one, and not just because of the gory details. Stormy Daniels' attorney Michael Avenatti, and Daniels' ex-lawyer Keith Davidson have both been named in the suit. Davidson also used to represent Bechard. Ex-Trump attorney Michael Cohen, who pleaded guilty to 8 counts bank fraud, tax fraud and campaign finance violations, is the one who put the NDA together, just as he did with Daniels and former Playboy model Karen McDougal. Davidson also represented McDougal.
Both Daniels and McDougal dropped Davidson and accused him of colluding with Cohen.
Broidy, former deputy finance chairman of the Republican National Committee, has claimed Davidson gave Avenatti information about the affair.
On April 12, Avenatti tweeted about Cohen having negotiated "yet another hush NDA, this time on behalf of a prominent GOP donor who had a relationship with a LA woman, impregnated her and then made sure she had an abortion. The deal provided for multiple payments across many months." The day after, The Wall Street Journal reported that Cohen negotiated an NDA between Broidy and an unnamed Playboy playmate.
Avenatti has accused Bechard of naming him the lawsuit as a "ploy" to "get publicity."
"I never represented her and have never communicated with her in my life. I was never a party to any agreement with her and I never had any obligation to her," he said. "Her beef, if any, lies with her own attorney Keith Davidson and Mr. Broidy (or whomever impregnated her)."
Today, Avenatti tweeted that the court "threw out 2 of 3 bogus claims" filed against him by Bechard and McDougal's former attorney Peter Stris. Stris represents Bechard.
This morning, the court threw out 2 of the 3 bogus claims filed against me by Ms. Bechard and @PeterStris. The Court also denied their request for attorneys' fees and invited me to seek my fees. Stris and his client will ultimately be paying me when this charade is over. #Basta

— Michael Avenatti (@MichaelAvenatti) September 7, 2018
Stris released a complaint in July, much of which was redacted.
The court just released a public version of our complaint for Shera Bechard against Elliott Broidy, Keith Davidson + Michael Avenatti. Here it is: https://t.co/tjvvRmByuM pic.twitter.com/Hp6x0lcNNg

— Peter K. Stris (@PeterStris) July 31, 2018
Avenatti criticized him at the time for releasing this after filing it under seal in court.
It is really big of you to release this when you should have never filed the original complaint under seal to begin with. When I am ultimately exonerated in this case because I did nothing wrong, I am coming after you, your firm, & your client for malicious prosecution. Good luck

— Michael Avenatti (@MichaelAvenatti) July 31, 2018
Avenatti said essentially the same thing on Friday.
I am very pleased that the court agreed with our position (and that of the media) this morning and ordered the complaint in the Broidy matter unsealed. @PeterStris and Broidy should have never attempted to hide it from the public in the first place. #Basta

— Michael Avenatti (@MichaelAvenatti) September 7, 2018
Ronn Blitzer contributed to this report.
Editor's note: this story and headline has been updated to reflect that Broidy has filed an emergency stay. A statement from Mr. Broidy has also been added.
[Image via MSNBC screengrab]
Have a tip we should know? [email protected]