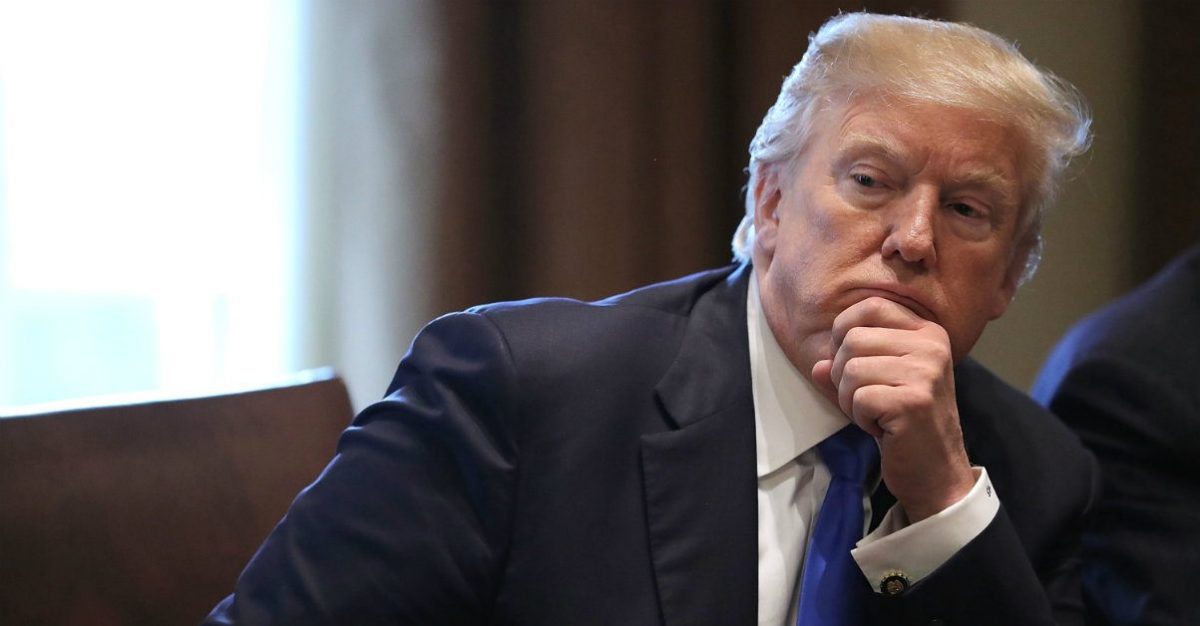 Summer Zervos, the former Apprentice contestant suing President Donald Trump for defamation over his response to her sexual assault allegations, is making some significant headway in her case. On Friday, attorneys for Zervos and Trump signed a stipulation agreement that said both parties will provide written answers and objections to interrogatories from the other side by September 28.
Answers to these questions are provided under oath, so if Trump or Zervos make any false statements, they could be exposed to perjury charges. It remains to be seen whether Trump will provide substantive answers to any questions, or if his attorney Marc Kasowitz will object to them all. Law&Crime reached out to Zervos' attorney Mariann Wang, who declined to comment.
In the joint court filing, Kasowitz also once again maintained that Trump has immunity from being sued in state court under the Supremacy Clause of the Constitution, even though the court previously ruled against him on that issue.
This appears to be progress in what has been a frustrating discovery process for Zervos this summer. In a court appearance on Friday, Zervos' lawyer told the court that the Trump Organization has refused to provide discovery materials, despite both sides agreeing to certain terms, The Hollywood Reporter's Eriq Gardner reported.
Summer Zervos, the former "Apprentice" contestant suing Donald Trump for defamation, told a judge today that The Trump Organization is refusing to comply with discovery requests under the established protocol. pic.twitter.com/VJNKKa8XCE

— Eriq Gardner (@eriqgardner) September 7, 2018
This comes after Zervos' team complained in August that President Trump had not complied with discovery demands for materials related to other women's allegations against Trump. On August 29, a week after Zervos raised that issue, her lawyer Mariann Wang wrote a letter to the judge saying that Trump's legal team said they wouldn't provide anything that was controlled by the Trump Organization. Wang said that Trump was refusing, "notwithstanding his position as that entity's founder, his undisputed leading position at that entity throughout the relevant time period, and his ability to direct or instruct individuals, both preserve and collect responsive documents even today."
That letter also said that if Trump's team wanted to serve a subpoena for the documents, they could direct it to Trump Organization lawyer Alan Garten. While they didn't serve Garten with a subpoena, they did send him a discovery request on August 10, asking for him to turn over the documents by August 28. They then told Garten that they would let him provide the materials by September 7.
Now September 7 has come, and Zervos still doesn't have what she's looking for. This follows what Wang wrote in her August 29 letter about Garten saying he needed until later in September to comply. Wang doesn't see why such a delay should be necessary.
Law&Crime reached out to Garten for comment.
Both sides are scheduled to appear in court again on October 26 for a compliance conference. Before then, on October 16 or earlier, they will submit a joint filing informing the court of any further discovery-related disputes.
Summer Zervos v Donald j Trump Stipulation Disco 189 by Law&Crime on Scribd
[Image via Kena Betancur/AFP/Getty Images]
Have a tip we should know? [email protected]