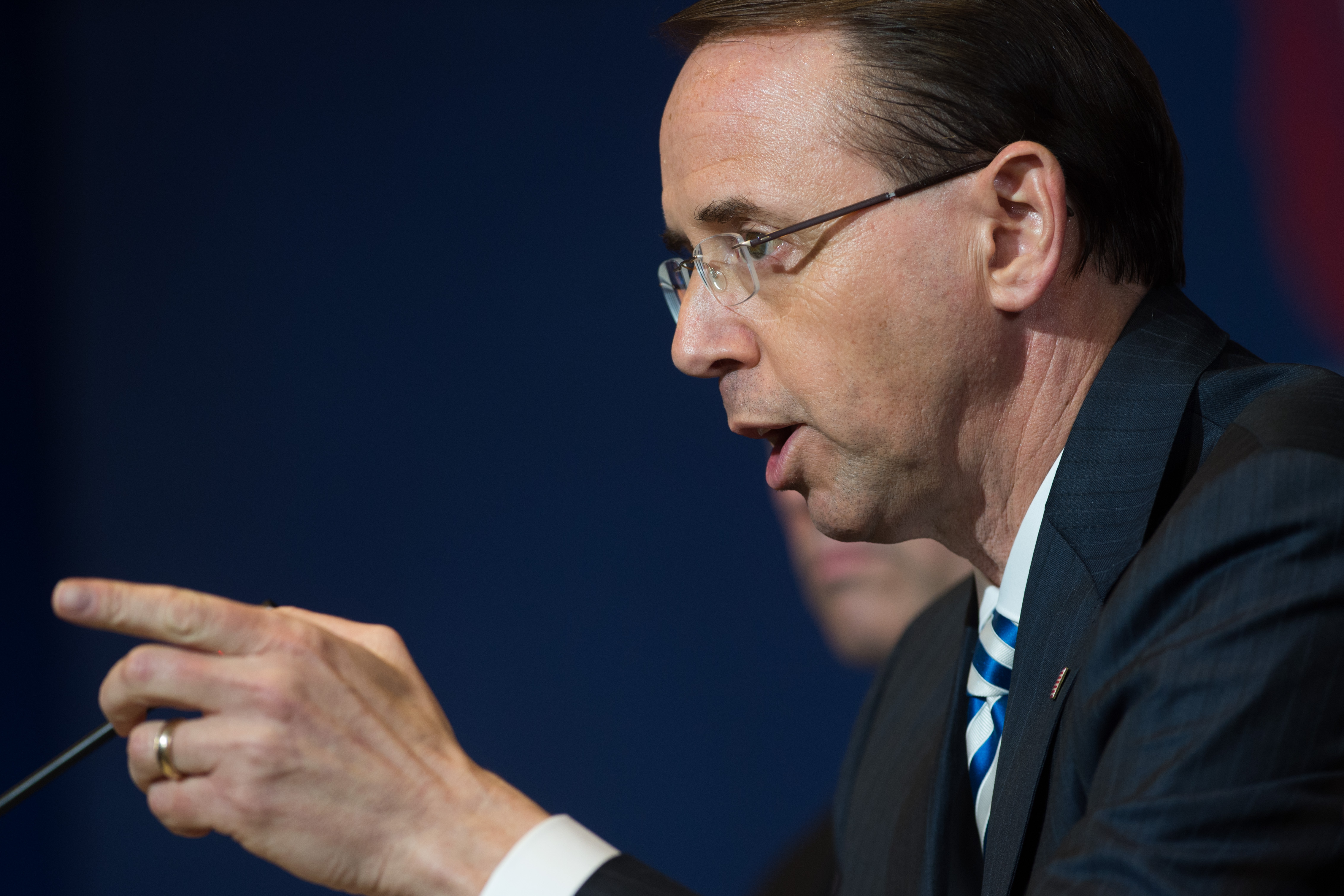 Deputy Attorney General Rod Rosenstein allegedly threatened to subpoena call records and emails from the Republican-led House Intelligence Committee in a January 2018 showdown described as "tense," Fox News reported Tuesday. The House Intelligence Committee was itself investigating the probe being overseen by Rosenstein into possible Russian interference with the 2016 presidential election. (Rosenstein is supervising Special Counsel Robert Mueller.) Aides to the committee interpreted Rosenstein's actions as a "personal attack." Some of the aides who documented the meeting are those of committee member Devin Nunes, (R) California, who has been highly critical of the Russia investigation.
Fox News based its reports on emails between staffers, including Kash Patel, who at the time was the Committee's senior counsel for counterterrorism. Patel's emails suggest that Rosenstein did not like written requests for information sent from the Committee to the Department of Justice. According to the emails, Rosenstein said that if the Committee wanted to continue requesting records from his department, he would request their records in return. Another committee staffer described Rosenstein's comment as "downright chilling," Fox News reported (without naming the additional staffers).
Fox News didn't point out that Patel has himself been a lightning rod of criticism. The New York Times produced this expose outing Patel as the "primary" author of the so-called Nunes Memo which accused "federal officials of bias against President Trump." It is not a surprise, then, that Patel's emails attack Rosenstein.
Though some staffers felt threatened by Rosenstein, Fox did report that at least one unnamed staffer interpreted Rosenstein's comments to mean that Rosenstein would vigorously defend his own organization from suggestions of malfeasance from the Republican-led committee.
Likewise, the FBI and the DOJ disputed the nefarious characterizations of Rosenstein's comments as "false." The DOJ said Rosenstein "was responding to a threat of contempt." The DOJ said further that "as an American citizen charged with the offense of contempt of Congress, [Rosenstein] would have the right to defend himself, including requesting production of relevant emails and text messages . . . that is why he put them on notice to retain relevant emails and text messages, and he hopes they did so."
[Image via SAUL LOEB/AFP/Getty Images]
Have a tip we should know? [email protected]
Aaron Keller - Deputy Editor-in-Chief