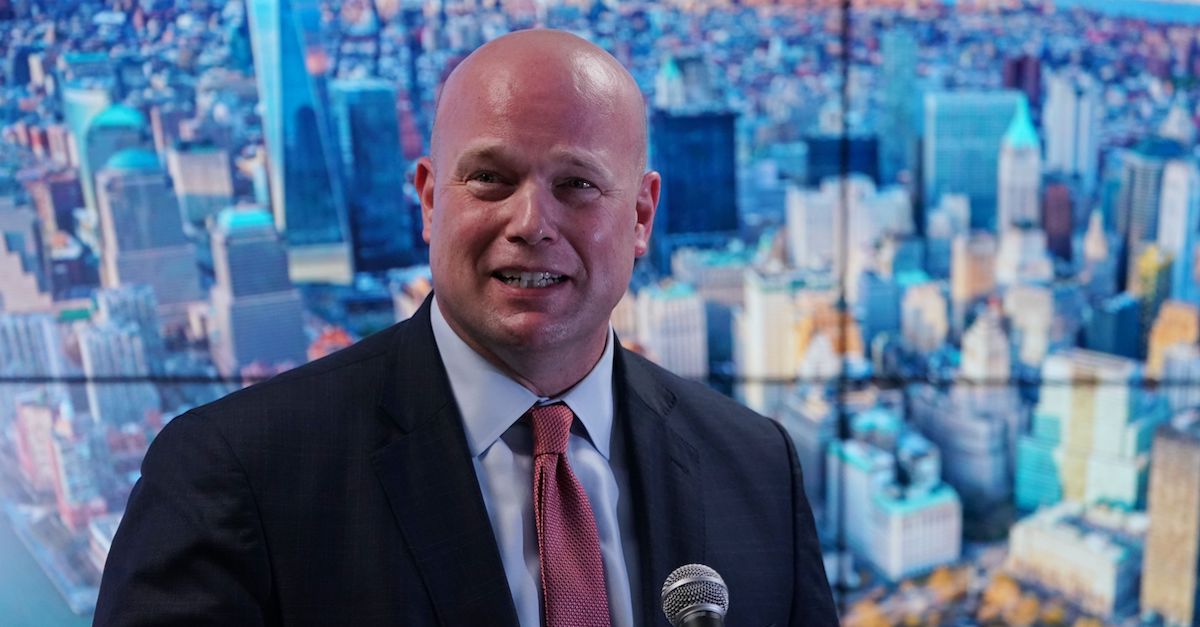 In the latest pushback against Matthew Whitaker's appointment as acting Attorney General of the United States, hundreds of Department of Justice (DOJ) alumni have signed on to a letter expressing the fact that they are "disturbed" with the development.
Whitaker, of course, replaced Jeff Sessions after President Donald Trump requested Sessions' resignation. It occurred immediately after the midterm elections and after months of Trump criticizing Sessions for recusing himself from the Russia probe. In the meanwhile, Whitaker had done TV spots on CNN and written an op-ed that was critical of Special Counsel Robert Mueller. As state attorneys general and legal scholars band together to challenge Whitaker's appointment, hundreds of DOJ employees past are speaking their minds:
We, the undersigned, are proud alumni of the United States Department of Justice. We have served under Senate-confirmed Attorneys General who come from both political parties.

Because of our respect for our oaths of office and our personal experiences carrying out the Department's mission, we are disturbed by the President's appointment of Matthew Whitaker to serve as Acting Attorney General. We know that overseeing the Department of Justice is one of the most important roles in our government. The Attorney General is responsible for ensuring that we are a nation of laws and that every citizen and every government official — including the President himself — is equally subject to those laws. Because of the profound responsibilities the position entails and the independence it requires, it can only be filled by someone who has been subjected to the strictest scrutiny under the process required by the Constitution.

Mr. Whitaker has not been confirmed by the Senate, his qualifications to be the nation's chief law enforcement officer have not been publicly reviewed, and he has not been fully vetted for any potential conflicts of interest. While we know that there are thousands of dedicated public servants now at the Department who will do their utmost to protect its mission and reputation, it falls to all of us to ensure that the Department's role in maintaining the rule of law is not undermined or tainted. We therefore call on the President to follow the Constitutional process by nominating an Attorney General, and replacing Mr. Whitaker as Acting Attorney General with the Senate-confirmed official who is next in the line of succession by operation of federal law. We likewise call on the Senate to insist that its Constitutional prerogative to provide advice and consent be respected.

If you are a former DOJ employee and would like to add your name below, click here. This list will be updated twice daily with new signatories.
At the time of this writing, more than 400 names have signed the letter.
The DOJ lifers, as have other critics, pointed out that Whitaker was not confirmed by the U.S. Senate, even though Whitaker is serving in an acting role in a principal officer's position.  The Department of Justice's Office of Legal Counsel argued that the acting Attorney General role isn't that of a principal officer and therefore the Appointments Clause of the Constitution wasn't violated.
"We also advised that Mr. Whitaker's designation would be consistent with the Appointments Clause of the U.S. Constitution, which requires the President to obtain the 'Advice and Consent of the Senate,' before appointing a principal officer of the United States," the OLC said. "Although an Attorney General is a principal officer requiring Senate confirmation, someone who temporarily performs his duties is not."
[Image via Don Emmert/AFP/Getty Images]
Have a tip we should know? [email protected]