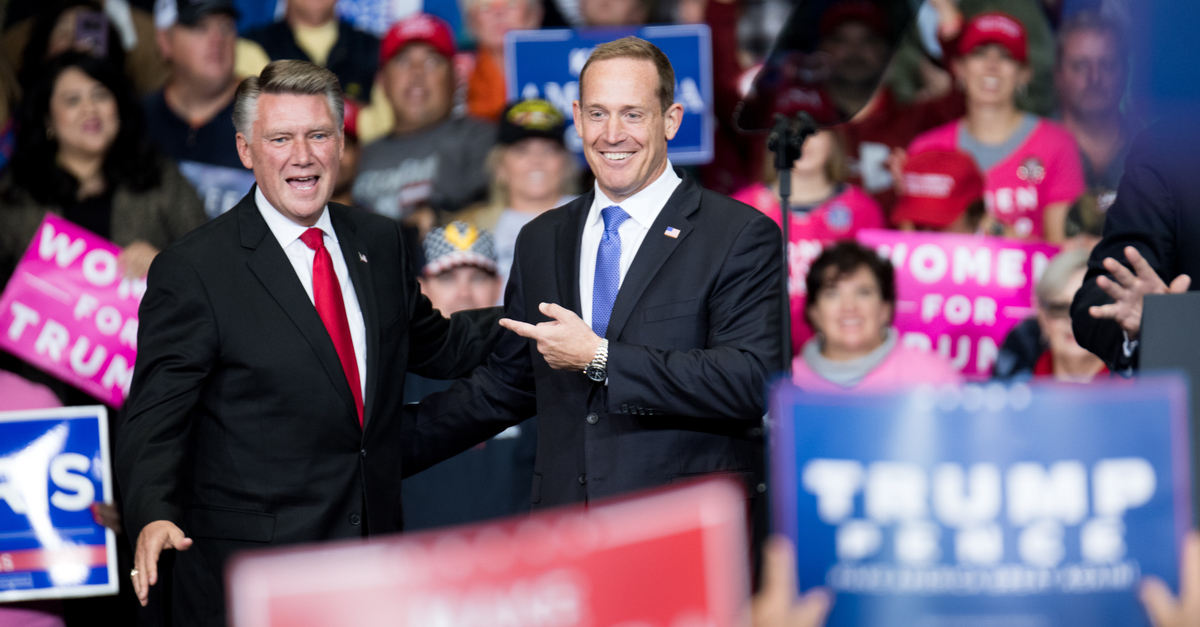 Workers in North Carolina connected to a Republican campaign have admitted to illegally collecting absentee ballots and handing them over to a GOP consultant employed by Representative Mark Harris (R-N.C.). These admissions come on the heels of allegations that North Carolina Republicans engaged in a coordinated effort to disenfranchise Democratic Party voters by intentionally destroying and altering absentee ballots during the 2018 midterm election.
Joe Bruno is a reporter with Charlotte's local ABC affiliate WSOC 9. As the controversy has unfolded in recent days, Bruno reached out to several individuals in Bladen County, North Carolina who signed as witnesses for multiple absentee voters. Most of those individuals have been unavailable or refused to talk, Bruno noted. Some, however, are now coming forward.
Bruno spoke on Monday with ballot harvester Ginger Eason, who is listed as the witness of record on 28 separate absentee ballots in Bladen County. When asked why her name appeared so many times on those ballots, she said, "I was helping McCrae pick up ballots."
Eason's admission appears to implicate the man at the center of the allegations: Harris campaign contractor Leslie McCrae Dowless. Dowless, for his part, has denied any wrongdoing. Eason told Bruno that Dowless paid her between $75 and $100 per week to collect ballots for the Harris campaign.
Bruno spoke on Tuesday with ballot harvester Cheryl Kinlaw, who is listed as having witnessed 13 separate ballots in Bladen County. Kinlaw said she was also paid $100 by Dowless to collect absentee ballots from certain voters for the Harris campaign but didn't think it was illegal because it was something that Dowless apparently "has been doing for years."
Bruno described his interaction with Kinlaw on Twitter. He noted:
Like the woman I interviewed yesterday, Kinlaw never mailed the ballots. She gave them to McCrae Dowless. She doesn't know what he did with them afterward. She says she has no doubt Dowless wanted Mark Harris and Sheriff Jim McVicker to win.
Kinlaw also said that she was told to "boost" Harris and McVicker while collecting people's ballots–a combination of electioneering and ballot collection that's expressly illegal under state election law. Kinlaw claimed that while she was told to promote those candidates, however, she didn't actually do so.
Under North Carolina law, it's unlawful for political campaign workers to collect absentee ballots from voters whatsoever. Only voters themselves and designated relatives are supposed to collect such ballots.
When asked if she knew what happened to the ballots she had picked up, Kinlaw said, "I don't know what happened to them, [Dowless] had stacks of them on his desk."
Last week, North Carolina's State Board of Elections and Ethics Reform declined to certify the results in the 9th district congressional race between Harris and Democrat Dan McCready, according to the Charlotte Observer. Unofficial election returns showed an extremely narrow–905 vote–victory for Harris.
State election board chair Joshua Malcolm described the apparent anti-democracy efforts as "unfortunate activities." The nine-member body–comprised of four Republicans, four Democrats and one non-partisan member–previously voted 9-0 against certifying the 9th district's results. On Friday, the board voted 7-2 in favor of decertifying county-level election results affecting two separate races in the 9th district and determined that a hearing would be held on the matter by Dec. 21.
Calls for a re-vote in the tainted 9th district race appear to be increasing day-by-day. On Tuesday afternoon, Rep. Seth Moulton (D-Mass.) made just such a demand, calling for a "special election" to settle the disputed contest in the Tar Heel State.
McCready has mostly kept mum but on November 30 released a statement calling for patience and supporting the state election board's decision not to certify the election results until their full investigation is completed.
"The right to vote is the foundation of our democracy," McCready's statement notes. "Any effort to rob a person of that right should be met with the full force of justice."
Harris, for his part, wants the board to get on with it and endorse his election night victory.
"I support any efforts to investigate allegations of irregularities and/or voter fraud, as long as it is fair and focuses on all political parties," Harris said in a Friday statement. "But to date, there is absolutely no public evidence that there are enough ballots in question to affect the outcome of this race. Accordingly, the Board should act immediately to certify the race while continuing to conduct their investigation."
Law&Crime has reached out to Mark Harris for comment.
[image via Sean Rayford/Getty Images]
Follow Colin Kalmbacher on Twitter: @colinkalmbacher
Have a tip we should know? [email protected]