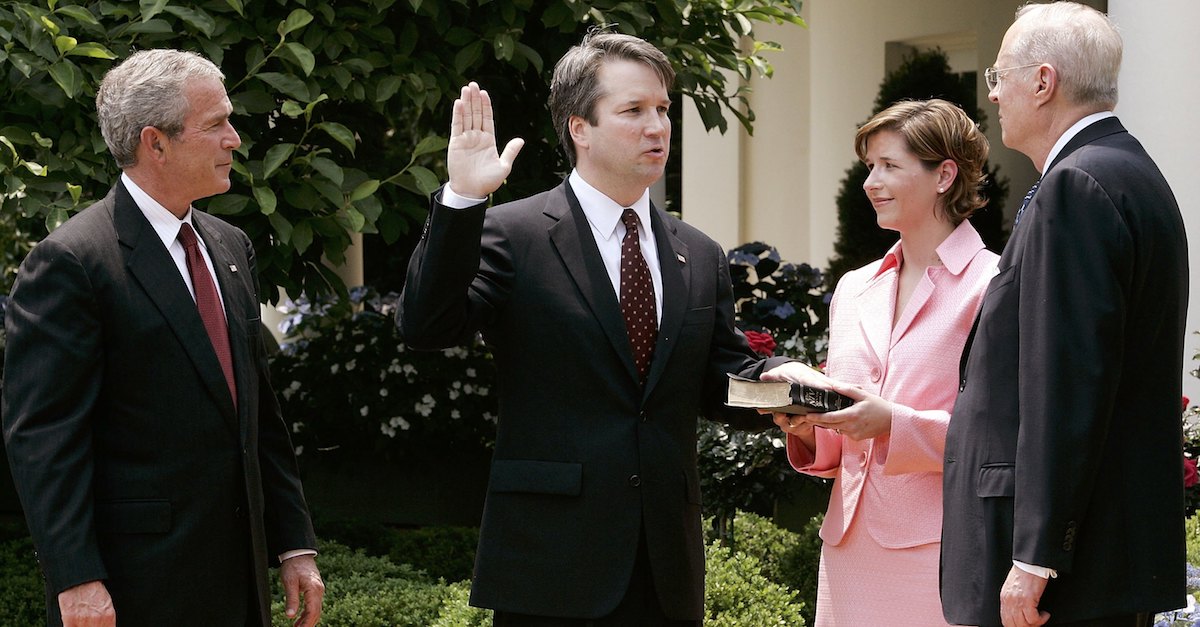 As we wait for President Donald Trump to announce who he wants to fill the United States Supreme Court vacancy left by a retiring Anthony Kennedy, early rumblings are that Thomas Hardiman and Brett Kavanaugh are the last two candidates standing.
A key Kavanaugh detail that has emerged over the course of the day seems to set him apart as the clear choice: He doesn't believe a sitting president should be indicted.
Hat tip to CNN's Jim Acosta for bringing Kavanaugh's 2009 Minnesota Law Review article "Separation of Powers During the Forty- Fourth Presidency and Beyond" to light.
There's quite a bit to unpack here, but before we do it should be noted that what Kavanaugh had to say is highly relevant given that there numerous active civil suits naming Trump as a defendant. Special counsel Robert Mueller's Russia investigation also looms large in the background. It's also worth noting that this view that a sitting president cannot be indicted is a view that has been shared by Trump attorney Rudy Giuliani. 
Kavanaugh wrote that his experience working in the White House, which he did for George W. Bush, and his experience investigating Bill Clinton on special prosecutor Kenneth Starr's staff in the '90s changed his views on what can be done to a sitting president.
"Having seen first-hand how complex and difficult that job [of president] is, I believe it vital that the President be able to focus on his never-ending tasks with as few distractions as possible. The country wants the President to be 'one of us' who bears the same responsibilities of citizenship that all share," he said. "But I believe that the President should be excused from some of the burdens of ordinary citizenship while serving in office."
"This is not something I necessarily thought in the 1980s or 1990s. Like many Americans at that time, I believed that the President should be required to shoulder the same obligations that we all carry. But in retrospect, that seems a mistake," he added. "Looking back to the late 1990s, for example, the nation certainly would have been better off if President Clinton could have focused on Osama bin Laden without being distracted by the Paula Jones sexual harassment case and its criminal investigation offshoots."
Kavanaugh then proposed that Congress enact a statute deferring "any personal civil suits against presidents" while the president is in office, just as the case in the military. He argued that it is necessary so the president can "focus on the vital duties he was elected to perform."
He didn't stop there. Kavanaugh said Congress should "consider doing the same" for criminal investigations and prosecutions of the president to avoid "crippling" the federal government:
In particular, Congress might consider a law exempting a President—while in office—from criminal prosecution and investigation, including from questioning by criminal prosecutors or defense counsel. Criminal investigations targeted at or revolving around a President are inevitably politicized by both their supporters and critics. As I have written before, "no Attorney General or special counsel will have the necessary credibility to avoid the inevitable charges that he is politically motivated—whether in favor of the President or against him, depending on the individual leading the investigation and its results." The indictment and trial of a sitting President, moreover, would cripple the federal government, rendering it unable to function with credibility in either the international or domestic arenas. Such an outcome would ill serve the public interest, especially in times of financial or national security crisis.
By this logic, Kavanaugh believes there should be a law preventing Robert Mueller and his team from questioning the president since it is inevitable that there will be charges that the investigation is politically motivated.
Kavanaugh anticipated two possible critiques of this viewpoint and answered them on his own.
"The first is that no one is above the law in our system of government. I strongly agree with that principle. But it is not ultimately a persuasive criticism of these suggestions," he said. "The point is not to put the President above the law or to eliminate checks on the President, but simply to defer litigation and investigations until the President is out of office."
"A second possible concern is that the country needs a check against a bad-behaving or law-breaking President. But the Constitution already provides that check. If the President does something dastardly, the impeachment process is available," he said.
While Kavanaugh does have a history on the matter of impeachment in the form of a broad definition of obstruction of justice, his views on criminal and civil deferral may nonetheless be the deciding factor for Trump.
Amusingly, in much of the rest of the article, Kavanaugh argues the Senate votes on executive and judicial nomination should be "prompt."
Update: President Trump has officially nominated Kavanaugh.
[Image via Alex Wong/Getty Images]
This is an opinion piece. The views expressed in this article are those of just the author.