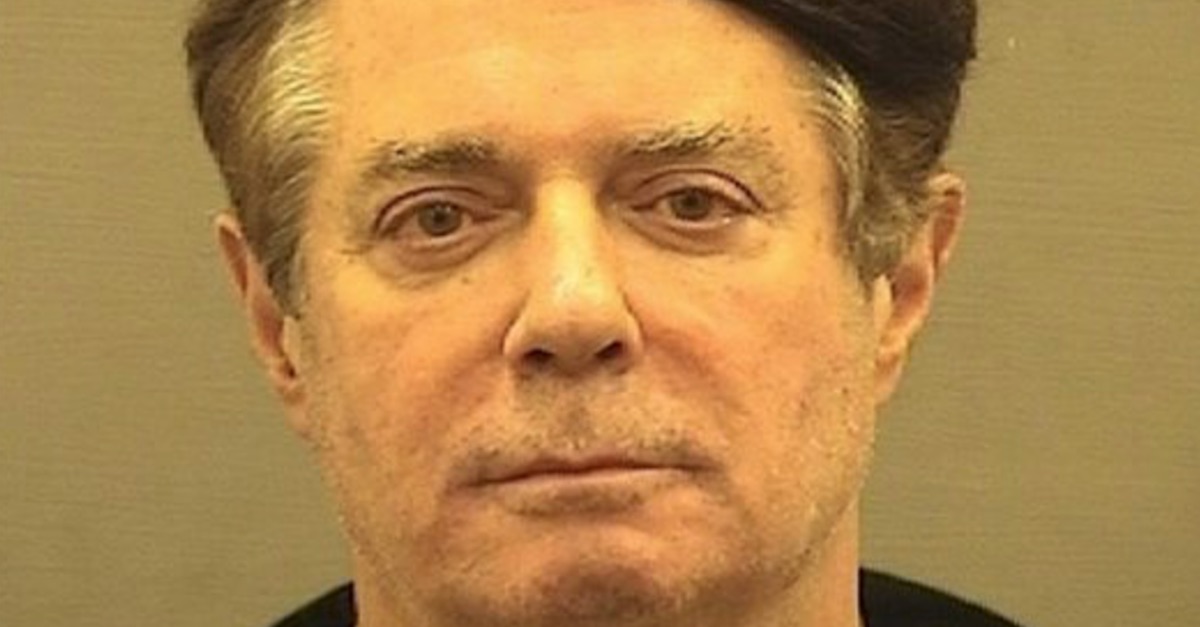 Paul Manafort's trial in the Eastern District of Virginia (EDVA) has begun with jury selection on Tuesday. The real fun, of course, starts tomorrow and I'll be reporting from deep within the belly of the beast on the finer points of bank fraud and tax evasion in the context of Manafort's (and our national) malaise. In the meantime, here are five of Paul Manafort's biggest legal failures–all of which he racked up well before his trial even started.
1. Venue change hopes crushed like democracy in the Ukraine
Manafort's attorneys filed a three-page change of venue motion arguing that it would be "impossible" for his trial to be fair unless the proceedings were moved from Alexandria, Virginia to Roanoke, Virginia. Why? Because Alexandrians voted in droves for Hillary Clinton during the 2016 presidential election. Roanoke, Manafort's attorneys argued, was "more balanced" because voters there went for Donald Trump by a 28-point margin. As Law&Crime's Matt Naham put it, Judge T.S. Ellis III's response was basically: "Roanope!"
2. His attorneys seem to have given up "VIP"-like jail conditions for no good reason
At first, Manafort had a cushy incarceration gig. He really did. Even in jail, somehow a rich, white, male was able to escape the daily degradations plaguing American lockups generally. Quite a puzzle. But then he just had to open his mouth and complain. In a bid to delay his Virginia trial, Manafort argued his living conditions gave him "very limited access to his attorneys and the records." These unacceptable conditions included: his own private room (larger than the others); his own laptop with an extension cord; limitless unmonitored phone calls with his attorneys; his own bathroom (and shower) and the privilege of not having to wear a uniform.
But nothing gold can stay. Manafort's attorneys requested a move and authorities obliged. Gone were the privileges described above. His attorneys then tucked-tail and tried to reverse the decision but it was too late. Instead, Manafort's delay tactics resulted in a change from those aforementioned (and relatively lavish) conditions to the following environment described by Iraq War-boosting Judith Miller,"All prisoners have the same clothes and the food is bad. There's a basketball court and church on Sunday, but that's about it. There were some classes." Miller spent 85 days at the Alexandria Detention Center over her refusal to testify during the Valerie Plame affair in 2005.
3. That time he tried to challenge Mueller's authority to even bring the case 
This was never actually going anywhere–but conservative movement media really needed the headlines and the MAGA set is ever ready for such false hopes. First Judge Ellis saw fit to opine about Mueller's alleged strategy in going after Manafort on bank fraud and tax evasion by claiming, "You don't really care about Mr. Manafort's bank fraud…What you really care about is what information Mr. Manafort could give you that would reflect on Mr. Trump or lead to his prosecution or impeachment." Human eyebrows were raised like dog ears might perk at the sound of bacon being shaken. Ellis also said, "What we don't want in this country, we don't want anyone with unfettered power. "It's unlikely you're going to persuade me the special counsel has unlimited powers to do anything he or she wants."
So, Manafort's defense team made the case that Mueller didn't have the authority to go after their client. Mueller's army of attorneys seemed to welcome the challenge. After reading Rod Rosenstein's un-redacted memo authorizing the special counsel investigation, Judge Ellis ruled Mueller was well within the scope of his authority. And then Manafort's attorneys dropped the issue entirely.
4. That whole two trial "strategy" thing.
This might be one of the few instances where my editors will let a sentence containing the word "strategery" be published. If that's the case, let's just remember, for all of posterity and the political-legal press: Manafort's apparent double trial troubles are entirely of his own making. All hot takes aside, here's the take from the only person who really matters here. In a court-filed response to an eleventh hour request from Manafort for additional preparation time, Andrew Weissman noted:
[T]he Court's August 1, 2018, deadline is no surprise…Nor was it a surprise that Manafort (like the government) would need to prepare for two trials when Manafort elected to have two trials. Indeed, this Court advised the defense that the defendant's choice to have two trials might well result in "a trial in the Eastern District of Virginia before this one. So you may want to keep that in mind."
5. A little bit of witness trouble.
In early June, Mueller accused Manafort of witness tampering. Manafort denied the accusation but days later a superseding indictment was filed against Manafort and Konstantin Kilimnik, a Kremlin-connected operative. Both men were charged with obstruction of justice and conspiracy. Manafort, by way of his attorneys, complained that Mueller was fabricating evidence against him. But that didn't go so well for the former Trump campaign chair. Manafort's bail was swiftly revoked, setting in motion the jail condition foibles described above.
And the hits kept on coming. In late July, Judge Ellis granted immunity to five of Mueller's witnesses against Manafort. This was a potentially huge development, what prosecutors might refer to as "a break in the case," and there's quite simply no way five grants of immunity could augur well for a criminal defendant. Not exactly an own goal, but certainly not so great for the defense's prospects.
[image via Alexandria Detention Center]
Follow Colin Kalmbacher on Twitter: @colinkalmbacher
This is an opinion piece. The views expressed in this article are those of just the author.