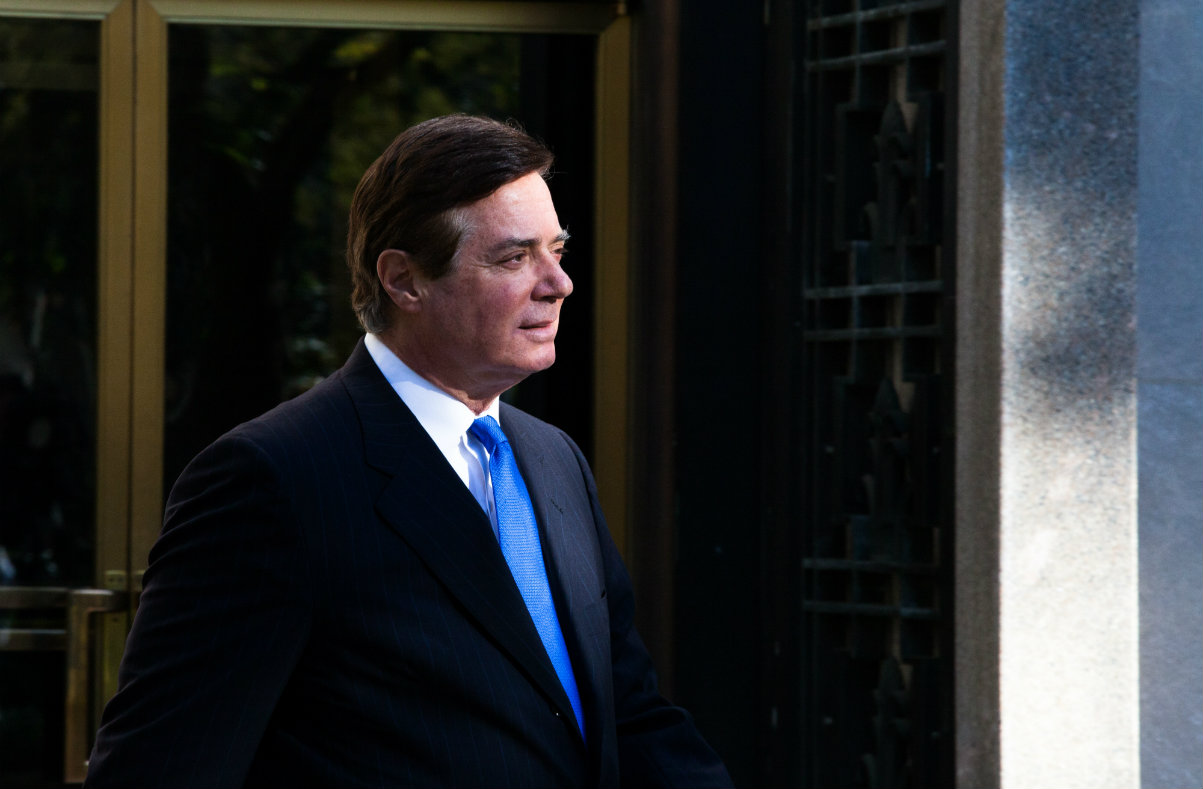 Paul Manafort has accused special counsel Robert Mueller of manufacturing witness tampering charges against him.
Mueller initially leveled witness tampering accusations against President Donald Trump's former campaign manager in a motion to revoke or revise Manafort's pretrial release conditions filed on June 4. Mueller subsequently solidified those accusations by morphing them into official obstruction of justice charges–against Manafort and Konstantin Kilimnik–in a superseding indictment filed on Friday.
Manafort's attorneys filed their response to the initial accusations contained in the motion to revoke or revise pretrial release conditions roughly two hours before a midnight deadline on Friday night. Manafort's response begins by rubbishing the basis of Mueller's witness tampering charges as "dubious" and "very specious." The response notes:
From a scant record, the Special Counsel conjures a sinister plot to "corruptly persuade" two of Mr. Manafort's former business associates to perjure themselves at the upcoming trial in September. However, exhibits attached to the Special Counsel's filing support the defendant's position that the mission and work of the so-called Hapsburg Group was European-focused and that the text messages cited by the Special Counsel do not establish any witness tampering.
Here, Manafort's attorneys are referring to allegations in the June 4 motion that Manafort attempted to contact a witness identified as Person D1 by phone and encrypted text messaging. The "Hapsburg Group" referred to disdainfully by Manafort's attorneys is alleged by Mueller to be "a group of former senior European politicians who would act as third-party paid lobbyists for Ukraine."
In the government's motion, Mueller asserts the following three text messages–sent by Manafort to Person D1–constitute an effort to suborn perjury: (1) "This is paul."; (2) a link to a Business Insider article by Michael Kranz referencing the Hapsburg Group asserting, "two European politicians were secretly paid around €2 million by Manafort in order to 'take positions favorable to Ukraine, including by lobbying in the United States.'"; and (3) "We should talk. I have made clear that they worked in Europe."
The June 4 motion claims Manafort sent the first message on February 24. (Mueller filed a previous superseding indictment against Manafort on February 23.) The second and third texts were sent two days later, on February 26, in that order, roughly one minute apart. Additionally, Manafort made one 84-second phone call to Person D1 on February 24. To hear Mueller, his army of attorneys, the FBI and Person D1 tell it, those three text messages and one phone call amounted to "an effort to secure materially false testimony concerning the activities of the Hapsburg group."
(Notably: 10 additional text messages and four attempted phone calls are also referenced in the government's motion to revoke or revise pretrial release conditions, but the crux of the special counsel's witness tampering argument is based upon those three texts and one actual phone communication mentioned above.)
Manafort and his attorneys vehemently disagree with this characterization of those communications. Their response asserts that Mueller's argument is "based on the thinnest of evidence." The dismissive nature of Manafort's response is maintained throughout the response. Scare quotes and italics are employed to drive home the message. The response continues [emphasis in original]:
Closer scrutiny of this "evidence" reveals that the Special Counsel's allegations are without merit because Mr. Manafort's limited communications cannot be fairly read, either factually or legally, to reflect an intent to corruptly influence a trial witness.
Manafort notes that Mueller "does not even identify…the substance of what was discussed" in the 84-second phone call and deems the first text message ("This is paul.") unworthy of an official response–aside from saying that it does not "merit a response." The motion boldly asserts, again emphasis in original, "The majority of the communications–which are identified in only one exhibit to the motion–are irrelevant, innocuous and unsupportive of the conjured witness tampering claim."
The motion also contends that Mueller will be unable to show that Manafort "knowingly and intentionally engaged in corrupt persuasion to influence potential trial witnesses" because "the Special Counsel's actual 'proof' in the motion is virtually nonexistent. Manafort's attorneys cite to case law–originally cited by Mueller–showing the arguably high standards necessary to sustain witness tampering charges.
To wit, the motion argues Mueller will be unable to show: (1) that Manafort explicitly asked anyone to provide a false affidavit, false testimony at trial or otherwise perjure themselves on his behalf; (2) that Manafort provided or offered to provide anything of value in reward for such alleged perjury; and (3) that Mueller's team will be unable to meet the decidedly strenuous knowledge requirements mandated by the Supreme Court in such prosecutions.
Manafort also dings Mueller for allegedly violating his Sixth Amendment right to a fair trial and for refusing to reveal the government's list of potential witnesses, but both of these issues are only briefly touched upon. Give Manafort's entire response a read here.
[image via Keith Lane and Getty Images]
Follow Colin Kalmbacher on Twitter: @colinkalmbacher
Have a tip we should know? [email protected]