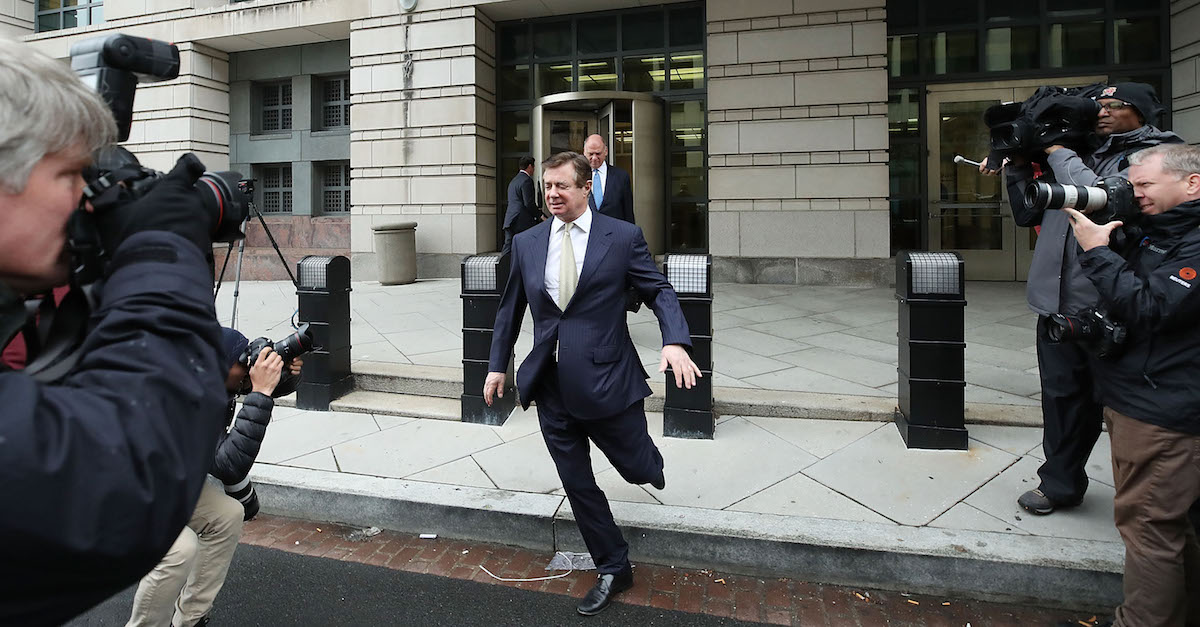 On the eve of his Virginia trial, it appears former Trump campaign chairman Paul Manafort and his legal team are starting to cut their losses. Politico's Josh Gerstein reported that Manafort voluntarily dismissed an appeal.
"It is hereby stipulated and agreed by and between the parties that the above-captioned petition be voluntarily dismissed pursuant to Federal Rule of Appellate Procedure 42(b)," a Monday afternoon filing in the District of Columbia reads.
That appeal, referred to as a "petition" in the quote above, contended that Manafort's prior challenge of special counsel Robert Mueller's authority was wrongly dismissed. It was argued that Mueller was out of bounds in prosecuting Manafort as part of the Russia Investigation.
Manafort's attorneys have indicated that they no longer plan on arguing about the legitimacy of Mueller's appointment. This is a notable development because much of the noise surrounding the Manafort trial began in May. It was then that Judge T.S. Ellis III questioned Mueller's authority and intentions.
Ellis, a 77-year-old Ronald Reagan appointee, expressed skepticism that Mueller's team actually cares about the former Trump campaign chairman's alleged crimes, saying, "I don't see what relation this indictment has with what the special counsel is authorized to investigate."
"You don't really care about Mr. Manafort's bank fraud [ . . . ] What you really care about is what information Mr. Manafort could give you that would reflect on Mr. Trump or lead to his prosecution or impeachment," he continued.
The judge also said Mueller should not have "unfettered power" in the Russia probe.
"What we don't want in this country, we don't want anyone with unfettered power," he said. "It's unlikely you're going to persuade me the special counsel has unlimited powers to do anything he or she wants."
Not long after that, President Donald Trump cited Ellis' comments as proof that the Mueller probe was a witch hunt. The president seized on those words and said Judge Ellis "is really something special, I hear from many standpoints."
Ellis has since ruled that Mueller is acting within the scope of his investigation in pursuing charges against Manafort. That ruling came after Ellis had read the unredacted U.S. Deputy Attorney General Rod Rosenstein memo appointing Mueller to take over the Russia investigation.
[Image via Mark Wilson/Getty Images]
Have a tip we should know? [email protected]