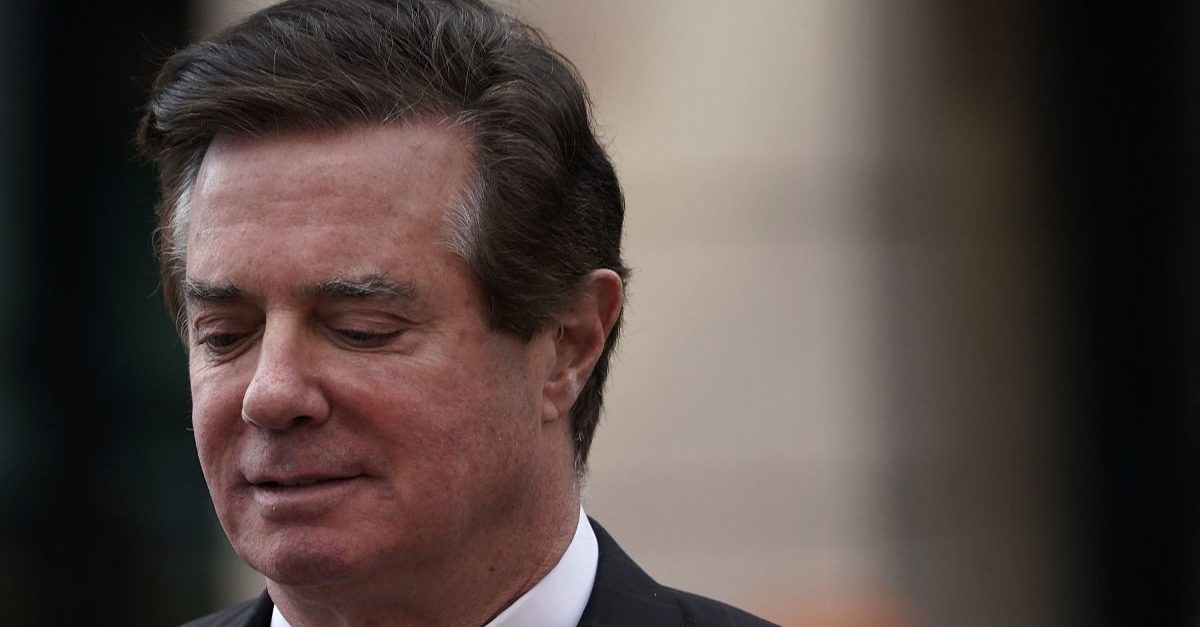 The legal saga of former Trump campaign chairman Paul Manafort took another turn Wednesday as Eastern District of Virginia (EDVA) Judge T.S. Ellis has denied his bid to stay put at the jail he is currently residing at. Instead, he will be moved from a jail in Warsaw, Va. to the Alexandria Detention Center.
Manafort's attorneys expressed concerns later Tuesday that moving him from Northern Neck Regional Jail to Alexandria would put their client's safety in jeopardy. Ellis' response? Don't worry, they know how to handle terrorists (foreign and domestic), traitors and spies — and, also, you haven't specified any threats to Manafort's safety.
"Defense counsel has filed a motion opposing [Manafort's] transfer from Northern Neck to Alexandria, despite having just complained about the defendant being housed at Northern Neck," he began. "In the motion, defense counsel states that 'issues of distance and inconvenience must yield to concerns about [Manafort's] safety and, more importantly, the challenges he will face in adjusting to a new place of confinement and the changing circumstances.'"
"However, defense counsel has not identified any general or specific threat to defendant's safety," he continued. "They have not done so, because the professionals at Alexandria Detention Center are very familiar with housing high-profile defendants, including foreign and domestic terrorists, spies and traitors."
He went on to say these kinds of defendants have been "housed safely" as they waited for their trials.
For context, Manafort's lawyers had argued that being 100 miles away from their client was affecting their ability to prepare for trial. In response, Ellis ordered Manafort to be moved to Alexandria where he would be closer to his legal team. By Tuesday night, though, Manafort opposed the order and the judge replied with the words you read above.
He also delivered a bit of a zinger in a footnote:

Manafort's lawyers have tried to have his Virginia trial moved to Roanoke, where the media noise is significantly lessened and the political demographics more favorable to Republicans.
Joyce Vance, University of Alabama Law Professor and federal prosecutor of 25 years, suggested that this is Manafort's real goal. If so, it makes one wonder why Manafort's complained in the first place about the long distance relationship. Roanoke is even farther away from Alexandria.
Ellis said Tuesday that his order to move Manafort was to ensure that Manafort "has access to his counsel and can adequately prepare his defense." Manafort's attorneys had said that the 100-mile distance between them and their client was having a "severe impact" on their ability to prepare, unlike when Manafort was under house arrest in Alexandria, Va.:
The Northern Neck Regional Jail is located approximately 100 miles away from Mr. Manafort's attorneys' offices and it generally takes over two hours each way by car for counsel to visit with him. No electronic communication is permitted (e.g., to allow for the transmission of documents for Mr. Manafort to review), and telephonic communication is restricted to ten (10) minutes per call. This unforeseen development has severely impacted the ability of the defense to effectively prepare for the upcoming trial before this Court.

More specifically, Mr. Manafort's current detention has made meetings with his attorneys to prepare his defense far more infrequent and enormously time-consuming compared to when he remained on house arrest and subject to GPS monitoring in Alexandria, Virginia, pursuant to this Court's release order.
Even though Manafort's lawyers complained about the long distance and the judge responded by, well, reducing that distance, they weren't pleased with the decision because of "safety" reasons.
"In light of Mr. Manafort's continuing detention and after further reflection, issues of distance and inconvenience must yield to concerns about his safety and, more importantly, the challenges he will face in adjusting to a new place of confinement and the changing circumstances two weeks before trial," they said. "With these considerations in mind, Mr. Manafort respectfully asks the court to permit him to remain in his current place of detention."
[Image via Alex Wong/Getty Images]
Have a tip we should know? [email protected]