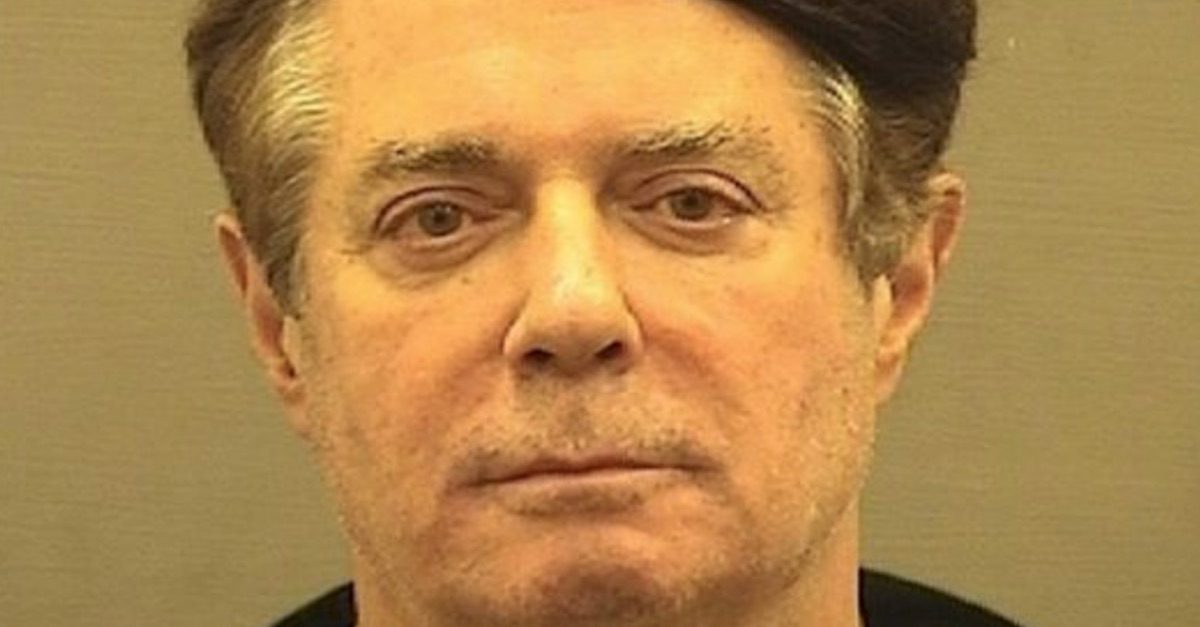 A reporter who was once jailed in the same facility Paul Manafort currently resides in has highlighted just how badly Manafort's attorneys messed things up by getting him moved. Manafort's team somehow managed to get their client moved to the home of "terrorists, spies and traitors," when he could have just continued enjoying the so-called VIP treatment afforded to him in Warsaw, Va. until his trial begins. Note that Manafort will remained jailed until trial which begins in the Eastern District of Virginia (EDVA) on July 31.
Today, Judith Miller is an adjunct fellow at the conservative non-profit and think tank, the Manhattan Institute. She works as a contributing editor for the non-profit's City Journal magazine and is known for her political commentary. She has also authored five books. Miller enjoyed a lengthy, award-winning career at the New York Times, but things came to a screeching halt there in the 2000s, when inaccurate reporting on Iraq and weapons of mass destruction ultimately led to her resignation.
She accepted that resignation calling herself a "free woman," freed from the "convent of The New York Times, a convent with its own theology and its own catechism."
Did you also know that when Miller was a reporter with the Times she was jailed in the Alexandria Detention Center for refusing to give up a source? Miller spent 85 days in 2005 at the high-security jail for her role in the so-called Plame Affair, which was about the outing of Valerie Plame as a CIA spy. As her former employer reported at the time, Miller was sent to jail when Judge Thomas F. Hogan held her in contempt for "defying the law" — that is, for refusing to testify on how Plame's ID was made public. This happened even though Miller didn't write a story naming Plame.
Miller's source on Plame, it was later revealed, was Bush Administration official, Scooter Libby. President Donald Trump pardoned Libby in April 2018.
Because of this, Miller is in a unique position to comment on the Alexandria Detention Center (ADC) and Manafort's situation. Law&Crime spoke with Miller about her experience at the ADC in light of Manafort's move there, and all indications are that whatever gambit Manafort's attorneys were attempting, it backfired in a major way.
ADC is the "total opposite" of VIP treatment, Miller said.
"I can't understand why Manafort would ask to be moved," she said. "[The Northern Neck Jail in Warsaw] was even better than Martha Stewart's prison."
In Miller's book The Story, A Reporter's Journey, she makes reference to Martha Stewart's incarceration and her envy of it.
"Unlike prisons intended for longer-term confinement, ADC wasn't required to provide courtyards for exercise or access to fresh air," she wrote. "I envied Martha Stewart as I read about her jogs on the footpath that linked inmates' cottages and the afternoon volleyball games at minimum-security Camp Alderson, in West Virginia, known as 'Camp Cupcake.' Martha called the prison 'Yale.'"
In Miller's estimation, Manafort's VIP treatment at the Northern Neck Jail was better than "Camp Cupcake"/"Yale." Let that sink in.
Manafort had his own room (larger than others), his own phone line, and his own laptop, with an extension cord that let him work from his bedroom instead of his private work space. Phone logs showed that he made more than 300 calls, including more than 100 to his lawyers. While calls were limited to 15 minutes each, there was no limit on how many calls he could make. Calls with lawyers were not monitored.
Besides those perks, Manafort also had his own bathroom and shower, and he didn't have to wear a prison uniform. Manafort himself referred to this as "VIP" treatment, said Andrew Weissmann, one of special counsel Robert Mueller's prosecutors.
"If I have to go to jail again, I know what to ask for," Miller chuckled.
Given what we know, Miller said she believes Manafort's attorneys made a mistake.
"He'll be very well treated at the ADC, but won't have the privileges. All prisoners have the same clothes and the food is bad. There's a basketball court and church on Sunday, but that's about it. There were some classes," she said.
Miller said that it would be hard for her to feel sympathy for Manafort, given the kinds of "sleazy lobbyist" criminal charges he's facing, but can certainly understand the toll ADC incarceration might be taking on him.
"Being in a jail like ADC has to remind Manafort of what's ahead of him if he is found guilty and President Trump doesn't pardon him," she said. "He'll go away for a long, long time."
"That's got to make this painful," she said.
On the matter of jail security, Miller said that after she was released from the jail she became aware that there were some dangerous inmates housed there. She said that there were fights, but usually these involved the men. Obviously, the male and female inmate population were housed separately. Nor were men and women allowed to gather on the basketball court (the "sole common recreational area") at the same time, Miller wrote.
She said the jail employees she encountered were "really well-trained and professional." She never had a close call and did not personally experience violence at the ADC.
She also said the ADC took pride in the fact that there had never been a suicide. She said that this was still the case at the time she left and that she believes she would have heard about it if this clean slate had changed.
"I was never frightened," she said.
Manafort's attorneys found themselves in a predicament of their own making when they complained that travel distances were making it difficult to prepare their client for trial. There are cases against Manafort in both the Eastern District of Virginia (EDVA) and the District of Columbia.
The D.C. case is related to Manafort's Virginia plight. The charge for alleged witness tampering filed in D.C. by Special Counsel Robert Mueller is the reason Manafort was sent to jail before his trial instead of being out on pre-trial release. Despite the jailing, it was nonetheless true that Manafort was experiencing a luxurious jail experience at the Northern Neck Regional Jail.
EDVA Judge T.S. Ellis III has been at the center of much of the Manafort drama. In response to Manafort attorneys' complaints about long distance, Ellis decided to move Manafort to Alexandria.
Manafort's attorneys replied that such a move would put their client's safety in jeopardy.
Ellis rather noticeably dismissed this idea by saying Manafort's attorneys did not identify "any general or specific threat to defendant's safety" and that the "professionals at Alexandria Detention Center are very familiar with housing high-profile defendants, including foreign and domestic terrorists, spies and traitors."
Miller's comments are in keeping with the judge's assessment.
She wrote in her book, and re-emphasized during our discussion, that one of the toughest aspects of her time at ADC was not being able to get some fresh air.
"In my eighty-five days at ADC, I had access to the alcove and fresh air five times," she wrote. "Jail was boring. It was also insanely bureaucratic. Run out of dental floss? Fill out a form. Want a new pair of socks? Sign a form, in triplicate. Need two aspirins for a splitting headache? Complete the form. I would eventually get the aspirin—if not the socks or dental floss—but days later, long after the headache. ADC often ran out of the forms."
"It took fewer than twenty-four hours to go from being Judith Miller, investigative reporter, to Inmate 45570083 at ADC, a nondescript, eight-story brick building in Alexandria, Virginia," she also wrote.
Depending on whether Manafort's defense is more effective from here on out, this could be his reality.
Judge Ellis recently cut off another legal avenue for Manafort that could have meant a quick move away from ADC. Ellis denied Manafort's bid to move the trial to Roanoke, Va.
Manafort's attorneys argued that it would be "impossible" for their client's trial to be fair unless the move was granted, and they cited political demographics in Alexandria as compared to Roanoke as proof. They said the partisan makeup of the electorate in each area following the 2016 general election and the heated press coverage has jeopardized Manafort's Sixth Amendment right to a fair trial.
Judge Ellis explained why he was not convinced (at least for now) and denied a motion to change the venue of the trial.
Ronn Blitzer contributed to this report. 
[Image via Alexandria Detention Center]
Have a tip we should know? [email protected]