President Joe Biden's son Hunter Biden has filed a lawsuit against the IRS claiming whistleblowers Gary Shapley and Joseph Ziegler "completely disregarded their confidentiality obligations" and engaged in a "campaign to publicly smear" him through various "unauthorized" disclosures of tax return information to media outlets, resulting in an "assault" on his privacy rights.
In July, Shapley and Ziegler publicly testified before Congress, alleging "unethical slow-walking and preferential treatment" and "deviations from the normal investigative process" made it impossible to bring felony tax evasion and "fraud or false statements" charges connected to Hunter Biden's business dealings with the Ukrainian gas company Burisma while his father was the vice president of the United States. Shapley also made allegations that Hunter Biden flaunted his father's power as part of a shakedown of a Chinese businessman in a proposed energy deal.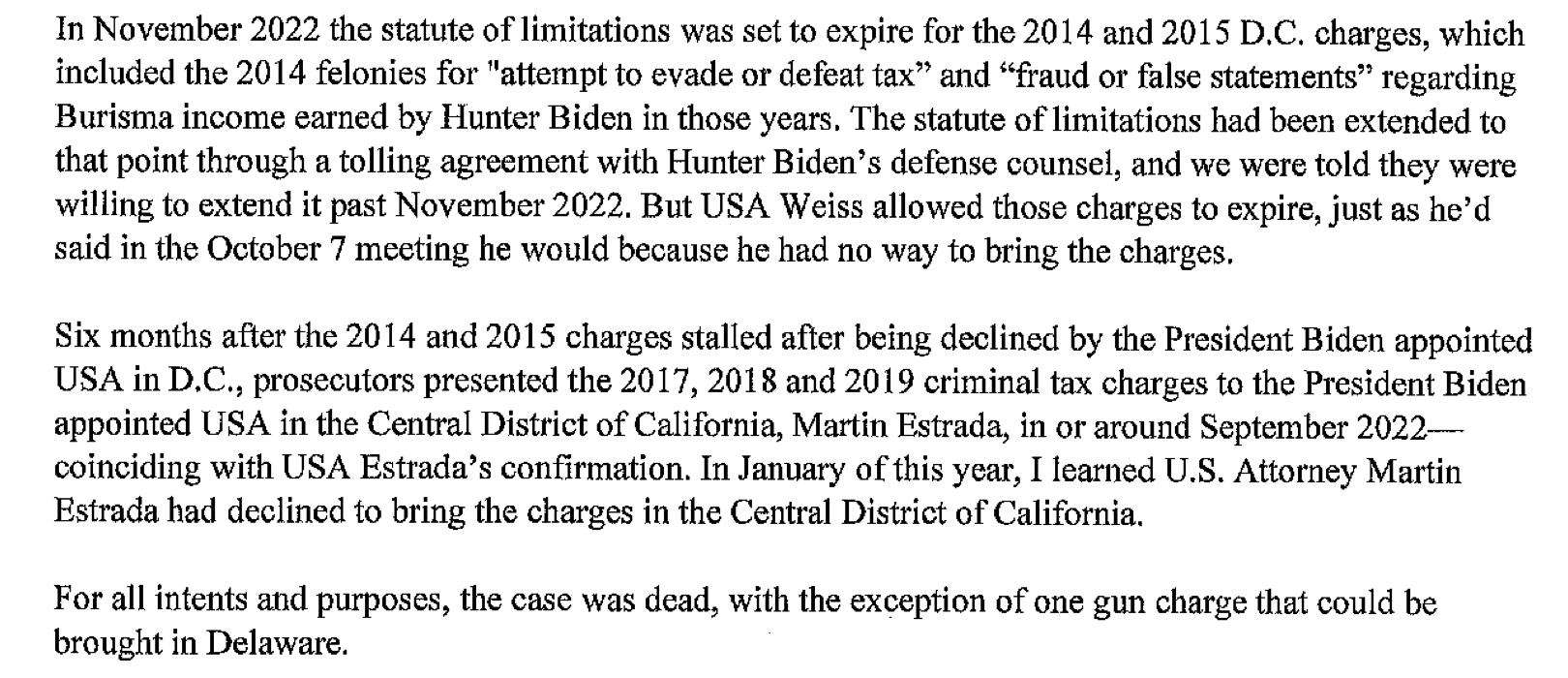 Hunter Biden's lawsuit largely focuses not on the congressional testimony but on "more than 20 nationally televised and non-congressionally sanctioned interviews and numerous public statements by Mr. Shapley, Mr. Ziegler, and their counsel" — Attorney A — "in these public appearances" on Fox News, The Megyn Kelly Show, John Solomon Reports, CNN, and CBS.
"This lawsuit is not about the legitimacy of the IRS investigation of Mr. Biden over the past five years or any decision to penalize Mr. Biden for any failure to comply with his obligations under the tax laws. This lawsuit is not about the proper workings of the whistleblower statute and process, nor an official using those procedures properly to make disclosures to authorized government officials," Biden's lawsuit said. "Rather, the lawsuit is about the decision by IRS employees, their representatives, and others to disregard their obligations and repeatedly and intentionally publicly disclose and disseminate Mr. Biden's protected tax return information outside the exceptions for making disclosures in the law."
Notably, Shapley, Ziegler, House Ways and Means Committee Chairman Rep. Jason Smith (R-Mo.), and Attorney A, who appears to be Mark Lytle, are named as non-parties to the lawsuit.
Biden's suit argued, citing their experience as agents and congressional "admonitions," that Shapley and Ziegler "knew that making any person aware of any individual's tax information in any manner constitutes a violation of federal tax law."
The high-profile plaintiff asserted that Shapley and Ziegler cannot use whistleblower status to make such disclosures in the media.
"Yet,these IRS agents and their attorneys willfully disregarded federal tax law, undermining Americans' faith in the IRS and the purported confidentiality of its investigations. These agents' putative 'whistleblower' status cannot and does not shield them from their wrongful conduct in making unauthorized public disclosures that are not permitted by the whistleblower process," the filing said. "In fact, a 'whistleblower' is supposed to uncover government misconduct, not the details of that employee's opinion about the alleged wrongdoing of a private person."
The suit further alleged that the disclosures didn't merely confirm an investigation or audit, but "provided detailed allegations regarding the specific tax years under investigation, the amounts of deductions, the nature of those deductions, and allegations of liability regarding specific tax years and the amount thereof, that could only be known to them based on a review of the physical tax returns themselves."
Calling the whistleblowers allegations "unsubstantiated," Biden reiterated the claim that the IRS agents ignored "clear warnings from Congress that they were prohibited from disclosing the contents of their testimony to the public in another forum" and that they "only emboldened their media campaign against Mr. Biden" from there.
The lawsuit against the IRS alleged two counts: one for willful or grossly negligent unauthorized disclosure and the other for violating the Privacy Act.
"As a direct and proximate result of its violations of the Privacy Act, the IRS unlawfully disclosed, or failed to take reasonable steps to prevent its personnel from unlawfully disclosing, Mr. Biden's records — his confidential tax return information — without his prior written consent and for no statutorily permitted purpose, in violation of 5 U.S.C. § 552a(b)," the suit said.
Biden is asking a federal judge in Washington, D.C., to declare that the IRS "willfully, knowingly, and/or by gross negligence, unlawfully disclosed Mr. Biden's confidential tax return information in violation of 26 U.S.C. § 6103." He also seeks damages of $1,000 for "each and every unauthorized disclosure" already made and for any future disclosure of the kind.
Hunter Biden further seeks attorney's fees and costs, an order that the IRS "produce to Mr. Biden all documents in its possession, custody, or control regarding the inspection, transmittal, and/or disclosure of Mr. Biden's confidential tax return information," and a court order that the IRS "formulate, adopt, and implement a data security plan that satisfies the requirements of the Privacy Act."
The lawsuit was filed by attorney Abbe Lowell, recognized for his past representation of Ivanka Trump and Jared Kushner.
Just last week, Hunter Biden filed a lawsuit against Garrett Ziegler, a former policy analyst in the Trump White House, for allegedly "hacking into" an "encrypted iPhone backup" as part of a years-long "sustained, unhinged and obsessed campaign against Plaintiff and the entire Biden family" by exposing the contents of the "hard drive of the claimed 'Biden laptop.'"
Months before that, Biden countersued the Delaware laptop repairman at the center of the controversy, claiming that the "knowing and intentional distribution of Mr. Biden's personal and sensitive data […] to try and expose Mr. Biden's data to those that he knew or should have known would intend to create embarrassment and harm for Mr. Biden" invaded his privacy.
As recently as Sept. 14, following a collapsed plea deal, Hunter Biden was indicted on three gun charges. Special counsel David Weiss alleged that Biden lied on government paperwork about his drug use in order to obtain a gun in violation of the law and knowingly possessed that gun while being an "unlawful user of and addicted to" any stimulant, narcotic, or controlled substance.
Law&Crime reached out to Mark Lytle for comment.
Read Hunter Biden's lawsuit against the IRS here.
Have a tip we should know? [email protected]