A federal judge in Minnesota who made a name for himself successfully prosecuting former Minneapolis police officer Derek Chauvin ordered the dismissal on Wednesday of a lawsuit between a local realtor and a Canadian realtor with noticeably similar wingspan-focused advertising campaigns.
U.S. District Judge Jerry Blackwell tossed the case that Kris Lindahl Real Estate (KLRE) first filed against Ontario, Canada-based rival RE/MAX Escarpment Golfi Realty Inc. back in August.
At the center of the copyright infringement and breach of contract dispute is a two-day online seminar that KLRE CEO Kris Lindahl created and Robert Golfi paid $1,997 to watch. Lindahl essentially claimed that Golfi went on to rip off his "arms outstretched" ad campaign — in violation of a "seminar agreement" prohibiting Golfi's commercial use of information gleaned from said seminar.
Lindahl said that his "Arms Outstretched Pose" is not only on billboards, but also on buses and other places online. He included photo exhibits in an attempt to illustrate his point.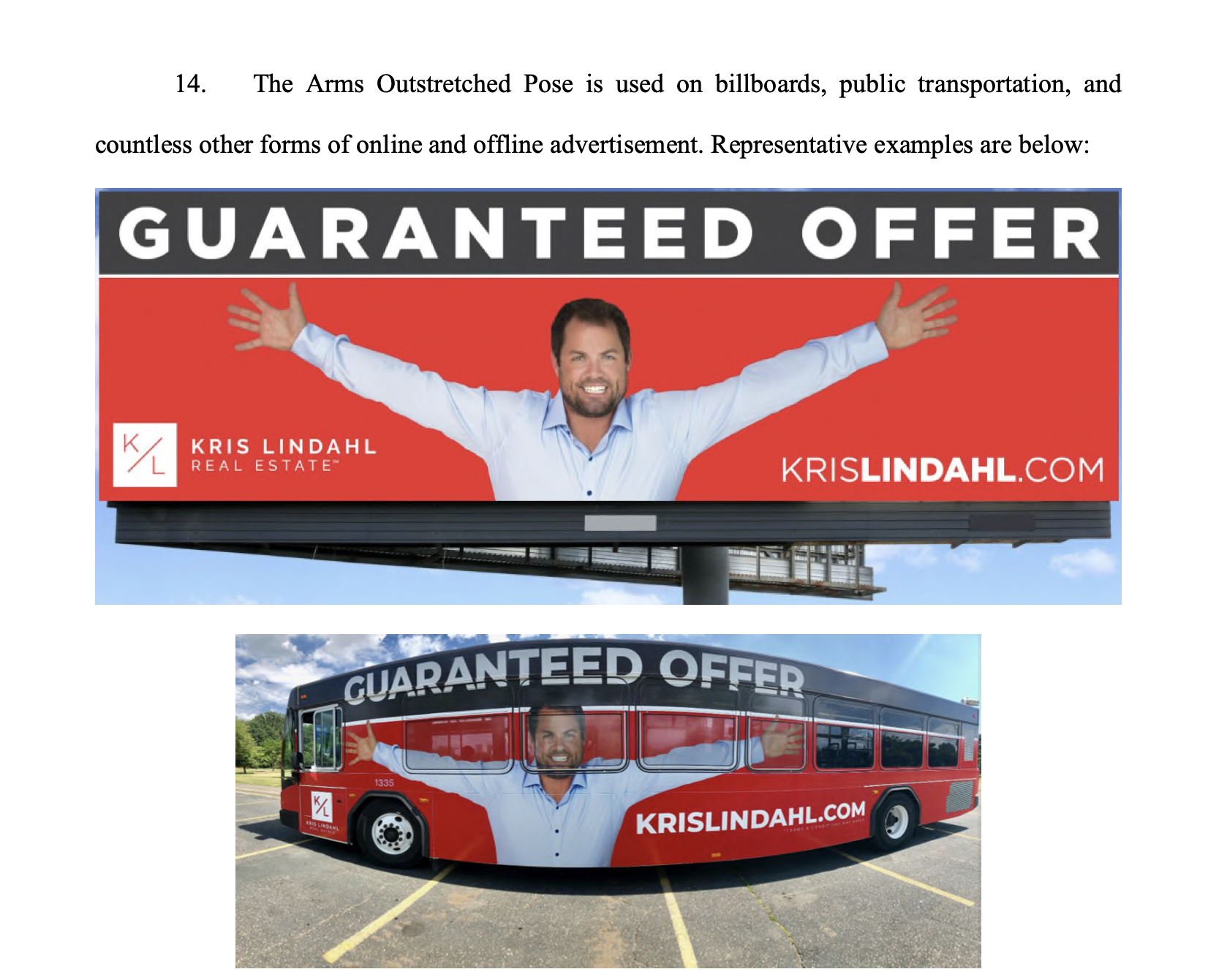 But Golfi's motion to dismiss countered that the so-called "seminar agreement" was not something he was even aware of when he clicked a box consenting to a "privacy policy."
"Kris Lindahl sells an expensive online seminar that he claims will help residential brokers scale their business. The seminar is sold through a website where his customers fill out a simple form and pay $1,997 via a credit card to gain access to the two-day prerecorded online seminar," the defendant said. "Defendant Golfi Realty is a Canadian residential brokerage company. Its principal, Robert Golfi, registered for the seminar, which included clicking a box that said, 'I consent to the Privacy Policy.' Unbeknownst to Mr. Golfi, the 'Privacy Policy' was actually a 'Seminar Agreement' that contained numerous substantive terms, including provisions prohibiting the commercial use of any information provided in the seminar."
Golfi's lawyers asserted the such prohibitions fly in the face of the "very purpose" of the seminar, which is to help other realtors (like Golfi) "scale their business":
In other words, KLRE uses language about a privacy policy in close proximity to a seemingly innocuous link to a "privacy policy" to entice unsuspecting users to click the box to agree to the "privacy policy," when that "privacy policy" actually contains terms that negate the very purpose of attending the seminar in the first place.
The Canadian realtor claimed that he was misled, believing the "privacy policy" had to do with his personal information as collected by the form.
Noting that Lindahl "applied for a federal trademark registration for the Arms Outstretched Pose" which "has not yet been granted," the defense even more importantly argued that Lindahl's U.S. copyright infringement claim could not reach the Canadian.
"In his ads, Kris Lindahl uses photographs of himself with his arms outstretched. This pose, at best, has achieved some level of local protection, and certainly is not nationally or internationally exclusive to Mr. Lindahl. In an attempt to create intellectual property rights they can enforce in Canada, the Lindahl Entities now assert that the Seminar Agreement, hidden behind the 'Privacy Policy' link, prohibited Golfi Realty from using a similar pose in Canada and that Golfi Realty breached that Seminar Agreement; they further assert that Golfi Realty is liable under U.S. copyright law for copyright infringement," the Golfi motion said.
"The Copyright Act does not have extraterritorial effect, and this defect cannot be cured, mandating dismissal with prejudice of this claim," the defendant continued. "The breach of contract claim also fails because (1) the purported contract was deceptive such that no constructive intent of the terms was given; (2) the pose is not a 'proprietary concept,' and (3) the contract is unconscionable. Again, these defects cannot be cured and warrant dismissal with prejudice of the breach of contract claim."
Those arguments persuaded Judge Blackwell, but he did not give the defense everything it asked for. Blackwell dismissed the case without prejudice, meaning Kris Lindahl will have a second chance to file his claims.
"As stated on the record at the hearing, Golfi's motion to dismiss is granted. One of Lindahl's asserted claims is for copyright infringement under the Copyright Act. The Copyright Act does not have extraterritorial reach beyond the United States," the judge ruled, adding: Because Lindahl's Complaint includes no allegations that any act of copyright infringement occurred in the United States, Golfi's motion to dismiss the copyright infringement claim is granted."
And because the breach of contract claim was a state claim, the judge decided to toss that as well — again, without prejudice.
"With the copyright infringement claim dismissed, the only claim remaining is the breach-of-contract claim (Count I). The Court declines to exercise supplemental jurisdiction over this claim. See 28 U.S.C. § 1367(c)(3) (stating a federal court may decline to exercise supplemental jurisdiction over a claim if it 'has dismissed all claims over which it has original jurisdiction')," Blackwell explained.
Famously part of the team of prosecutors that secured Derek Chauvin's conviction for murdering George Floyd, Judge Blackwell is now in his third month as a federal judge after being appointed by President Joe Biden to the lifetime role.
Have a tip we should know? [email protected]