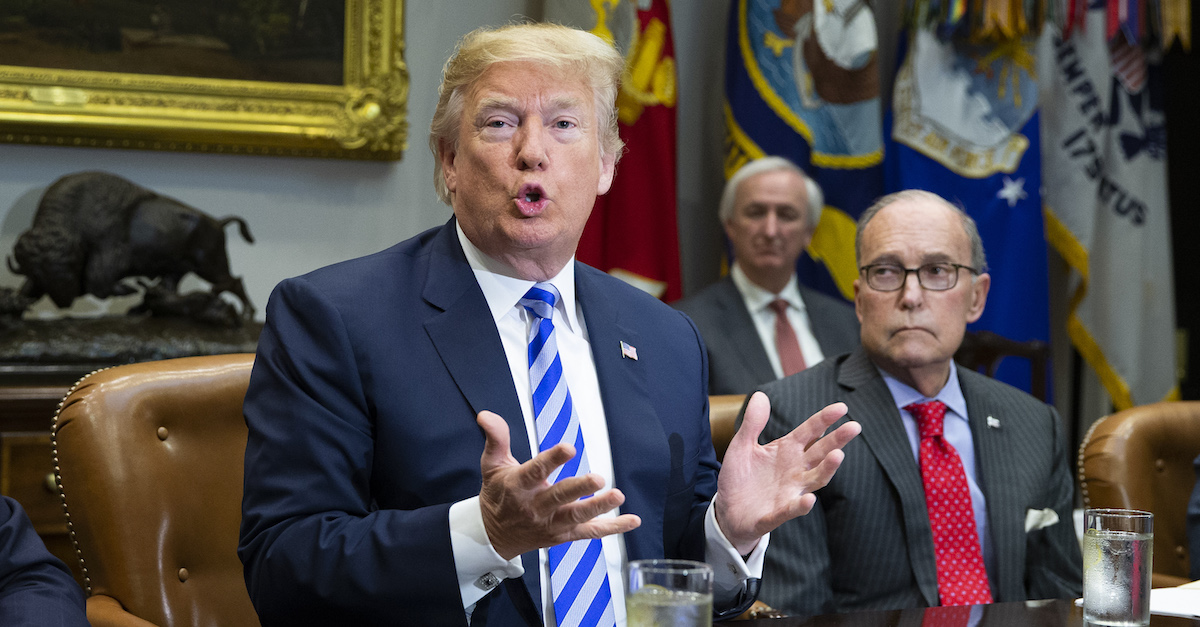 President Donald Trump has often called special counsel Robert Mueller's Russia Probe a "witch hunt" and Thursday his lawyers at the firm Jones Day attacked The Protect Democracy Project's lawsuit to obtain documents related to the 2016 hack of the Democratic National Committee (DNC).
The reason they slammed it? To prevent a "last-ditch effort to launch a fishing expedition into the president's and the campaign's files," the National Law Journal reported.
Jones Day partner Michael Carvin notably suggested that allowing this to go to discovery would force Mueller to deal with both Congress and private plaintiffs. The DNC has already filed a lawsuit against Russia government, the Trump campaign and WikiLeaks.
DNC chairman Tom Perez has alleged that "Russia launched an all-out assault on our democracy, and it found a willing and active partner in Donald Trump's campaign."
Carvin also said the discovery process would be a threat to "prejudice individuals who have been or will be indicted, by potentially requiring them to sit for civil depositions despite their privilege against self-incrimination."
The Protect Democracy Project's attorneys, on the other hand, said they've met the "governing standard triggering jurisdictional discovery."
"[P]laintiffs have pleaded more than conclusory allegations of a conspiracy, sufficient to meet the requirement of nonconclusory allegations to obtain discovery," they said.
The Protect Democracy Project's Executive Director Ian Bassin said in a statement to Law&Crime that his organization should be "permitted modest discovery."
"As we saw at the hearing on the Motion to Dismiss, the Trump Campaign seems to recognize that they can't fend off this lawsuit by claiming there's insufficient evidence of a conspiracy for it to proceed," he said. "As most of America has now realized, the evidence that the Trump Campaign conspired with Russia grows by the day, and in the case of our clients, it caused specific injuries to patriotic Americans."
"Since the Trump Campaign has instead decided to fight over where this suit should be heard, our filing makes clear that the proper place is DC," he continued. "And it emphasizes that because, typically, conspirators rarely sign an agreement on the dotted line and the evidence of a conspiracy is often exclusively in the hands of the conspirators, we should be permitted modest discovery of what the conspirators know about the suspicious meetings that took place in DC to establish clearly that this indeed is where this suit should proceed."
The Protect Democracy Project describes itself as a "nonpartisan nonprofit with an urgent goal: to hold the President and the Executive Branch accountable to the laws and longstanding practices that have protected our democracy through both Democratic and Republican Administration."
The use of the term "fishing expedition" by Trump attorneys is notable because it is often used to discredit Robert Mueller's investigation as a whole.
In Florida Rep. Ron DeSantis' (R)  Fox News op-ed from 2017, he said Congress shouldn't fund a "Trump-Russia fishing expedition."
DeSantis said Deputy Attorney General Rod Rosenstein's appointment of Mueller as special counsel was "effectively an invitation to conduct a fishing expedition."
Rosenstein has said that he and Mueller understand the "specific scope of the investigation and so, it's not a fishing expedition."
The effects of the DNC hack were far-reaching. You may recall Sen. Bernie Sanders publicly scolding chairwoman Debbie Wasserman Schultz for tilting the odds toward Hillary Clinton.
"I told you long time ago that the DNC was not running a fair operation, that they were supporting Secretary Clinton," he said.
Editor's note: this story was updated after publication with a statement from The Protect Democracy Project.
[Image via Alex Edelman-Pool/Getty Images]
Have a tip we should know? [email protected]