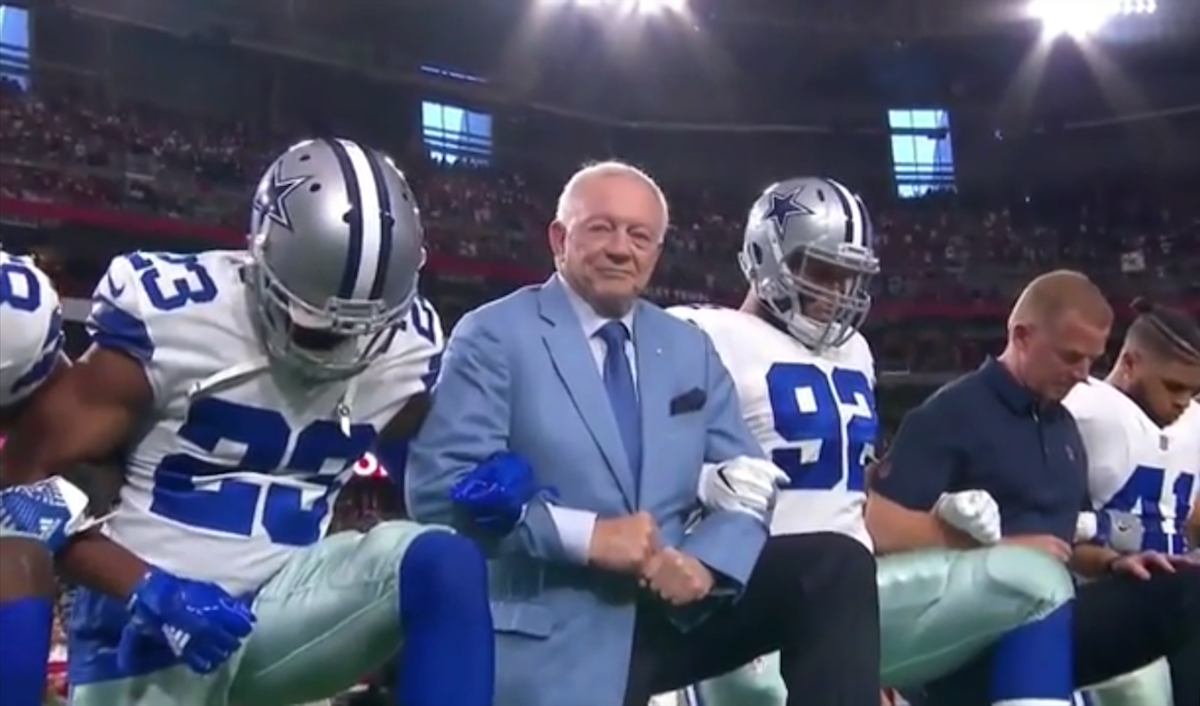 Dallas Cowboys owner Jerry Jones says President Donald Trump personally pressured him and other NFL owners to change the league's national anthem policy.
In a deposition obtained by The Wall Street Journal, Jones relayed the contents of a phone call between himself and the 45th president. During that phone call, Jones says Trump told him:
This is a very winning, strong issue for me. Tell everybody, you can't win this one. This one lifts me.
Jones was recently deposed as part of a grievance filed against the National Football League by anti-police brutality advocate and former San Francisco 49ers quarterback Colin Kaepernick. The marquee quarterback alleges that he was unlawfully blacklisted by the NFL over his anti-racist advocacy. Jones' comments are only likely to bolster Kaepernick's case against the league.
The White House did not dispute Jones' comments. Instead, an unnamed White House official simply pivoted to repetition of nationalistic bromides, telling Beaton, "The majority of the American people agree with the president, love our country, love our flag and believe it should be respected."
Law&Crime's Amy Dash recently reported that at least one NFL owner admitted under oath that he made his decision not to hire Kaepernick, a franchise-calibre quarterback, based on fear of reprisals from President Trump. Kaepernick's attorney Mark Geragos slammed-but-welcomed those comments on Dash's podcast, "Straight Aim." Geragos said:
The only reason — and the owners will admit that — they haven't signed him is they're afraid of Trump, and they've colluded because of Trump,
Additionally, Jerry Jones and other owners–like the Houston Texans' Bob McNair and Miami Dolphins' Stephen Ross–also testified that they believed national anthem protests were an economic drain on the NFL, according to the WSJ's report.
The above-referenced testimony directly conflicts with data showing increased revenue for the league and clubs alike over the past few years. This data was recently cited by Atlanta Falcons owner Arthur Blank when justifying a massive raise and new contract for quarterback Matt Ryan.
[image via screengrab]
Follow Colin Kalmbacher on Twitter: @colinkalmbacher
Have a tip we should know? [email protected]