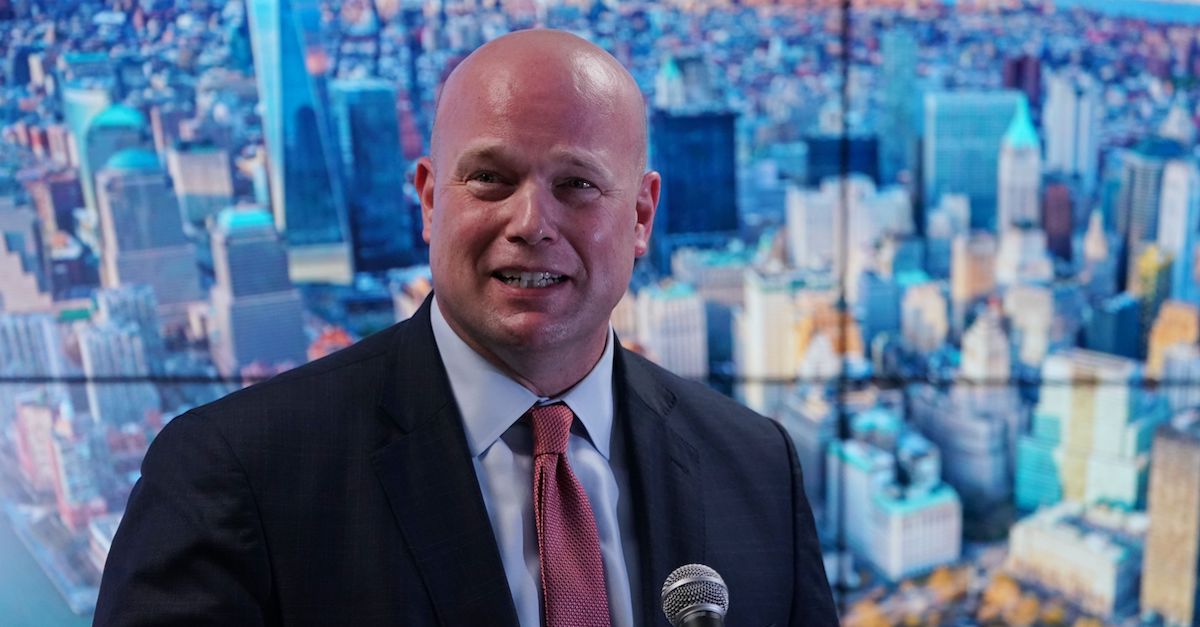 Matthew Whitaker's temporary stint as Acting Attorney General of the United States has come to an end now that William Barr has been confirmed as Attorney General for the second time, leaving us to reflect upon the months of Nov. 2018-Feb. 2019.
Whitaker's appointment came as Jeff Sessions resigned amid repeated criticisms from President Donald Trump for recusing himself from the Russia investigation. Sessions had his reasons for doing so, but as soon as Whitaker stepped in, calls for him to do the same followed. People pointed to Whitaker's comments on CNN indicating that he thought Special Counsel Robert Mueller may have gone too far.
However, the immediate analysis from a leading legal ethics expert was that, unlike with Sessions, there wasn't a clear legal ethics issue that force Whitaker to recuse, despite the optics of the situation. Whitaker was seen as a puppet AG installed by the president, potentially to disrupt Mueller's Russia investigation. There was a time when Mueller's filings were discussed as a possible way to work around Whitaker's oversight of the investigation. This was complicated when since-denied reports that Trump "lashed out" at Whitaker circulated.
As the calls for recusal waned for a while, figures like Kellyanne Conway's attorney husband George and former acting solicitor general Neal Katyal penned an op-ed calling Whitaker's appointment "illegal." Katyal has often referred to Whitaker as a "fake AG." Rep. Eric Swalwell (D-Calif.) referred to Whitaker as a "hitman."
Department of Justice alumni came out in droves to oppose the appointment. Democratic lawmakers as high up as Sen. Chuck Schumer (D-NY) threatened to look into whether Whitaker colluded against Mueller.
Lawyers mulled ways to get the Supreme Court involved. Then came the other investigations. Where was Whitaker's financial disclosure form? What's with the active FBI Investigation of alleged "scam" firm World Patent Marketing, a firm Whitaker worked for in an advisory role? Were Americans harmed by this? Did Whitaker falsely claim academic All-American honors?
The questions were so numerous that Whitaker's wife was moved to defend her husband in an email, the contents of which would then be published.
Eventually, the subject of recusal came up again because it was reported that Whitaker was advised to recuse himself due to an appearance of a conflict. Whitaker declined to do so and ethics watchdogs demanded action. It came to nothing.
All seemed to grow quiet again until Whitaker got in his own way. He said that he believed the Mueller investigation was near "complete." It is standard operating procedure not to comment about ongoing investigations. This, once again, raised questions about whose side Whitaker was on here.
The final clash would occur before Congress. Whitaker was given a list of questions that he would be asked in advance by the House Judiciary Committee. This came to a head when Whitaker was threatened with a subpoena to appear. Whitaker did show up to testify. Despite causing audible gasps by telling Committee chair Rep. Jerrold Nadler (D-New York) that his five minutes were up and getting combative with other members of Congress, the hearing as a whole proved uneventful.
Whitaker acknowledged that he has been briefed on the Mueller probe; he said that he did not brief President Trump on the Mueller investigation; he said that he did not brief senior White House officials about the Mueller probe; and he said that he hasn't interfered "in any way" with Robert Mueller's work.
Nadler has followed up on the contentious meeting by threatening to depose Whitaker due to unsatisfactory" testimony.
"Although the committee appreciates your decision to appear, members on both sides of the aisle found many of your answers to be unsatisfactory, incomplete or contradicted by other evidence," Nadler said. "You repeatedly refused to offer clear responses regarding your communications with the White House, and you were inconsistent in your application of the Department's policy related to the discussion of ongoing investigations."
All of the above has up to now come to nothing, so it wouldn't be crazy to expect more of the same. That this has all but turned to dust was immediately reflected in the courts.
[Image via Don Emmert/AFP/Getty Images]
Have a tip we should know? [email protected]