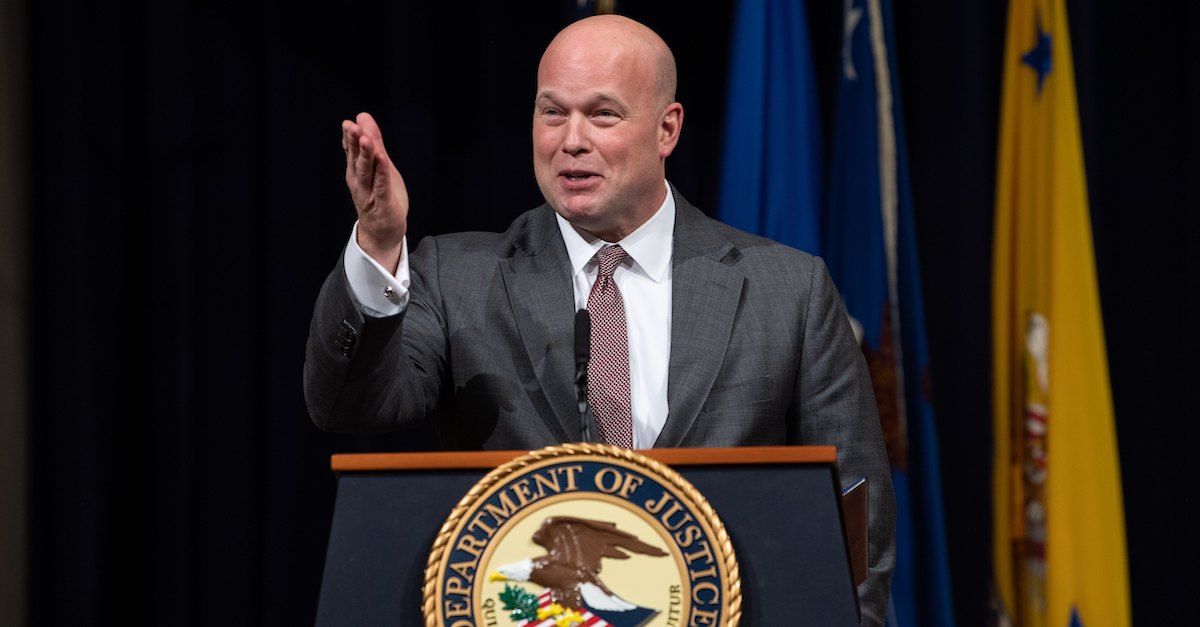 Acting Attorney General Matthew Whitaker, former chief of staff to Jeff Sessions, has been eyed with suspicion ever since President Donald Trump asked Sessions to resign, even as special counsel Robert Mueller's investigation pushed forward. Along the way, Whitaker's ties to World Patent Marketing (WPM), an alleged scam firm, came to light.
And, after all of the ethics review, financial disclosure form, and Academic All-American drama, Trump nominated William Barr to take over as Attorney General. As the clock ticks on her husband's tenure, Marci Whitaker has apparently sent Slate an email in response to a recent article.
In that email, Marci defends Matt on a number of fronts.
Slate said that Marci sent an email on Wednesday morning. They verified that "her email address and the phone number listed in the email footer match those listed in publicly available documents, and Slate's director of technology confirmed that the email originated from mail servers operated by her company."
Marci accused Slate of reporting unfairly about her husband, who is a "good person." She prefaced what she was about to say next by saying she is "not a fire-breathing Republican dragon."
First, she denied that her husband is homophobic and he ever carried out a prosecution motivated by anti-gay bias:
Literally none of the awful things you and your co-author say are true. There is zero evidence that Matt is homophobic and if you knew how the US Attorney's office worked and how multiple law enforcement agencies participated in the [Matt] McCoy case, you would not print that. Mr. McCoy has for years attempted to spin it this way and it has never taken hold, except perhaps, to the very negatively motivated and gullible.
Second, she downplayed Whitaker's involvement with WPM, a firm that remains under FBI investigation. Whitaker worked there in an advisory role and was compensated for it. She said there's no way her husband could have known about the scam.
"To imply that Matt had visibility and knowledge of $25 million dollars of wrongdoing is preposterous,' she said.
Next, she said Whitaker never auditioned for the acting Attorney General job by making comments critical of the Mueller investigation on CNN.
"It's not in this particular article, but the 'he auditioned for the job on CNN' part of the past months' reporting has been among the most absurdly and tragically funny part of this whole experience," she wrote. "Who could have imagined this turn of events? No one. Not us, that is for sure. The idea that it was some calculated plan is silly."
She also pumped the brakes on the comments Whitaker made, saying it was clear he didn't have to recuse himself from overseeing the Mueller probe.
"It isn't really or shouldn't be that controversial to state that the Mueller investigation should stay within the parameters given. Particularly when that is said more than a year prior as the investigation is just beginning. Why would a person need to recuse oneself for that mild statement?" she asked.
Marci noted that if her husband really was brought in to be an anti-Mueller henchman, the timing isn't so great, since Mueller appears to be winding down.
"Assume that a person who speculated on a hypothetical scenario would then put some dark plan into motion, when by all accounts, the [Mueller] investigation is wrapping up and they [sic] eyes of the nation are upon them. Yeah, that's pretty realistic," she said.
Finally, Marci said it was untrue that Whitaker lied "about the academic All-American thing."
[Image via Nicholas Kamm/AFP/Getty Images]
Have a tip we should know? [email protected]