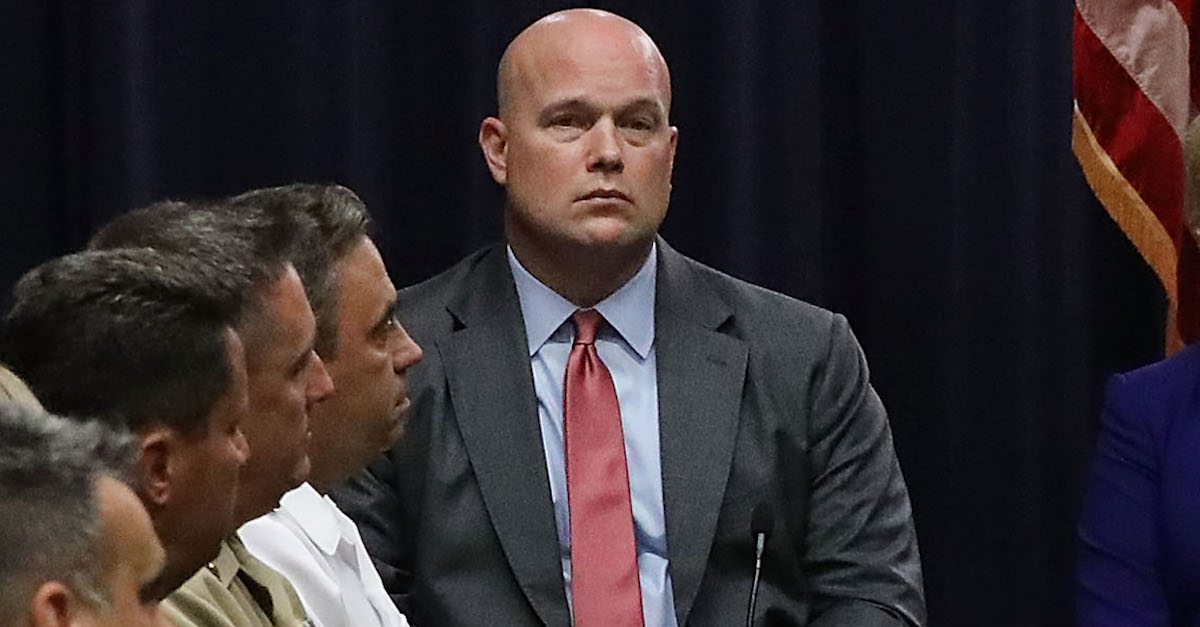 Acting Attorney General Matthew Whitaker appears to have falsely claimed he was named as an Academic All-American while he was a football player at the University of Iowa.
According to the Wall Street Journal, Whitaker misrepresented those academic and athletic credentials on both his résumé and at least one government document. In 2014, the apparently false claim was made on a résumé sent to the World Patent Marketing Board–the federally sanctioned "invention promotion scheme"-pumping group where Whitaker would eventually serve as an advisory board member. Whitaker also made the Academic All-American claim when he applied to be a judge in Iowa in 2010.
Whitaker attended the University of Iowa, where he played football as a tight end from 1990 to 1992. According to Whitaker's credentials, he received the honor of Academic All-American status in 1992. According to the College Sports Information Directors of America (CoSIDA), which is the organization that issues the Academic All-American award, however, the recipient that year was defensive back Jason Olejniczak.
A comprehensive historical list of Academic All-American award recipients compiled by CoSIDA contains five Whitakers–none of them Matthew. CoSIDA spokesperson Barb Kowal told the WSJ that the organization has no record of Whitaker ever receiving the award.
In order to be nominated for the award, "a student-athlete must be a starter or important reserve with at least a 3.30 cumulative grade point average" and "must have participated in at least 50 percent of the team's games at the position" for which they were nominated, according to CoSIDA. It appears that Whitaker did satisfy these requirements but made out with a smaller award instead.
Department of Justice spokesperson Kerri Kupac said that Whitaker relied on a Hawkeyes football media guide from 1993 which listed him as a "GTE District VII academic All-American." That was a mistake, according to Kowal, who said the actual distinction should have been listed as "1992 GTE District VII Academic All-District selection."
This smaller honor, Kowal explained, is part of the Academic All-American process–but not quite the same thing.
"[B]eing named an Academic All-District is PART of the CoSIDA Academic All-America program, but does not make you an Academic All-America honoree," she told the WSJ. "You must be placed on the national ballot and then voted onto the Academic All-America team to gain that honor."
For her part, however, Kowal doesn't assume anything nefarious happened here because CoSIDA wasn't as organized back in the day.
"[W]e know that people over time use terms interchangeably and innocently," she said.
[image via Chip Somodevilla/Getty Images]
Have a tip we should know? [email protected]