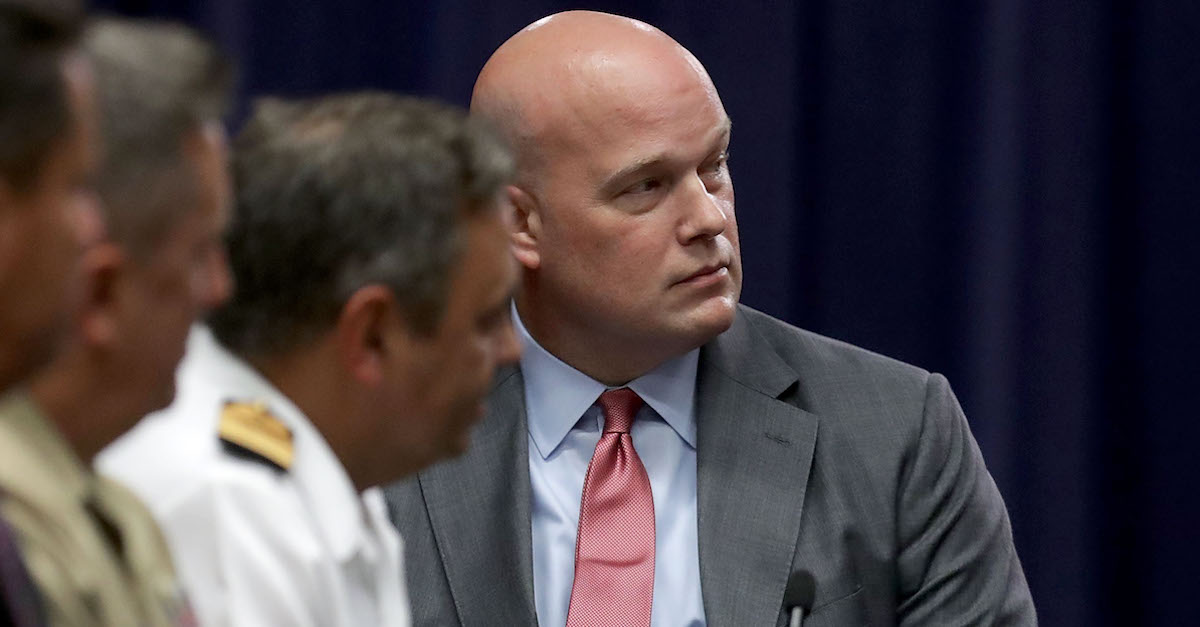 When it was Jeff Sessions time to go, President Donald Trump decided that Matthew Whitaker was the person to step in as acting Attorney General of the United States. All manner of attention has been given to Whitaker's publicly expressed views about special counsel Robert Mueller's investigation, but now there's another controversy front and center.
The Wall Street Journal reported Friday afternoon that World Patent Marketing (WPM), a Florida-based company Whitaker used to work for as a paid advisory board member, is still under criminal investigation by the FBI.
Whitaker, as acting Attorney General, now oversees the FBI.
Whitaker, NYU Law School legal ethics expert Stephen Gillers told the Journal, "is unquestionably recused from any investigation or prosecution of World Patent Marketing."
The investigation reportedly in the hands of the FBI's Miami office and the U.S. Postal Inspection Service. The Journal reported that "a phone line set up by the Justice Department to help victims said Friday the case remains active."
WPM was forced to shutter its door after the Federal Trade Commission (FTC) accused the firm of "scamming customers out of $26 million," according to the report. WPM is accused of bilking inventors of thousands for patents and sham promotions of their products.
Whitaker was paid $9,375 for the advisory role he served in and was reportedly featured in promotional videos. In a 2014 press release for WPM, he touted his credentials as a former U.S. attorney and said he "would only align myself with a first class organization."
"World Patent Marketing goes beyond making statements about doing business 'ethically' and translates them into action," he said. WPM has been accused of doing the opposite.
In one instance, the Journal said, Whitaker threatened an unhappy customer over email with "serious civil and criminal consequences."
Perhaps the most interesting nugget of the Journal story was this one:
The FTC's action was a civil proceeding. The existence of a continuing FBI investigation suggests authorities are also looking into potential criminal charges.
It's not clear at this time if Whitaker is in any danger of being ensnared by the investigation.
Neither the FBI nor the Department of Justice has commented on the report.
As Courthouse News reported earlier Friday, Whitaker was a member of the "Invention Team Advisory Board," which had 12 board members. It's not clear if he returned the money he was paid.
There was also this detail:
Ironically, Whitaker's profile in the archives of WPM's now-defunct website touts his work sniffing out "scams" at his former post in the U.S. Attorney's Office in Iowa between 2004 and 2009.
[Image via Chip Somodevilla/Getty Images]
Have a tip we should know? [email protected]