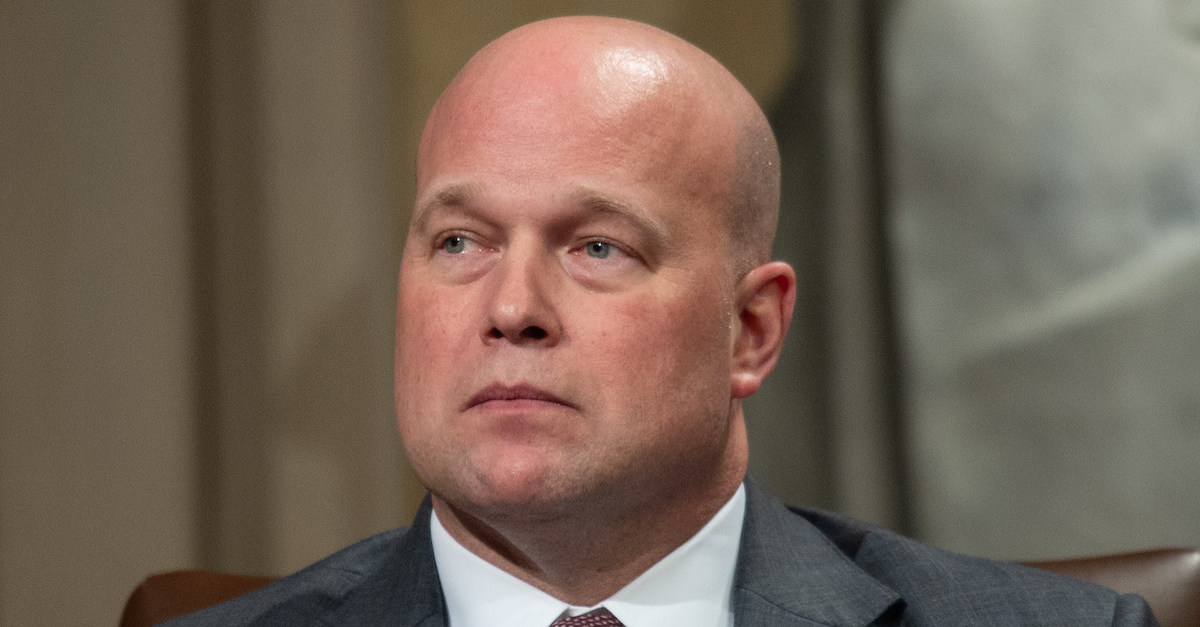 Acting Attorney General Matthew Whitaker joined the advisory board of World Patent Marketing (WPM) on October 23, 2014–fresh off a stint as U.S. Attorney for the Southern District of Iowa. In a press release issued at the time, Whitaker said:
World Patent Marketing has become a trusted partner to many inventors that believe in the American Dream. I have always admired World Patent Marketing and its innovative products and dynamic leadership team.  It's an honor to join the World Patent Marketing board.
By August 24, 2017, WPM had been shut down and sanctioned by the Federal Trade Commission (FTC) as a "fraudulent scheme" in which the business used "consumer funds to enrich themselves." The agency also noted:
At the Federal Trade Commission's request, a federal court has found that the FTC is likely to prevail in its case against World Patent Marketing, an invention-promotion scheme that allegedly deceived consumers through misrepresentations about its success and the services it provided, and suppressed complaints about the company by threatening dissatisfied customers.
Libertarian outlet Reason filed a public records request with the Florida Attorney General's Office for WPM customer complaints dating from the year of Whitaker's arrival to when the fraudulent company was eventually sanctioned and subject to forced closure by the FTC. Here are some of those complaints from WPM's extremely distraught, increasingly desperate and wholly dissatisfied customers.
Connie Starkey said she paid WPM $14,000 and eventually learned the company had gone under:
My husband and I sent this company a lot of money. We do not have a lot of money. My husband has been very very stressed about this situation since January 15, 2015. We understand it is now in receivership and we are unsure what that means. Can you help us? My husband is a disabled Viet Nam veteran.
Yvonne Bracamontes said she paid WPM $33,000. Over a year and a half later she'd received nothing:
Please help me what to do next, they are no longer in [existence]. They took my money. And [have] not fulfilled their contract.
C.J. JOS (sic) emailed about paying WPM $10,290 and simply never hearing back:
Promising patent for my product they took $10,290 from me. Nothing happened since. No contacts from them now.
Shelene Gates paid WPM $995; after nearly a year, Gates claimed to have received basically nothing of value:
This company did not provide the service it promised The marketing analysis I received was not applicable to the filed in question-Dentistry. The information was only informative in telling you "what" a market analysis is, there was no pertinent information to my product and challenges [bringing] it to market. The art work was completely off. When I complained, they stopped all contact with me.
Linda Denison paid WPM $22,995 over the course of a year. She eventually received a link to a blog created by the company:
I was contacted by Christopher King on 12/27/2016 and he told me that the marketing team at World Patent wanted to know if I had the money to start manufacturing my idea that this would speed up my invention, I explained that I had invested all I had into my idea at this time. I was told that was no problem that they would continue to market my idea to make my idea a success. I haven't heard a word back and I have emailed and called. I feel that World Patent Marketing has taken advantage of me and I am concerned that the money I have invested for what they promised has been lost.
John Dell'Olio paid WPM $26,195 over the course of nearly two years and got less than nothing in the form of a patent setback:
I've signed an agreement with WPM to file patents and market my invention. It's almost two years and the utility patent filing has been abandoned, (I have a copy of the letter from the [U.S. Patent and Trademark Office] concerning the abandonment), and the expected licensing agreements have not materialized. I've been working with Scott Cooper the CEO who doesn't give me any satisfaction. I have about 45 e-mails to prove this. I've given them $25,000 of a $35,000 aside from the initial fee of $1995 and haven't sent the balance because I asked for my money back about a dozen times for lack of services and all I get are empty promises. I look forward to hearing back from you regarding this unamerican act against a 75 year old veteran. Thank you in advance, John.
Law&Crime previously reported on WMP's liability with the Federal Trade Commission in a profile on Whitaker. Recently, WPM was ordered to pay $26 million in restitution over the scam. Additional reporting by Law&Crime noted that the FBI is currently still investigating Whitaker's former company.
[image via Nicholas Kamm/AFP/Getty Images]
Have a tip we should know? [email protected]