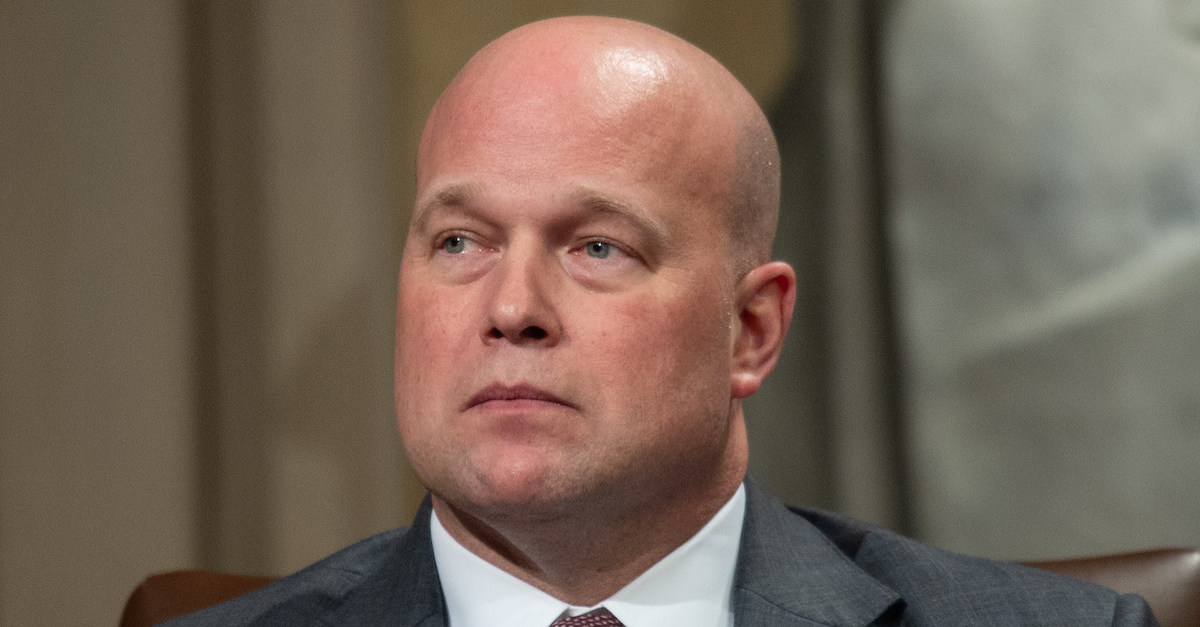 Matthew Whitaker was supposed to be the Grim Reaper of the American Justice System; brought in by President Donald Trump to fire Robert Mueller, ending the Special Counsel's Office's investigation of the Trump campaign and letting the president off the hook for whatever Mueller was definitely going to hit him with. Then Whitaker was going to ride off into the sunset, smoking a cigar wrapped with an original copy of the Constitution.
Of course, Whitaker's time as Acting Attorney General has now reached its conclusion, and nothing close to this happened. Damn, though, Democrats were sure certain it would. When he was appointed to the position—instead of someone who was already in a position where they had been confirmed by the Senate—Trump-haters were certain the selection was illegal (it wasn't), and that it was a sure sign he'd get rid of Mueller (he didn't).
Just days ago, when he sat for what was supposed to be a Justice Department oversight hearing, Whitaker was grilled over his attitude towards Mueller's investigation and whether he and Trump spoke about it before he got the Acting AG job. Clearly, they must have been plotting something evil. That's why just yesterday, House Judiciary Chair Jerrold Nadler (D-NY) said he wanted Whitaker to come back for another round of questioning.
Yes, he may be a dead-ringer for Daredevil baddie The Kingpin (seriously, it's uncanny), but in the end, Whitaker's potential to be a supervillain remained unfulfilled.
I don't think the Russia investigation is a witch hunt. Even if Mueller finds no evidence that the Trump campaign illegally colluded with Russia, there were still plenty of reasons to be concerned and to investigate it.
The relentless questioning of Whitaker, on the other hand, was a witch hunt. Yes, the guy had spoken against Mueller's investigation before he was Acting Attorney General, but a person's individual opinion before they take a job is not a predictor for how they will execute their official responsibilities. A person can have an opinion that doesn't align with a left-wing platform and still be able to be a functioning member of government. Judges know this; members of Congress apparently do not.
Already, we're seeing that Democrats have learned nothing from this. William Barr is now Attorney General, and he received the same kind of treatment when he was going through the confirmation process. Never mind that he's friends with Mueller and spoke very highly of him. Never mind that he said that he would not impede the Russia investigation. Never mind that he said over and over again that the public should get details of the investigation once it's over, and that he plans to act in the interest of transparency. What he really means is the exact opposite of all this. After all, he was nominated by Trump. You know, just like Rod Rosenstein, Jeff Sessions, and Whitaker.
Once again, the hunt is on.
Ronn Blitzer is the Senior Legal Editor of Law&Crime and a former New York City prosecutor. Follow him on Twitter @RonnBlitzer.
[Image via Nicholas Kamm/AFP/Getty Images]
This is an opinion piece. The views expressed in this article are those of just the author.