Donald Trump's attorneys received a letter from Special Counsel Jack Smith informing the former president that he is a "target" of a criminal investigation, reportedly the Mar-a-Lago classified documents case, raising the possibility that a grand jury indictment under the Espionage Act or for obstruction is "imminent."
"It means they expect to indict you"
"No one has told me I'm being indicted," Trump said in response. But a target letter is not a guarantee of an indictment. What a target letter does, however, is substantially ratchet up the likelihood of an indictment.
Former federal prosecutor and current legal analyst Renato Mariotti said it simply Wednesday night on MSNBC: "The bottom line is, if a prosecutor tells you that you are the target of their investigation, it means they expect to indict you."
"When I was a federal prosecutor, when I told somebody that they were a target that's what I meant. When I sent a target letter, it meant that an indictment was going to follow," Mariotti said. "And if one of my clients get a target letter now, that's what I tell them. You need to prepare for an indictment and expect that that's going to happen, and we actively start preparing for that to happen."
"That's big news," he said.
Mariotti, citing continuing testimony of grand jury witnesses, suggested that the indictment is not necessarily going to drop today, tomorrow, or even next week.
George Conway, a conservative lawyer known for voting for Trump in 2016 and vehemently opposing him thereafter, nonetheless said that it was fair to say it's likely that an indictment is "imminent."
"They're basically telling him they're likely to indictment him," Conway said.
What the special counsel is investigating
When Attorney General Merrick Garland appointed Jack Smith as special counsel, he empowered him to investigate "whether any person or entity violated the law in connection with efforts to interfere with the lawful transfer of power following the 2020 presidential election or the certification of the Electoral College vote held on or about January 6, 2021, as well as any matters that arose or might arise directly from this investigation or that are within the scope of 28 C.F.R. § 600.4(a)." The appointment order also authorized Smith to investigate the Florida-based Mar-a-Lago classified documents case.
There are plenty of target letter examples online. A sample on DOJ's website notes that the target letter will include some specification as to which federal criminal laws were potentially violated.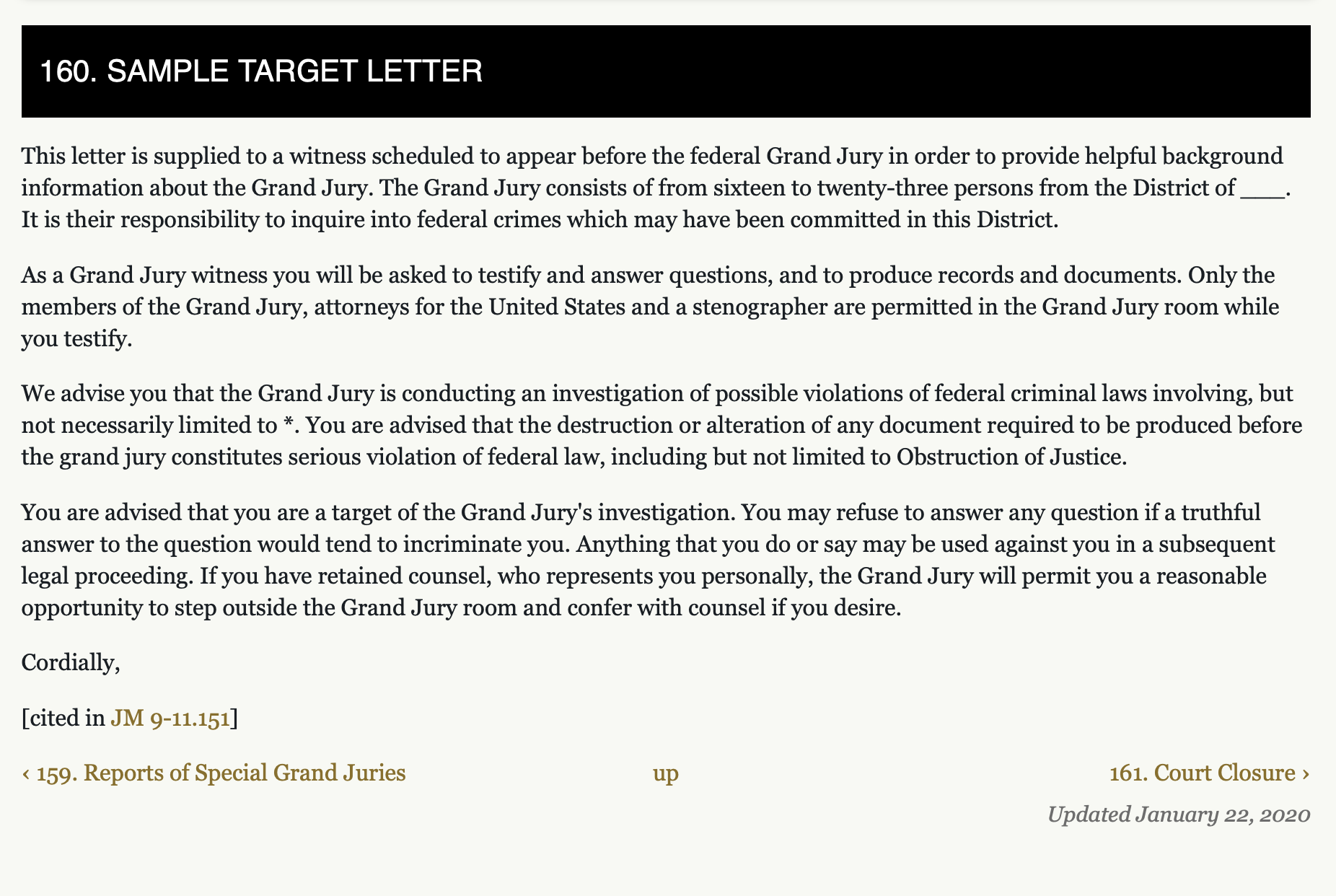 Real-life target letters, such as the one below, typically include an offer for the target or the target's lawyers to meet with the prosecutor or testify before the grand jury.
There are several reasons why a prosecutor would send a target letter, and one of those reasons would be to afford a target an opportunity to testify as the probe nears its end. Target letters can also be issued in conjunction with a grand jury subpoena or be used as a way to spark plea and cooperation agreement talks. Some prosecutors won't even send a target letter.
In this instance, lawyer and former FBI Special Agent Asha Rangappa told ABC News, the letter "means that they are basically at the end of the investigation, at least the one that is the subject of the target letter."
The New York Times reported Wednesday that Trump's lawyers met with Smith at DOJ on Monday and that the target letter regarded the Mar-a-Lago case.
As recently as May 23, Trump posted a letter on Truth Social from his lawyers to Merrick Garland. In that letter, they requested a "meeting" to "discuss the ongoing injustice that is being perpetrated by your special counsel and his prosecutors."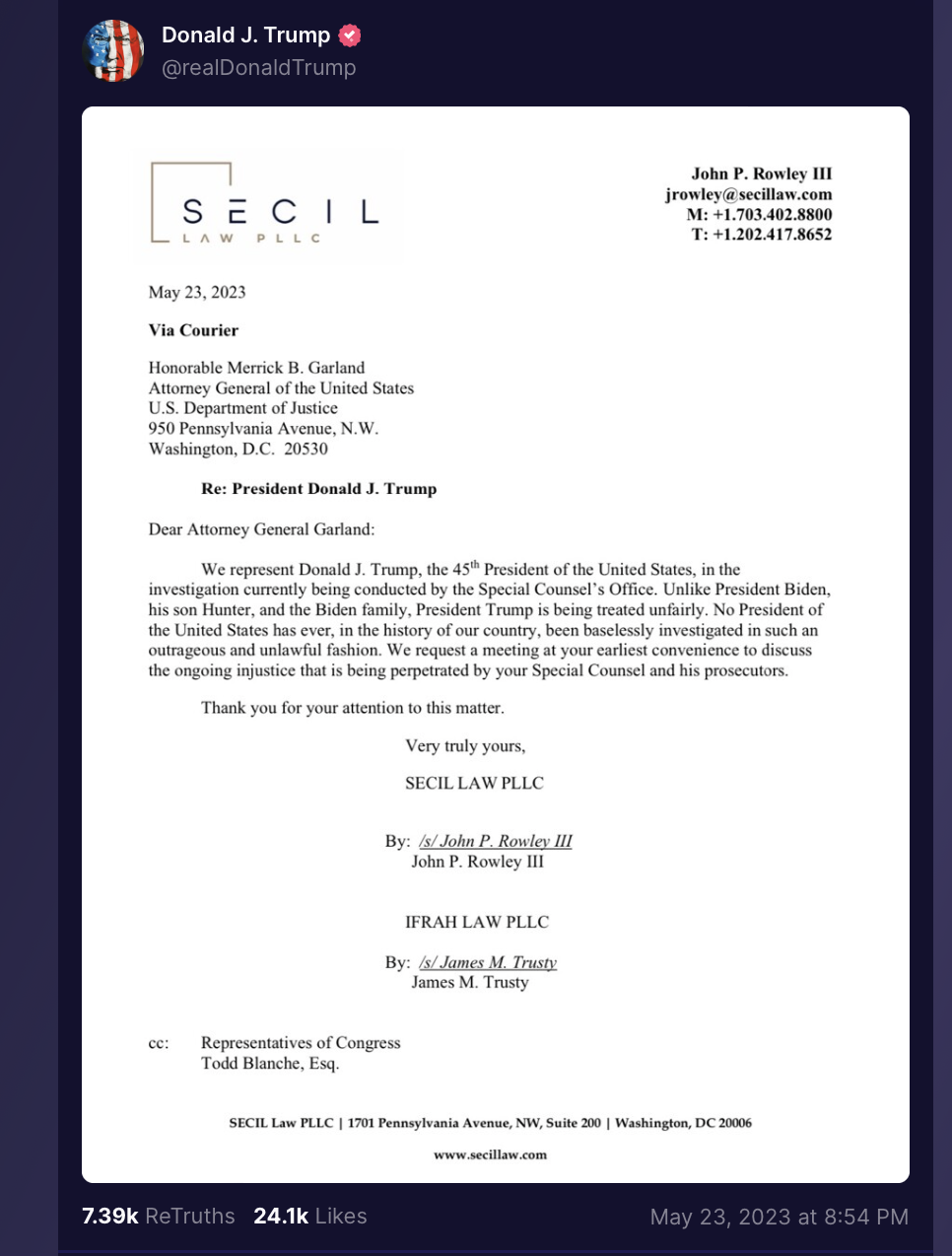 Keep an eye on this space
Look for Special Counsel Smith to insulate his case as much as possible from potential challenges from Trump's team. There's a reason a Florida grand jury is investigating the Mar-a-Lago documents case and a second grand jury panel sits in D.C., which has been the venue for all high-profile Jan. 6-related criminal cases.
This will insulate the case from venue-based legal challenges.

"Prosecutors are planning to bring a significant portion of any charges stemming from the possible mishandling of classified documents … at a nearby federal court in south Florida."https://t.co/KhHxEUWbZ3

— Ryan Goodman (@rgoodlaw) June 7, 2023
We have seen a special counsel use two different venues to prosecute a defendant before. As longtime Law&Crime readers will recall, Special Counsel Robert Mueller brought cases against former Trump 2016 campaign chairman Paul Manafort in both D.C. and the Eastern District of Virginia.
When Mueller indicted Paul Manafort he had to bring one case in DC and one in VA because he couldn't establish venue for all the charges in a single district.

We could see something similar with DC and FL in the Mar-a-Lago documents case. #Maralago #JackSmith

— Randall Eliason (@RDEliason) June 6, 2023
Have a tip we should know? [email protected]