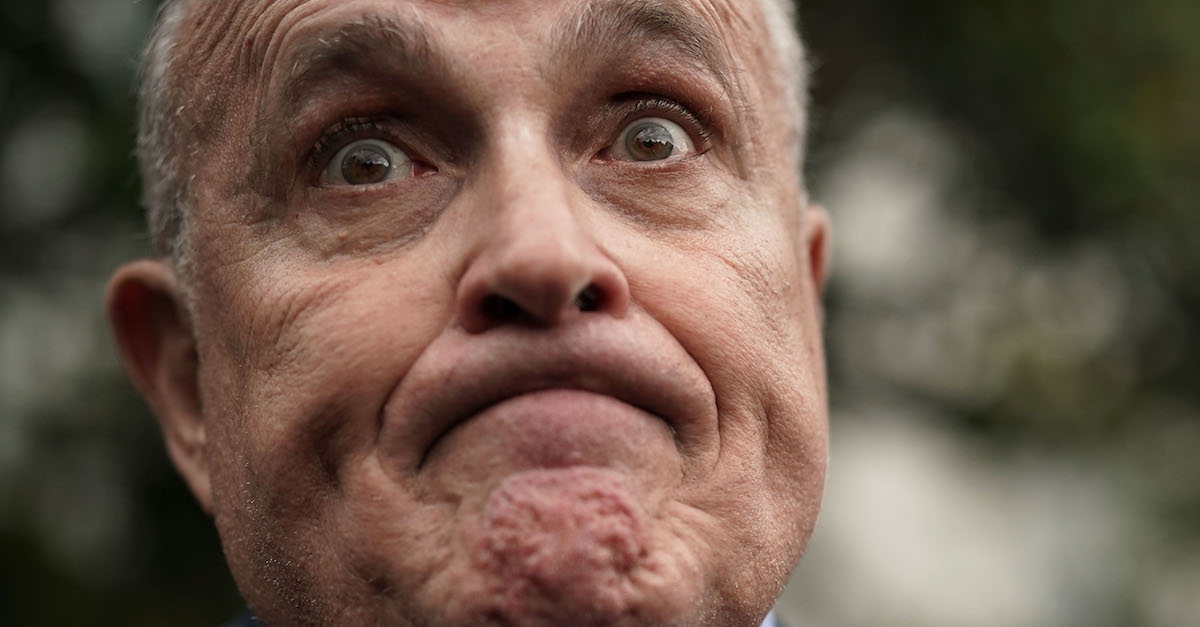 As we know, special counsel Robert Mueller and President Donald Trump still haven't had a sit-down interview, but according to the Associated Press there was actually a day, a time, a location and a plan in place near the very beginning of 2018 for the interview.
This is one of many notables from the story, which said that Trump was going to meet with Mueller at Camp David on January 27, 2018. This apparently fell apart when the president's lawyers learned what Mueller wanted to discuss. Since departed Trump lawyer John Dowd ended up penning a memo, arguing, in part, that Trump, "by virtue of his position as the chief law enforcement officer, could neither constitutionally nor legally constitute obstruction because that would amount to him obstructing himself, and that he could, if he wished, terminate the inquiry, or even exercise his power to pardon if he so desired."
At any rate, the most interesting detail of the story actually has to do with Trump attorney Rudy Giuliani. Giuliani, out of one side of his mouth, has said time and again that it was time to wrap up the Russia investigation. He and Trump have both routinely discredited the investigation, and called it a "witch hunt" that's gotten way out of control. Giuliani has even called the investigation "corrupt."
Out of the other side of Giuliani's mouth — albeit in hushed tones — Giuliani really didn't want the Mueller probe to end as he claimed. Actually, he wanted it to drag on as long as possible and use that to his advantage.
After the FBI's April raids of Michael Cohen's home, office and hotel room, Giuliani was added to Trump's legal team. Giuliani immediately started doing bizarre television interviews and was very clearly not up to speed on some of the issues at hand.
"Rudy's great, but Rudy is Rudy," Trump felt compelled to say.
But all of this hysteria didn't seem to matter — because it was all part of the plan.
Per the AP:
As Rudy Giuliani joined Trump's legal team in April, the White House settled into a new strategy: Drag out the interview drama for months, and use that time to ratchet up attacks on Mueller's credibility and complaints about the cost and time of the probe, according to the officials and advisers familiar with the strategy.

Giuliani led the charge. His scattershot arguments sometimes frustrated others in the White House, as he frequently moved the goalposts as to what would be required to have an interview. But the effect was to ensure the process would drag out longer.
Among other things, this clearly demonstrates that the complaints about the cost of the Mueller investigation have been made in bad faith. Nonetheless, as recently as Tuesday, Giuliani said the following after Trump sent written answers to the first round of Mueller questions: "It is time to bring this inquiry to a conclusion."
"It has been our position from the outset that much of what has been asked raised serious constitutional issues and was beyond the scope of a legitimate inquiry. This remains our position today," he said. "The President has nonetheless provided unprecedented cooperation. The Special Counsel has been provided with more than 30 witnesses, 1.4 million pages of material, and now the President's written responses to questions."
[Image via Image via Alex Wong/Getty Images]
Have a tip we should know? [email protected]