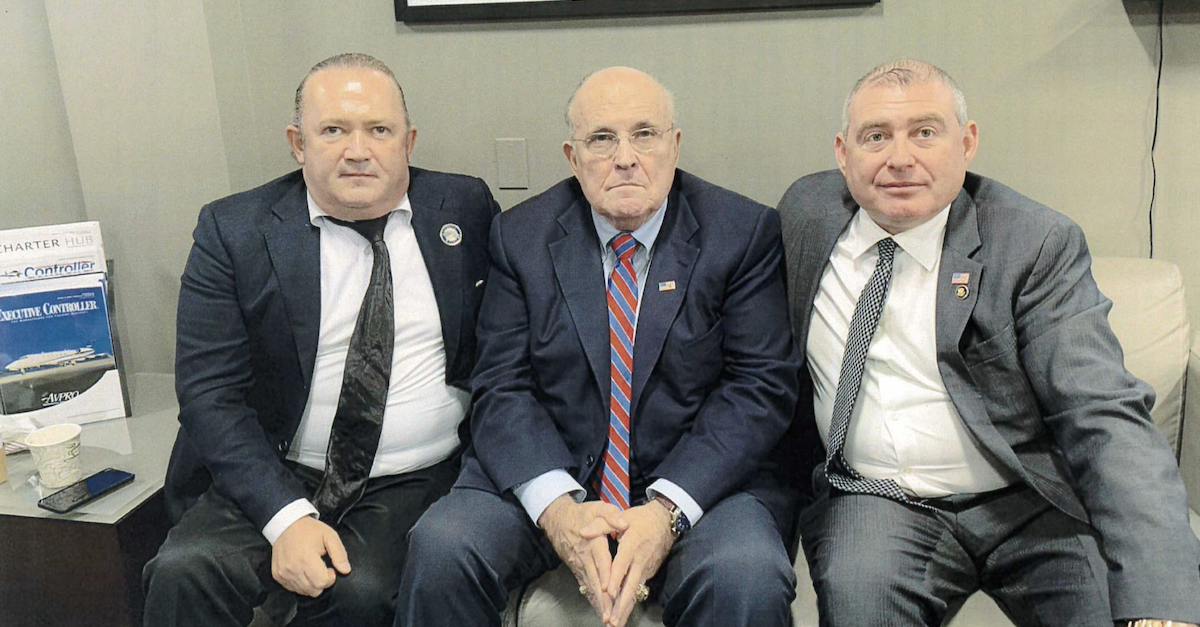 Federal authorities executed a search warrant on Rudy Giuliani's Manhattan apartment, stepping up an investigation into former President Donald Trump's lawyer's dealings in Ukraine, the New York Times reported on Wednesday in an article citing three sources with knowledge in the matter.
One of those sources told the Times that authorities seized Giuliani's electronic devices.
Just before Trump's first impeachment investigation in 2019, Giuliani's conduct in Ukraine came into focus during the prosecution of his former associates Lev Parnas and Igor Fruman. Parnas later cooperated with House investigators, sharing thousands of files and placing Giuliani at the heart of a pressure campaign against since-ousted U.S. Ambassador to Ukraine Marie Yovanovitch. Photos that Parnas shared with congressional investigators showed Giuliani with him and Fruman, who were both born in ex-Soviet bloc countries.
Though Giuliani has long been reported to be under investigation in connection with Trump's Ukraine scandal, the Times report represents a dramatic escalation of the probe, particular against someone who—like Giuliani—previously led the U.S. Attorney's office for the Southern District of New York.
The U.S. Attorney's Office for the Southern District of New York did not immediately respond to an email requesting comment.
Late last year, Parnas's attorney Joseph Bondy revealed Giuliani's message to him less than a month after his client was charged, appearing to suggest the former New York City mayor was getting ready to dispose of his phone.
"Joe, it's Rudy Giuliani," the former mayor of New York City told Bondy on Nov. 1, 2019, according to a transcript of the call made public in an exhibit in December. "I'm calling, uh, to see if we can talk either about or with Lev. I have my lawyer with me, but you can call me back at [REDACTED]. That's [REDACTED]."
"That's the soon to be gotten rid of number," Giuliani allegedly added.
Parnas ultimately shared thousands of texts, emails, photographs, videos and other files with the House Intelligence Committee, which were cited more than 100 times in their impeachment report.
The Times previously reported that senior officials inside Trump's Department of Justice sought to block the warrant, with the law enforcement agency lifting that objection after Attorney General Merrick Garland's confirmation as President Joe Biden's attorney general. It is unclear from the initial report when the search warrant was executed, but the Wall Street Journal later reported that Giuliani's lawyer Robert Costello said that it occurred at 6 a.m. on Wednesday morning.
He later sent a politically charged statement to Reuters.
"Twice, Mr. Giuliani's counsel offered to sit with SDNY and demonstrate that Mr. Giuliani's conduct was lawful," Costello told the news wire. "It is outrageous that the Trump Derangement Syndrome has gone so far that hatred has driven this unjustified and unethical attack on the United States Attorney and Mayor who did more to reduce crime than virtually any other in American history."
The drop in the New York City crime rate began under Giuliani's Democratic predecessor David Dinkins.
"Mr. Giuliani respects the law, and he can demonstrate that his conduct as a lawyer and a citizen was absolutely legal and ethical," Costello added.
Later in the day, the Times broke the news that federal authorities also executed a search warrant on the Washington, D.C. home of conservative lawyer Victoria Toensing, a regular Fox News commentator, key figure in the scandal in Ukraine, and former counsel for indicted Ukrainian oligarch Dmitry Firtash.
Firtash's current counsel Lanny Davis, who recently disclosed representing the billionaire on foreign lobbying records, did not immediately respond to a request for comment.
CNN legal analyst Jennifer Rodgers, who spent more than a decade as a prosecutor in the Southern District of New York, noted that approval to search a lawyer's apartment comes with additional complications due to attorney-client issues. She noted that there could be wrangling over the crime-fraud exception that can overcome those protections, as happened during the prosecution of Trump's former lawyer and fixer Michael Cohen.
"So, there are definitely lots of those issues, it gets very tricky and thorny—and there's a lot of litigation over this sort of stuff," Rodgers told Law&Crime in a phone interview. "But DOJ does this sort of thing all the time. And you better believe that they have fully thought it through before even getting the search warrant, because of course, they will have done that in the course of their approval process at DOJ."
Rodgers also contrasted how she thought a possible privilege fight involving Giuliani might compare to the one with Cohen. She noted that Cohen "certainly had a broader reach and a longer reach" than Giuliani.
"Rudy was not [Trump's] lawyer for as long and didn't work for him as the same scope with the Trump Organization or even in government, but in some ways was unquestionably providing him legal advice," Rodgers noted. "So, you're certainly going to have privilege issues. Now, the ways in which Rudy unquestionably acted as his lawyer, like when he was representing him in connection with the Mueller investigation, are presumably not the subject of this inquiry. So, you could argue that what he was doing in connection with Ukraine was not legal advice. And that's going to be a obviously a key issue here."
Giuliani's lawyer Costello was described in the Mueller report as the "back channel" between Cohen and the former mayor.
The FBI declined to comment.
Giuliani's assistant Christianné Allen and Costello did not immediately respond to requests for comment.
(Screenshot from a photo released by the House Intelligence Committee)
Have a tip we should know? [email protected]
Adam Klasfeld - Managing Editor