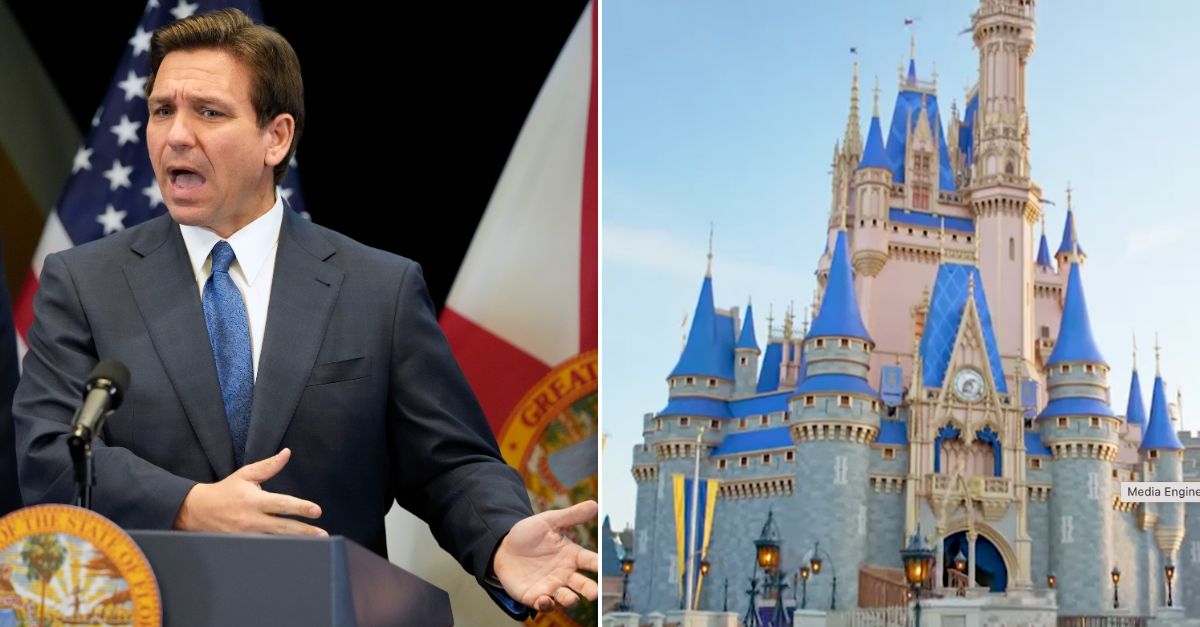 The latest volley in the battle between Disney and Florida Gov. Ron DeSantis came Tuesday when Disney asked a Florida judge to dismiss DeSantis' lawsuit on grounds that the Republican governor was "weaponizing the power of government to punish Disney for its protected speech" for opposing Florida's so-called "Don't Say Gay" law.
The Central Florida Tourism Oversight District (CFTOD) — a board of governors appointed by DeSantis— accused Walt Disney Parks & Resorts of operating as a "fiefdom" that "governed itself, chose whether and how to enforce those laws against itself, and set its own tax rate," in a lawsuit filed in early May.
The underlying dispute involves control of the 25,000-acre Reedy Creek Improvement District (RCID), which includes the grounds of the Disney World parks and resorts. After Disney publicly opposed Florida's Parental Rights in Education law, DeSantis signed a bill that took control of the RCID away from Disney and put it into the hands of a five-member oversight board hand-picked by the governor himself.
At the oversight board's first meeting in late March, it came to light that Disney had outmaneuvered DeSantis by quietly contracting with RCID to keep control over the district's development rights and privileges. One of DeSantis's hand-picked supervisors sheepishly admitted at the meeting that the RCID-Disney contract meant that the oversight board was, despite its boasts otherwise, functionally impotent.
The Oversight Board next waged a lawsuit to invalidate Disney's contracts with RCID, and now Disney has responded with a motion to dismiss. Disney also filed a separate federal lawsuit of its own against DeSantis for violating its First Amendment rights. That case is pending in federal court.
In its filing, Disney argued that the DeSantis governorship was "a newly hostile state administration" that "unleashed a campaign of retaliation, weaponizing the power of government to punish Disney for its protected speech."
Disney said that it was motivated by the need to "protect its planned investments in Central Florida—including thousands of new jobs and billions of dollars in capital over the next decade," and added that the contracts between RCID and Disney were no secret.
"Public notice appeared twice in a prominent Orlando newspaper, and there were two public hearings on the subject," Disney told the court. "Over no objection, the contracts were executed in early February."
Disney also added an argument in favor of dismissing DeSantis' case that is sure to catch the attention of any member of the judiciary: that DeSantis has already usurped the power of any courts to adjudicate the case he filed against Disney.
On May 8, DeSantis signed legislation "effectively voiding the contracts as a matter of state law" thus rendering the complaint against Disney "moot," explained Disney.
Indeed SB 1604 appeared to aim directly at the Disney-RCID contract:
Land Use and Development Regulations; Revising the planning periods that must be included in a comprehensive plan; requiring local governments to determine if plan amendments are necessary to reflect a certain minimum planning period; requiring, rather than encouraging, a local government to comprehensively evaluate and update its comprehensive plan to reflect changes in local conditions; requiring the state land planning agency to provide population projections if a local government fails to update its comprehensive plan, etc.
Disney warned in its motion that the recent legislative action "makes any order this Court could issue—in either party's favor—legally irrelevant" and reduces any hypothetical court order to "an advisory opinion with no real-world consequence."
You can read the entire motion to dismiss here.
Have a tip we should know? [email protected]
Elura Nanos - Columnist & Trial Analyst, Law & Crime; CEO Lawyer Up