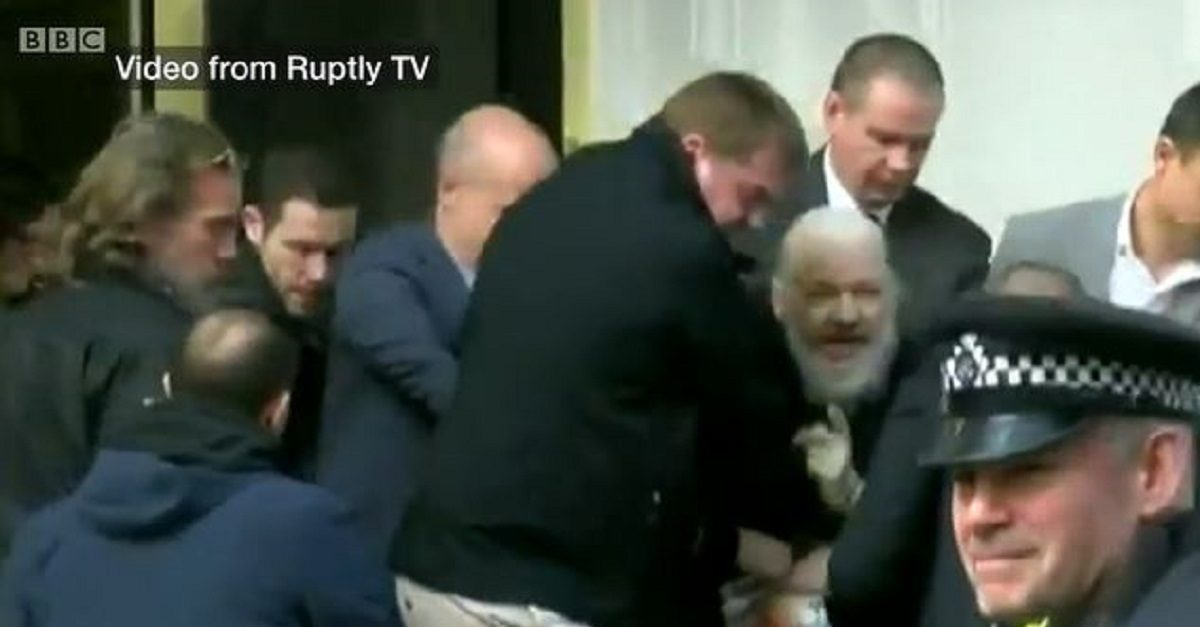 The American Civil Liberties Union (ACLU) cautioned that the Trump administration's persecution of Wikileaks publisher Julian Assange presented a "dangerous precedent" for cherished liberties in the United States.
As Law&Crime previously reported, London police arrested Assange after he was expelled from the Ecuadorian embassy on charges of skipping bail in 2012 and in line with an extradition request filed by federal prosecutors in Virginia.
In the United States, Assange was charged with conspiracy to unlawfully access a top secret U.S. government network in league with onetime Wikileaks source Chelsea Manning. Somewhat controversially, federal prosecutors are treating Assange's alleged hacking attempt as a form of international terrorism in order to skirt statute of limitations concerns as explained here.
A press release issued by the civil liberties organization took the Trump Department of Justice to task for their focus on Assange. The decision to go after the journalist for making embarrassing state secrets public knowledge, the ACLU argued, was the first step down a very slippery slope.
"Any prosecution by the United States of Mr. Assange for Wikileaks' publishing operations would be unprecedented and unconstitutional, and would open the door to criminal investigations of other news organizations," wrote the ACLU's Ben Wizner, who directs the organization's Speech, Privacy, and Technology Project. "Moreover, prosecuting a foreign publisher for violating U.S. secrecy laws would set an especially dangerous precedent for U.S. journalists, who routinely violate foreign secrecy laws to deliver information vital to the public's interest."
As Law&Crime founder Dan Abrams noted, however, Assange is not technically being prosecuted for publishing classified information.
"I have no idea what [the ACLU's] statement has to do with the actual indictment of Assange," Abrams tweeted.
Under the terms of the seven-page indictment filed last year in the Eastern District of Virginia (EDVA), Assange is technically accused of conspiracy to violate a wide-ranging statute known as the Computer Fraud and Abuse Act (CFAA).
Essentially, the indictment boils down to an alleged–and allegedly failed–attempt by Assange to help Manning crack a Department of Defense password. Using the CFAA in such a manner immediately attracted criticism.
So the DOJ says Assange helped @xychelsea crack a password. Crucial question is what did "helping" involve? Trying to guess a pass phrase? Also reinforces how dangerous the Computer Fraud and Abuse Act is because it is so vague

— Mathew Ingram (@mathewi) April 11, 2019
Many of Assange's defenders view the CFAA charge here as a pretext. That is, a somewhat flimsy excuse for going after Assange in lieu of filing charges that have a direct bearing on his journalistic activities.
So the CFAA charge is clearly a pretext, a way of punishing Assange for publishing classified documents without actually charging him for it.

But the fact that DOJ went out of its way to avoid charging him for publishing means this doesn't set a dangerous precedent.

— Peter Sterne (@petersterne) April 11, 2019
And, regardless of the government's argument in the indictment, Assange's arrest is being viewed by journalists as an attack on their ranks.
The U.S. government indictment of Julian Assange is an aggressive and potentially chilling legal document for journalists in the U.S. and abroad.

That is a significant issue regardless of one's view of Assange as a person, or his work, or his politics.

— Ari Melber (@AriMelber) April 11, 2019
OK, major news organization reporters: You've had enough time to digest the unsealed Assange indictment to realize what a ridiculous stretch it is, how it relates to the noblest of his leaks, and how it's chilling to journalism. Please say so.

— Dan Froomkin (@froomkin) April 11, 2019
Assange's attorney Jennifer Robinson appears intent to press the press freedom narrative on behalf of her client–again, despite the technical nature of the U.S. charges against him.
"This precedent means that any journalist can be extradited for prosecution in the United States for having published truthful information about the United States," she told a crowd in London–vowing to fight the extradition request.
[image via screengrab BBC/RuptlyTV]
Have a tip we should know? [email protected]