A Florida sheriff named and shamed a trio of minors on Friday in the suspected robbery and shooting murders of 16-year-old Layla Silvernail, a 17-year-old boy and a 16-year-old girl. The latter was found dead in the trunk of Layla's car, Marion County Sheriff Billy Woods confirmed during a lengthy and emotional press conference.
Sheriff Woods said that the juvenile defendants deserved to be punished to the "full extent of the law" for the deaths of Silvernail and her friends.
As Law&Crime reported earlier in the week, deputies were searching for more information about Silvernail's vehicle as seen on the night of March 30th and on the afternoon of April 1, when the vehicle was located. Authorities said Silvernail was found on the side of the road shot to death last Thursday. The next day, deputies found the murdered 17-year-old boy, according to the sheriff's office.
When Silvernail's vehicle was found "partially submerged at the edge of a nearby body of water" on Saturday, investigators found a 16-year-old girl shot to death in the trunk.
"My emotions right now are all over the place," said Woods, "because I am so … so proud of my guys and girls."
"I didn't do a damn thing, but they stepped up to the plate," the sheriff said, before also crediting the media's role in helping solve the case. "I'll admit this you wore my ass out with interviews. You hounded me. But don't ever think I didn't use you as well to get the information I needed."
Woods said the information resulted in 17-year-old Robert Robinson and 12-year-old Christopher Atkins being taken into custody on first-degree murder charges in the three deaths, though the sheriff did not name the two victims investigators found in the days after Silvernail was discovered deceased. Authorities withheld both victims' names, citing the requests of their next of kin under Marsy's Law, which provides protections for crime victims. A third suspect, 16-year-old Tahj Brewton, was still at large on Friday, authorities said.
"Some of you know him, you know where he is, and you need to turn him in," Sheriff Woods addressed anyone watching the presser who knows Brewton. "I will get him, I will find him, and justice will be completed."
Asked by a reporter if the juveniles would be charged as adults, the sheriff said the State Attorney's Office was reviewing that currently.
During the presser, the sheriff emphasized that Florida law empowered him to name each of the minor suspects and release their photos in advance of any decision about charging them as adults.
"We do not hold our juveniles accountable. We minimize their actions," the sheriff said. "Now let me tell you why I say this. Last night, I had to stare into the eyes of two mothers. It's not their fault. Because what I saw last night was two mothers who are willing to give their sons everything. Do everything for them and give them their own lives."
"I am a father. I am a father and I cannot fathom what they were going through," he said. "These mothers and mothers across this nation need all of your help."
Slamming a "particular" media outlet for having a "problem" with sharing photos of minor suspects, the sheriff asserted his power under the law — and he said a conversation with one of the suspects' mothers supported his assertion.
"We do what the law says we can do — put these photos out," Woods said. "I put myself in the shoes of those mothers because I heard one of them say it: I wish I would have known what this one was doing and who they were because my kid never would have hung out with them."
Woods called it "stupid" to minimize criminal actions of juveniles, and suggested a hesitance to release the names and photos of such defendants contribute to a soft-on-crime culture.
"Growing up, the freakin' barber had permission to whip their asses," the sheriff said of his own sons.
The sheriff's office later uploaded a video of Atkins and Robinson being perp-walked.
Florida law says that the name, photo, or arrest report of a child "[t]aken into custody by a law enforcement officer for a violation of law which, if committed by an adult, would be a felony" is "not considered confidential and exempt" from public disclosure. That is how and why then-suspected teen killer Aiden Fucci came to be named and photographed so quickly in St. Johns County after the murder of Tristyn Bailey. Fucci was sentenced as an adult last month to life in prison with a review after 25 years.
Responding to rumors, the sheriff said Silvernail "was there of her own free will" that fateful night, citing interviews and phone evidence. He also said the suspects were committing burglaries and robberies, which they referred to as a "lick." The sheriff said there was "nothing specific to say it was any rivalry" that led to the murders, but noted each of the suspects is associated with a gang.
"Basically, simple terms: There is no honor among thieves," the sheriff said. "And at some point, these three individuals turned on our three victims and murdered them — two of them right there," the sheriff said, gesturing to Robert Robinson's and Christopher Atkins' mugshots on screen. "They fled the scene, but left a lot of evidence in their wake."
"Not only are the victims juveniles, but the murderers are juveniles as well," he added.
In affidavits in support of first-degree murder charges, Marion County deputies said a witness identified Atkins and Robinson by their "street names" of "35" and "Reaper."
The witness said she was friends with the female victims and that they had been staying at her residence for around two months, documents said. The witness said that she and the two victims made several stops in Silvernail's car on March 30 and encountered the suspects at Robinson's "trap house," but added that the group left because it wasn't air-conditioned. They went to Robinson's house nearby instead, the affidavit said.
Eventually, Silvernail and the 16-year-old friend dropped off the witness at her home and took Layla's car to pick up the suspects who would later kill them, according to the documents.
The affidavit said that Robinson and Atkins offered up confessions under questioning and incriminated Brewton, too. The two allegedly admitted the three were all armed and intended to rob someone for their marijuana while "car hopping."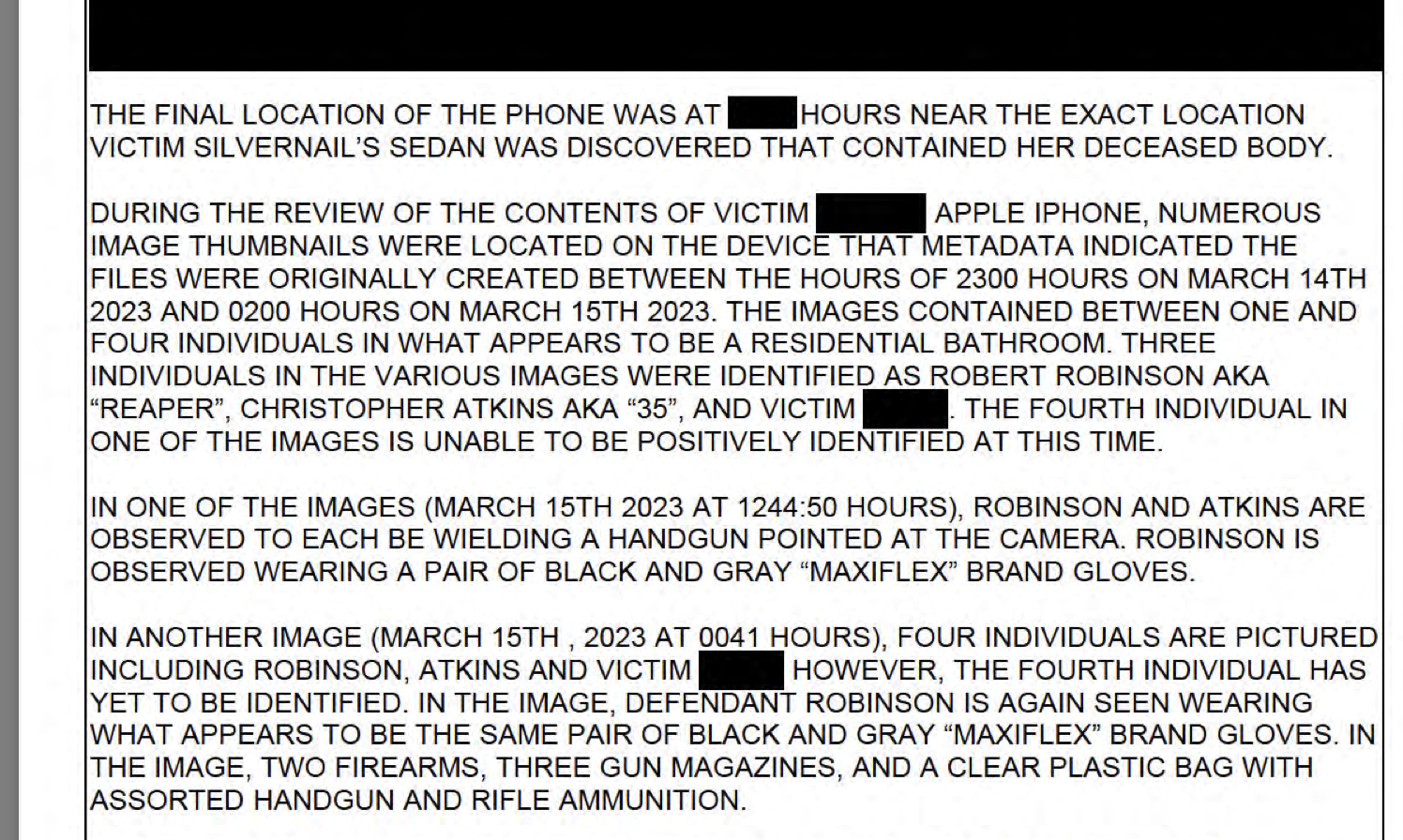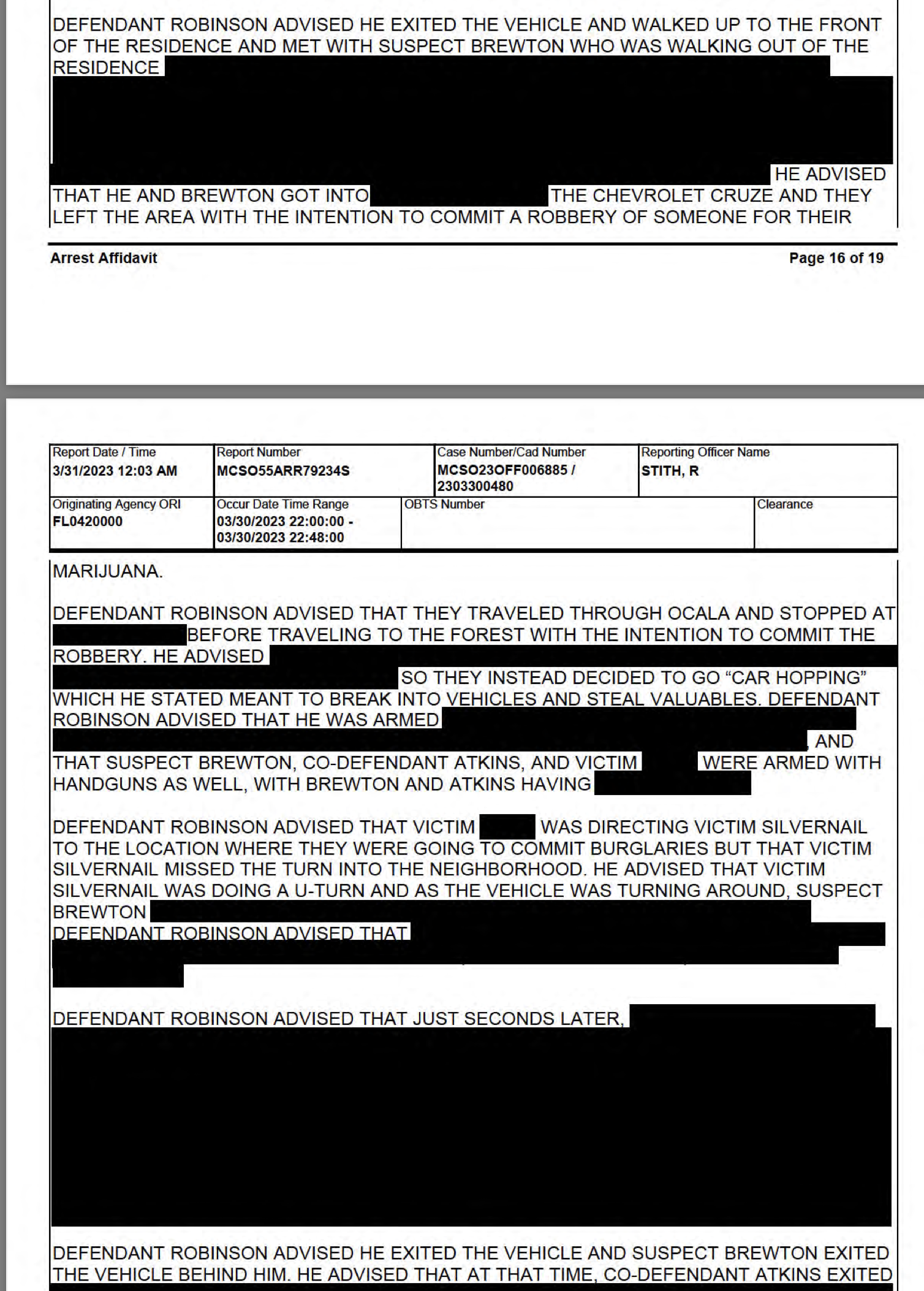 Robinson claimed that one of the victims other than Silvernail (documents do not specify who, but they did note that one of the victims had previously appeared in pictures with Robinson and Atkins on March 15) was "directing victim Silvernail to the location where they were going to commit burglaries but that victim Silvernail missed the turn into the neighborhood. He advised that victim Silvernail was doing a U-turn" before she was killed.
Robinson allegedly confessed that he shot the 16-year-old girl "because she was still alive."
"She was going to snitch on us all," he allegedly told authorities. "We was all going to jail for life."

Southeastern Fastpitch recently mourned Silvernail as a "team player and an amazing athlete."
"She loved the game of softball, was a great pitcher and could play any position her team needed. She uplifted all of her teammates! She has been taken from us too soon and will be greatly missed," a GoFundMe said.
The fundraising campaign for funeral and memorial expenses said that Layla was showing "no brain activity," so her family "decided to donate her organs so she can help others in the wake of this tragedy."
Have a tip we should know? [email protected]