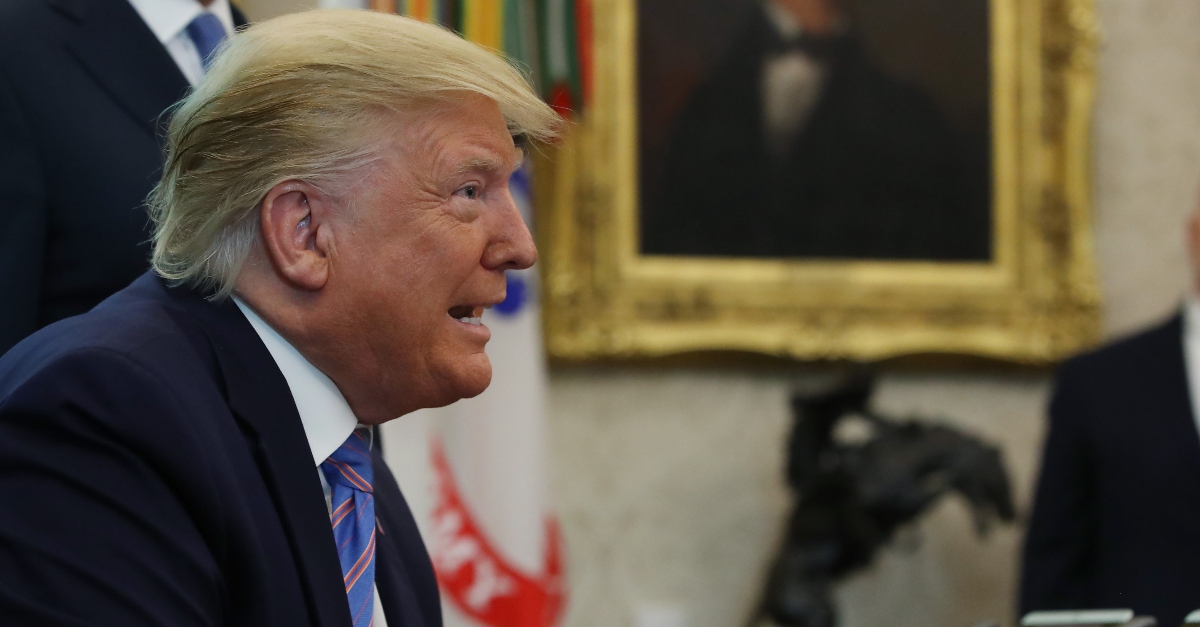 As mail-in ballots continue to be counted and indicate more and more that Joe Biden will be the next president of the United States, President Donald Trump is tweeting lengthy threads of remarks made on Fox News by former independent counsel Ken Starr nudging—or, really, begging—the U.S. Supreme Court to play an outsize role in saving Pennsylvania and the 2020 Election for the president.
As things stand, Biden has taken the lead in Pennsylvania. If that result holds and the margin continues to widen, as projected, then it doesn't matter what happens in other states (see: Nevada, Arizona and Georgia). Biden will have crossed the 270 electoral vote threshold.
Let's combine Trump's tweets into one block of text:
"This is what we know. We have to go back to the state level and how this morass came to be in the first instance. The Governor, Wolf, and the State Supreme Court, flagrantly violated the Constitution of the U.S. The power to set these rules and regulations is vested in the Legislature. They just ignored that, ignored the Constitution. Now we bring it down to the counting houses, and outrageously, observers, who are the sentinels of integrity & transparency, were excluded. Pennsylvania has conducted itself in a horrible lawless way, and hopefully this will be corrected at the Supreme Court of the United States. Also, these late ballots past Election Day are illegal, exactly what the President has been saying. The Supreme Court, in extraordinary circumstances has been able to render decisions in a matter of days." Ken Starr, former Independent Counsel @Varneyco.
Such remarks are in league with what Trump legal advisers have said on Fox. National Committeewoman of the Republican National Committee for California and Trump 2020 legal adviser Harmeet Dhillon said Thursday on Fox Business that she hoped Amy Coney Barrett, Brett Kavanaugh and Neil Gorsuch would "step in and do something" and "come through" for the president.
But legal experts have been more than clear that we are simply not going to see the U.S. Supreme Court reverse the election result in Pennsylvania and save Trump's chances at re-election.
They also noted that the so-called "late ballots" haven't even been counted and Trump is still trailing Biden.
Joshua Douglas, the Thomas P. Lewis Professor of Law at University of Kentucky, told Law&Crime that there is no chance whatsoever that SCOTUS would trump Pennsylvania election results.
"There is no legal basis for any of these claims to overturn the election results. And he's also wrong on PA–the count has not included any ballots arriving after Nov. 3. This is just a fishing expedition intended to undermine people's faith in the election. We shouldn't give it airtime," Douglas said.
Eugene Mazo, the Visiting Associate Professor at the Louis D. Brandeis School of Law, also told Law&Crime that there is "no chance" of the same.
"In my view, no chance. The courts do not want anything to do with deciding elections. We already went through that experience in Bush v. Gore, and no court wants to revisit that. Especially not the Supreme Court, whose legitimacy would forever be damaged," Mazo said. "The PA legislature released a statement today saying it doesn't count the votes of the people. Good for PA's legislature for taking this step."
Ross Garber, an Adjunct Associate Professor of Law at Tulane Law School, said that while Republicans' arguments related to Pennsylvania aren't entirely without merit, he doesn't see a last-ditch Supreme Court intervention in the offing.
"The post-election day vote issue is not frivolous, but it looks like it will have no effect on the outcome of the election. And, as a matter of equity, it's unlikely the Supreme Court will void the votes of citizens who cast their ballots before Election Day in legitimate reliance on a decision of their state Supreme Court," Garber said. "Based on what we know today, I don't see a scenario in which the Supreme Court intervenes to give Donald Trump a second term."
Michael Morley, Assistant Professor at Florida State University College of Law, said he doesn't think enough votes are at stake here.
"I don't think it's likely that enough votes would be impacted by a Supreme Court ruling to change the apparent outcome in the state," he said. "That weighs heavily against the Court getting involved."
James Gardner, the Bridget and Thomas Black SUNY Distinguished Professor at University of Buffalo School of Law, told Law&Crime that he thinks it's still "extremely difficult to foresee how this will play out" given the Supreme Court's recent rumblings.
"During the last few weeks, at least three justice – Alito, Gorsuch, and Thomas – have indicated, in dissents from emergency orders, an interest in the argument and suggested that they find it meritorious," Gardner said. "At the same time, Chief Justice Roberts seems pretty clearly to be leading the Court toward a position of noninterference in state electoral proceedings. His influence on this matter is an open question should the Court get a case in a proper appellate setting."
Overall, though, Gardner agreed that the number of ballots in question may be too "small to make a difference to the outcome in the states where the Article II argument might be available."
"If so, then it doesn't get off the ground, since neither state nor federal courts typically adjudicate cases in which a judicial decision has no probability of influencing the result," he said.
Despite the Supreme Court's previous ruling on the matter of "late ballots," Pennsylvania Republicans sprinted back to SCOTUS and conservative Justice Samuel Alito on Friday.
In late October, the Supreme Court declined to take up the Pa. GOP's petition for an expedited appeal. Justice Alito noted that the "Secretary of the Commonwealth issued guidance […] directing county boards of elections to segregate ballots received between 8:00 p.m. on November 3, 2020, and 5:00 p.m. on November 6, 2020."
"Nothing in the Court's order today precludes Petitioner from applying to this Court for relief if, for some reason, it is not satisfied with the Secretary's guidance," Alito said at the time..
Republicans came up with "some reason."
Clearly not satisfied with Secretary Kathy Boockvar's (D) guidance, Republicans petitioned to SCOTUS for an emergency injunction—despite the relatively small number of ballots at stake and despite an admission that they don't know if the Boockvar's guidance has been ignored:
For at least two "reason[s]," the Secretary's guidances are not "satisf[actory]" or sufficient to preserve RPP's rights to "a targeted remedy" "if the State Supreme Court's decision is ultimately overturned." Republican Party of Pa., slip op. at 3–4 (statement of Alito, J.). First, the Secretary's guidances are not binding on Pennsylvania's 67 county boards of elections. That is because the Secretary acts primarily in a ministerial capacity under Pennsylvania law, which grants the county boards jurisdiction and authority to conduct the Commonwealth's elections. See 25 Pa. Stat. §§ 2621, 2642; Perzel v. Cortes, 870 A.2d 759, 764 (Pa. 2005); Hamilton v. Johnson, 141 A. 846, 847 (Pa. 1928). Thus, county boards of elections may choose not to follow the Secretary's guidances—and in the fast-paced and chaotic pace of post- election events in Pennsylvania, it is unclear whether all 67 county boards of elections are currently segregating late-arriving ballots.

In an effort to obviate the need for further proceedings before this Court, counsel for RPP contacted counsel for county boards of elections to request confirmation that the boards would segregate any late-arriving ballots. A.117. Forty- two counties affirmatively responded that they would do so, and no county indicated that it would not. The Secretary similarly requested such confirmation and received it from 33 of those counties. A.122. Thus, to date, a total of 25 Pennsylvania county boards of elections have not indicated whether they are segregating the late-arriving ballots.
Later on Friday, the Justice Alito did order county boards to comply with Boockvar's already issued guidance to segregate mail-in ballots that were received after 8 p.m. on Election Day:
All county boards of election are hereby ordered, pending further order of the Court, to comply with the following guidance provided by the Secretary of the Commonwealth on October 28 and November 1, namely, (1) that all ballots received by mail after 8:00 p.m. on November 3 be segregated and kept "in a secure, safe and sealed container separate from other voted ballots," and (2) that all such ballots, if counted, be counted separately. Pa. Dep't of State, Pennsylvania Guidance for Mail-in and Absentee Ballots Received From the United States Postal Service After 8:00 p.m. on Tuesday, November 3, 2020 (Oct. 28, 2020); Pa. Dep't of State, Canvassing Segregated Mail-in and Civilian Absentee Ballots Received by Mail After 8:00 p.m. on Tuesday, November 3, 2020 and Before 5:00 p.m. on Friday, November 6, 2020 (Nov. 1, 2020). Until today, this Court was not informed that the guidance issued on October 28, which had an important bearing on the question whether to order special treatment of the ballots in question, had been modified. The application received today also informs the Court that neither the applicant nor the Secretary has been able to verify that all boards are complying with the Secretary's guidance, which, it is alleged, is not legally binding on them.

I am immediately referring this application to the Conference and direct that any response be filed as soon as possible but in any event no later than 2 p.m. tomorrow, November 7, 2020.
[Image via Mark Wilson/Getty Images]
Have a tip we should know? [email protected]