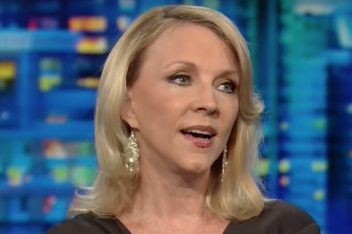 The target of a Donald Trump insult attack on Twitter fought back by filing a lawsuit against the President-elect, alleging his tweets damaged her reputation, cost her televisions appearances and subjected her to bullying. The lawsuit, filed last year by Cheri Jacobs, demanded $4 million in damages.  If Trump was concerned, perhaps he is breathing a bit easier tonight after the case was dismissed by a Manhattan Judge on Tuesday who wrote that the First Amendment protects Trump's right to hurl insults on Twitter.
The two tweets at the center of the lawsuit stemmed from an appearance Jacobus made on CNN back in February when she reportedly claimed his campaign was less than transparent about its finances.
WATCH:
Trump seemingly did not care for the remarks, so he unloaded on Jacobus:
Great job on @donlemon tonight @kayleighmcenany @cherijacobus begged us for a job. We said no and she went hostile. A real dummy! @CNN

— Donald J. Trump (@realDonaldTrump) February 3, 2016
Really dumb @CheriJacobus. Begged my people for a job. Turned her down twice and she went hostile. Major loser, zero credibility!

— Donald J. Trump (@realDonaldTrump) February 6, 2016
A copy of the opinion written by Manhattan Supreme Court Judge Barbara Jaffe was obtained by The Associated Press late Tuesday.  In her opinion, she wrote the tweets may be "rife with vague and simplistic insults," and possibly even hurtful to Jacobus, but they were still protected free speech.
She added, Trump's "intemperate tweets are clearly intended to belittle and demean plaintiff," but she did not prove they prevented her from obtaining work as a political consultant.
It was also revealed in the lawsuit that Jacobus had met with then-Trump campaign manager Corey Lewandowski in 2015 about a potential position with the campaign, although no employment agreement was ever reached.
The judge referenced Trump's "begged" comment in her opinion, calling it a subjective fact.  Furthermore, the judge determined that the comment came after Jacobus' own public criticism of Trump, it all signaled to the public "that plaintiff and Trump were engaged in a petty quarrel."
In other words, the judge was seemingly saying the courtroom was not the proper venue for settling this type of dispute.
In what will hardly comes as a surprise to anyone, Trump's legal team celebrated the decision, with Trump attorney Larry Rosen described the decision as "well-reasoned.
Meanwhile, Jacobus' lawyer, Jay Butterman, promised to appeal.   If he did not, Butterman said the opinion would essentially give "President-elect Donald Trump a free pass to trample on the free speech rights of any critic."
In her decision, Jaffe ruled that whether Jacobus "begged" Trump for a job was subjective and not an objective fact.
Because it followed her own public criticisms of Trump, Jaffe ruled, the context of the exchange "signals to readers that plaintiff and Trump were engaged in a petty quarrel."
[image via screengrab]
Have a tip we should know? [email protected]