One of the men accused of attacking Metropolitan Police Officer Michael Fanone during the Jan. 6 Capitol riot has admitted to participating in the assault and stealing the officer's badge.
Thomas Sibick pleaded guilty Friday to assaulting Fanone, identified only as "Officer M.F." in charging documents, and stealing his badge. The nine-page statement of offense, however, identifies Fanone explicitly.
The attack on Fanone became one of many defining moments of the riot, when thousands of Donald Trump supporters, angry over Joe Biden's win in the 2020 presidential election, violently overwhelmed police to breach the Capitol building.
Fanone's body-worn camera footage shows Sibick's role in the assault. After Fanone had been forced to the ground by rioters, Sibick is seen reaching toward Fanone's body and pulling away the radio and the badge. Rioters also took Fanone's police-issued firearm. The office, who lost consciousness after being beaten and tased by rioters, was eventually dragged to safety by other officers and later admitted to the hospital.
Sibick's statement of offense goes into the details of the attack, including the Taser deployed by fellow rioter Daniel Rodriguez.
"As a result of the attack, Officer Fanone sustained significant and painful injuries," the statement reads. "As Daniel Rodriguez repeatedly applied a taser to the back of Officer Fanone's neck, Officer Fanone experienced excruciating pain and was rendered momentarily helpless. He can be heard screaming on his body-worn camera. The tasing caused burn marks to the back of Officer Fanone's neck that resulted in scarring. Shortly after being tased, Officer Fanone's body-worn camera shows the efforts of those around him trying to elicit a response from him, indicating that he lost consciousness for more than two minutes."
Sibick is also seen posing for a photo in which he was holding a U.S. Capitol Police riot shield and standing behind it. Video footage shows Sibick in the crowd at the mouth of the tunnel at the Lower West Terrace, where rioters and police engaged in violent combat for hours. At one point, Sibick is heard saying "Let me out" and leaves the crowd at that point.
According to prosecutors, Sibick misled federal investigators from their first interaction in January 2021, when he said that he had seen the attack on Fanone but didn't participate in it. He actually told federal investigators that he had tried to pull Fanone away from the crowd, but retreated because he "feared for his life and that of the officer."
Around one month later, federal agents interviewed Sibick again. This time, he admitted to grabbing Fanone's badge and radio. He initially told the feds that he carried them with him and "dropped them in a trash can on Constitution Avenue," but later said he needed to "recant" that statement because he actually took the items home with him to Buffalo.
He told investigators that he threw them in a dumpster behind a hotel. The agents, apparently not believing him, set up somewhat of a sting operation.
"On February 25, 2021, an agent sent SIBICK a ruse email stating that the security cameras at the Lenox Hotel were going to be checked to confirm SIBICK's statement that he disposed of the badge and radio in the dumpster," the probable cause affidavit said. "On February 26, 2021, SIBICK called the agent stating that he was distraught and 'wanted to do the right thing.' SIBICK stated that he did not dispose of the badge in the dumpster behind the Lenox Hotel. Rather, he had buried the badge in his backyard. SIBICK stated that he purchased a metal detector to find the badge, which he then dug up, and that he wanted to return it."
Sibick met the agent that night and gave him a muddied bag that contained Fanone's badge.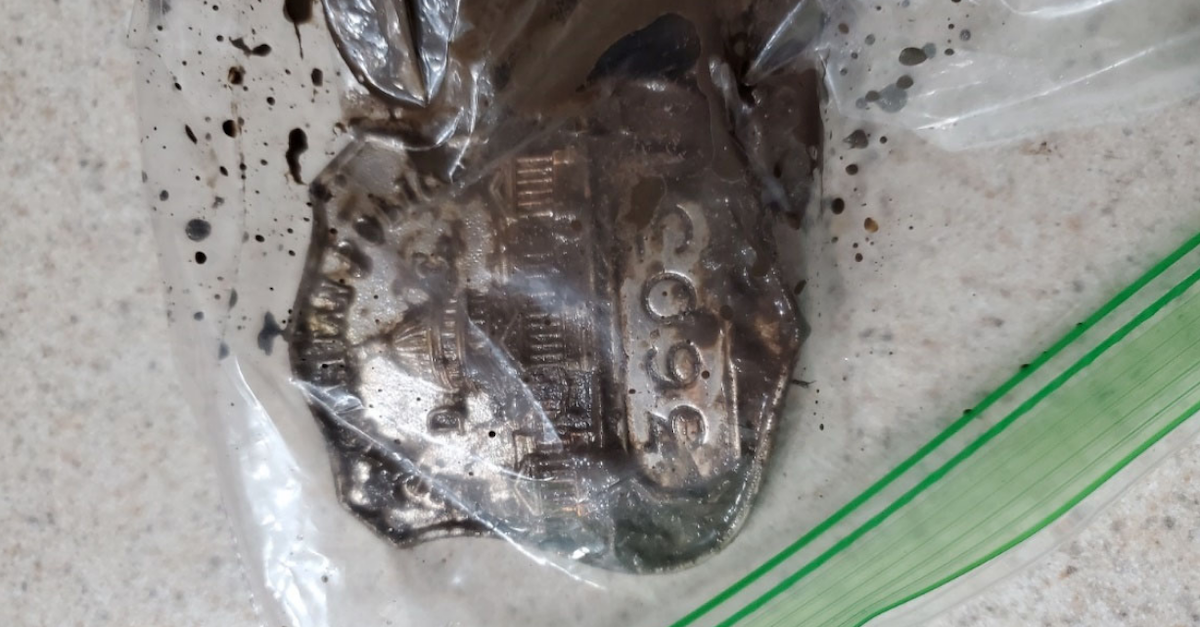 Sibick told the agents that he threw away the police radio. Court documents say that the agents were "unable to find any security cameras to confirm or refute" this claim.
Sibick faces up to eight years in prison on the assault charge. Because Fanone's badge has a value of more than $1,000, Sibick also faces a statutory maximum of five years on the theft charge.
Sibick was charged alongside Albuquerque Cosper Head and Kyle Young. Head, who had boasted "Hey, I've got one!" to the mob shortly before the attack on the officer, pleaded guilty in May to assault and was sentenced in October to more than seven years in prison.
Young also pleaded guilty in May to assault and was sentenced in September to just over seven years behind bars.
Rodriguez, who apparently admitted to federal investigators that he was part of the attack on Fanone, was charged separately and pleaded guilty in February to conspiracy and assault and is awaiting sentencing.
Have a tip we should know? [email protected]