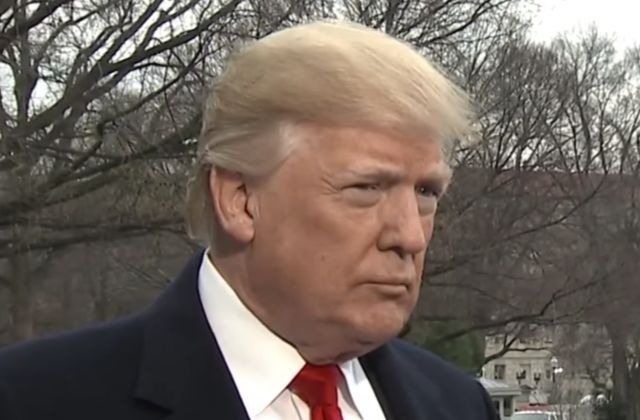 Despite saying for months that they were doing everything they could both to cooperate with and to move along the Special Counsel's investigation, and despite President Donald Trump declaring that he wanted to speak face to face with investigators, the president's lawyers are now taking a different tack with respect to Special Counsel Roberth Mueller's request for an interview. Specifically, the president's lawyers are claiming that the Special Counsel must meet a heightened threshold in seeking to interview Trump.
Presumably, Trump's lawyers are relying on a court decision in connection with the investigation of Mike Espy, President Bill Clinton's first agriculture secretary who resigned in 1994 amid an ethics scandal and independent investigation involving gifts. In that case, the D.C. Circuit Court of Appeals stated that a special counsel that subpoenas a president must show that the evidence it is seeking is "important to the ongoing grand jury investigation and [must demonstrate] why this evidence is not available from another source." In other words, the evidence (in the case of Trump, his interview) cannot be tangential to the main inquiry (obstruction of justice) and cannot be available elsewhere. In an investigation involving potential obstruction of justice by the president, that threshold is clearly met. The prosecutor needs to show the president acted with "corrupt intent" in taking certain actions and making certain statements. Interviewing Trump is the only way to truly glean his intent – a necessary element of one of the crimes Mueller seems to be investigating.
In evaluating whether Trump (or others in his inner circle) have obstructed justice by interfering or attempting to interfere with the national security investigation about Russian interference in the 2016 election, there is much evidence in the public record. Trump has already made plenty of statements both to the press and to third parties. There's the widely reported interview with Lester Holt saying that he fired FBI Director James Comey because of "the Russia thing," the reported statement to the Russian officials in the White House that firing Comey eased pressure from the Russia investigation and, perhaps most significantly, the reporting in The New York Times that Trump stated in the presence of several witnesses that he did not want Attorney General Jeff Sessions to recuse himself because he needed Sessions to protect him from the Russia investigation.
These statements and others, combined with Trump's actions (the drafting of the false cover story about the June 2016 Trump Tower meeting with the Russians, alleged attempts to obtain a loyalty pledge from Comey, and trying to dig up "dirt" on Comey to name a few), lend support to an obstruction of justice charge against President Trump because they point to the conclusion that Trump acted with "corrupt" purpose required by the criminal obstruction statutes — namely, to save himself from potential criminal exposure.
However, any prosecutor in any white collar case, especially a case involving claims as serious as obstruction of justice against a sitting president, must closely examine and evaluate the actor's intent by talking to the actor face to face. Indeed, the very reason Mueller wants to interview Trump, as I wrote previously, is the reason Trump should want to talk to him.
For President Trump, an interview with Mueller would be an opportunity to try and explain why these statements and actions have been misunderstood. For example, Trump could offer the explanation/argument that when he fired Director Comey it wasn't to protect himself from potential criminal exposure because he did not feel he had any; rather, it was to make the Russia investigation go away because he considered it a politically motivated side show that was hurting his presidency. If investigators were to believe this and other explanations Trump is likely to give, it could potentially make an obstruction of justice charge less likely.
Of course in all likelihood, an interview of Trump, who has a track record of not sticking to script and speaking in an off-the cuff, undisciplined manner is not likely to go well for him. Most likely, fear over how such an interview will go is the real reason why his lawyers are now trying to avoid the interview on the grounds that Mueller isn't entitled to it.
Miriam E. Rocah is a former Assistant United States Attorney with the Southern District of New York 2001-2017, a current Distinguished Fellow of Criminal Justice at Pace Law School, White Plains, NY, and has appeared as a legal commentator on MSNBC, Fios One/RNN and the Law&Crime Network.
[Image via CNN screengrab]
This is an opinion piece. The views expressed in this article are those of just the author.