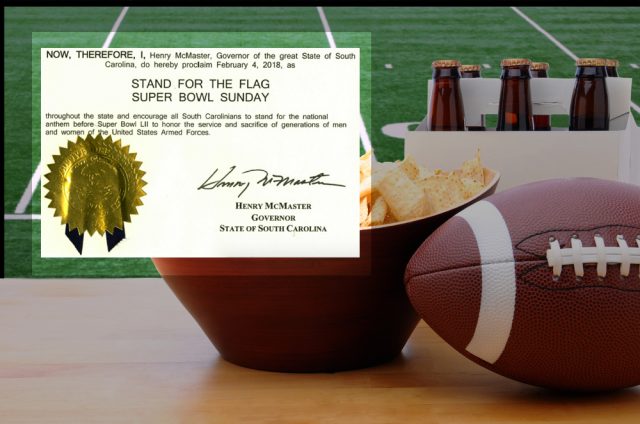 South Carolina Governor Henry McMaster on Wednesday issued an official proclamation announcing this coming Sunday, February 4, 2018 will be known as "Stand For The Flag Super Bowl Sunday."
A reference to the still-ongoing #TakeAKnee protest by NFL players against systemic American racism and police brutality, McMaster's proclamation begins subtly, claiming:
WHEREAS, the American Flag is the greatest symbol the world has ever known, standing for life, liberty, the American dream and the millions of American men and women who fought, and died, to defend it…
The proclamation then takes a provincial turn, noting the myriad "major military installations" currently located in South Carolina. McMaster's proclamation then goes on to note the number of current and retired military personnel located in South Carolina–presently in excess of 400,000–before moving back to the broadly patriotic mission at hand.  The proclamation continues:
WHEREAS, 'The Star Spangled Banner is our national anthem, its lyrics celebrating the American Flag and an historic victory won by brave Americans fighting and sacrificing to preserve our young nation; and WHEREAS standing for our national anthem prior to public events, gatherings or meetings recognizes and honors the service and sacrifice of generations of men and women of the United States Armed Forces; and WHEREAS, on Sunday, millions of people around the world will witness and watch one of America's most iconic sporting events, the Super Bowl.
McMaster's official missive ends thusly, "NOW, THEREFORE I, Henry McMaster, Governor of the great State of South Carolin, do hereby proclaim February 4, 2018 as STAND FOR THE FLAG SUPER BOWL SUNDAY throughout the state and encourage all South Carolinians to stand for the national anthem before Super Bowl LII to honor the service and sacrifice of generations of men and women of the United States Armed Forces."
And yes, all caps in the original.
[image via governor.sc.gov; Steve Cukrov/shutterstock]
FOLLOW COLIN KALMBACHER ON TWITTER: @COLINKALMBACHER
Have a tip we should know? [email protected]