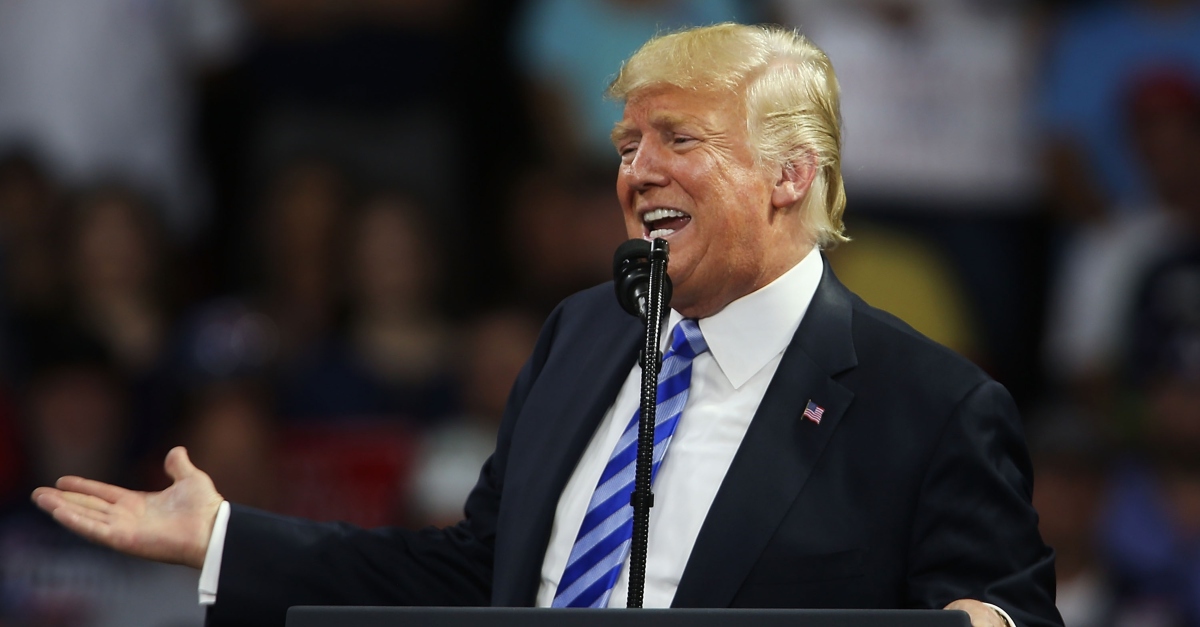 An extensive new report published by the Brookings Institute's Governance Studies program has analyzed potential crimes committed by the Trump Campaign. The crimes in question may not contain the word "collusion" in them, but they are, in effect, just that, according to the authors Barry H. Berke, Dani R.  James, Noah Bookbinder, and Norman Eisen.
Berke is a fellow at the American College of Trial Lawyers; James is a partner at the law firm Kramer Levin Naftalis & Frankel LLP; Bookbinder is executive director of Citizens for Responsibility and Ethics in Washington (CREW); Eisen is the chair of CREW, a senior fellow of Governance Studies at Brookings, and former Obama White House ethics lawyer.
The authors, responding to President Donald Trump's oft-used phrase "collusion is not a crime," admit that it's "in one sense correct," but clarify that "Collusion is not a single crime" but "a rubric that encompasses many possible offenses."
To that end, the report goes into an in-depth analysis of the following six crimes Special Counsel Robert Mueller may be looking at right now as part of his Russia investigation: Conspiracy to Commit Offense or to Defraud the United States, 18 U.S.C. § 371; Computer Fraud and Abuse Act 18 U.S.C § 1030; Federal Wiretap Act, 18 U.S.C. § 2511; Contributions and Donations by Foreign Nationals, 52 U.S.C. § 30121; Bribery of Public Officials and Witnesses, 18 U.S.C. § 201(b)(2); Misprision of Felony, 18 U.S.C. § 4.
The analysis of these crimes was made in the context of news reporting on three specific events central to the Mueller investigation: Russian interference in the 2016 election and whether Trump campaign had any advance knowledge of it or coordinated with it in any way; the 2016 Trump Tower meeting with a Russian lawyer for "dirt" on then-candidate Hillary Clinton that involved Donald Trump Jr.; former Trump campaign chairman/convicted felon Paul Manafort and President Trump's son-in-law Jared Kushner; and contact between members of the Trump campaign and WikiLeaks ahead of the 2016 DNC hack (see: former Trump campaign adviser Roger Stone)
The fundamental contention of the analysis is that the conspiracy is the mother of all the other crimes.
These were the elements of conspiracy as presented in the analysis: Two or more people knowingly and voluntary pursuing an illegal goal (conspiracy) in "an overt act by one or more of the conspirators in furtherance of the conspiracy." The next level of that is to prove there was "knowing participation in the scheme with intent to defraud the United States" by two or more people in an overt act.
If that can be proven, everything else could neatly fall into place, the authors argue. Computer fraud would pertain to the alleged hack of the DNC by Russian military intelligence officers posing as the fictitious persona Guccifer 2.0. The Federal Wiretap Act could be implicated by the ensuing disclosure of stolen emails to WikiLeaks.
The Contributions and Donations by Foreign Nationals charge could hinge on the infamous Trump Tower meeting and whether the campaign the Trump campaign "deliberately met with Russian nationals after being told that they had information on the Clinton campaign as part of Russia and its government's support for Trump, and hid this fact." A contribution could simply be money or, more broadly, a "thing of value." We'll return to this in a moment.
"Further investigation could strengthen this case, develop evidence around other instances of Russian support, and could point to liability for other members of the Trump campaign, including possibly President Trump himself," they authors argue.
The implication of the bribery statute hinges on whether there was a "quid pro quo" in return for a "thing of value." The authors admit that "there does not presently seem to be a sufficient factual basis to support a bribery charge." They wonder, however, if Trump's pro-Russia stances "both as nominee and president" could be construed as a quid pro quo for the "thing of value" (Russian interference, dirt, material support of Trump etc.).
Finally, Misprision of Felony boils down to whether there was an effort to knowingly conceal participation a crime (again, the arch-crime being conspiracy).
The authors conclude by saying that "[w]hile there may not yet be definitive proof that the Trump campaign or its associates engaged in criminal collusion with Russia, there are legitimate questions regarding whether the president and those close to him worked with or alongside the Russians in their efforts to interfere in the 2016 presidential election, questions that demand answers."
"The American people have a fundamental right to know if the president of the United States or those close to him worked with Russia to win the election and undermine American democracy—in violation of our criminal law," they said.
Special Counsel Mueller is currently in a bit of a holding pattern until Election Day, at least when it comes to making any major announcements in his investigation. It remains to be seen what will come out next, but it's been reported that Mueller is "close to rendering judgment on two of the most explosive aspects of his inquiry: whether there were clear incidents of collusion between Russia and Donald Trump's 2016 campaign, and whether the president took any actions that constitute obstruction of justice."
In the meantime, Mueller has turned up the heat in a noticeable way on the aforementioned Roger Stone in attempt to get to the bottom of his connection to WikiLeaks.
[Image via Spencer Platt/Getty Images]
Have a tip we should know? [email protected]