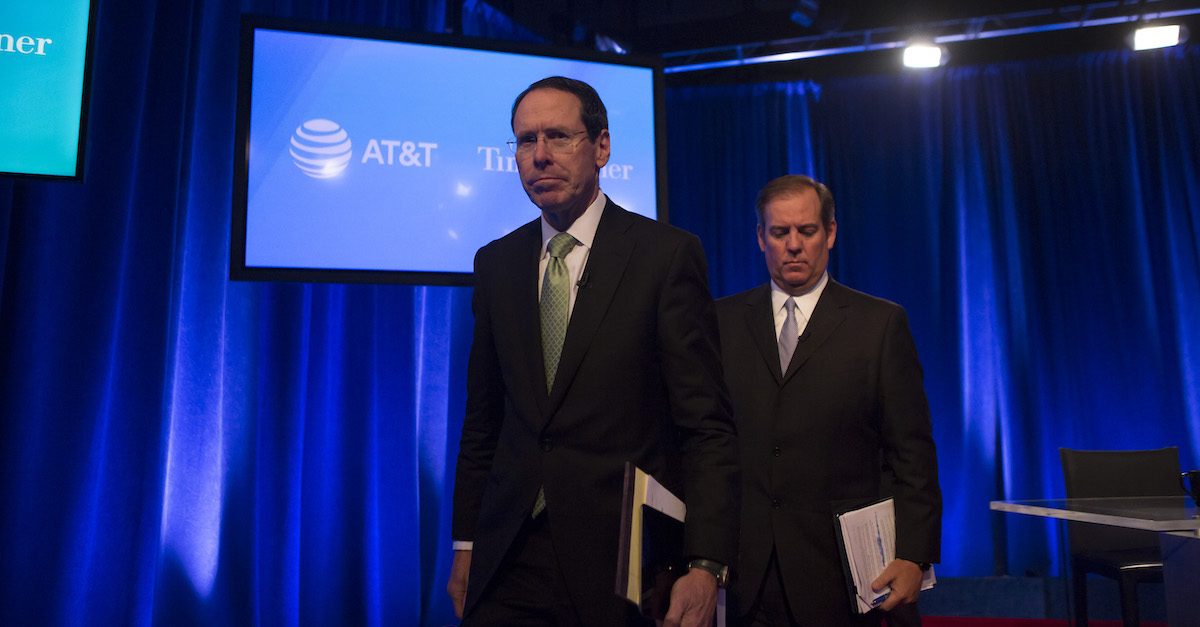 Now that U.S. District Judge in the District of Columbia Richard Leon has announced he will decide on a proposed AT&T-Time Warner merger by June 12, antitrust law experts are weighing in on the merits of the Government's case against the alliance.
Telecoms giant AT&T and Time Warner have hoped for their $85 billion merger to go off without a hitch, but there is already some expert chatter that the Department of Justice (DOJ) has made a good enough case to prevent it from happening. The companies  pushed back the termination date of their deal to June 21 at the suggestion of the judge, who said he would need time to decide on the complex case.
At least one renowned antitrust professor has already said that he thinks the merger will be blocked.
University of Pennsylvania Law Prof. Herbert Hovenkamp, while granting that this is a "close call," told the New York Post that he believes the Government has "met its burden." He also said the proof of AT&T-Time Warner's intent is not what the Government is going for because this is exactly what antitrust law is about: preventing the possibility of a major acquisition harming competition by significantly lessening it or by eliminating it through a monopoly. Daniel Petrocelli, the lead attorney for AT&T-Time Warner, said at the end of April that the "Government could not and did not meet its burden of proof."
We asked several other law professors for their thoughts on how this case might shake out, but before we get to their responses — and they do not all agree — let's just have a brief crash course in what antitrust law is, says and what the Government is arguing.
As the Federal Trade Commission (FTC) lists on its antitrust fact sheet, antitrust law began with the Sherman Act in 1890 and was followed by the Clayton Act in 1914. In 1914, the FTC agency was also born.
15 U.S. Code § 18 states that companies subject to FTC rules and regulations, as AT&T and Time Warner most definitely are, may not merge if "the effect of such acquisition may be substantially to lessen competition, or to tend to create a monopoly."
In a filing of proposed conclusions of law, the Government said that the AT&T-Time Warner merger would violate section 7 of the Clayton Act (15 U.S.C. § 18) in three ways:
[B]y empowering the merged entity (1) to raise the costs of AT&T's rivals, (2) to restrict AT&T's rivals' use of Time Warner's HBO network as a competitive tool, and (3) to impede innovation unilaterally or through coordination with Comcast–NBCU (NBC Universal).
The Government also said that the "proper remedy for the Section 7 violation" is "a permanent injunction" blocking the merger. So what do the experts think? As you can see below, they are a bit divided.
1) The Government's case is in trouble.
Prof. Keith N. Hylton, a William Fairfield Warren Distinguished Professor of Boston University and Professor of Law at Boston University School of Law, said that "It seemed at the end of the trial that the Government's case wasn't going well."
"It is more likely than not that the Government is going to lose," Hylton said, noting that the judge's comments indicated the Government's case was "facing difficulties."
Hylton said that while traditional standards mean the defendant has the greater burden of proof that no harm will result from the massive corporate shift, the Government is also dealing in probabilities and possibilities with its argument.
He said AT&T offered guarantees they wouldn't use the content side (Time Warner) to leverage higher prices for the distribution side (AT&T) because it would hurt more than help. He also said two arguments AT&T made was that there was no market incentive to do that and that business "efficiencies" will create greater value for consumers.
2) The Government has got its case under control, but there's also another possible outcome.
Temple University Law Prof. Salil K. Mehra said that he believes the "Government is going to win."
He pointed to the Government's expert witness, UC Berkeley Professor Carl Shapiro. Shapiro, as Variety reported, laid out his economic model in April saying that a AT&T-Time Warner merger would lead to a net increase in prices $436 million-per-year for "pay-TV subscribers."
AT&T replied that this amounts to 45 cents increase per month. In that reply is also the admission that prices will indeed go up. Mehra said AT&T's response was "in the weeds" and "nitpicky" about rates increasing and that this wasn't a good thing.
"I predict the Justice Department will win. Justice has to show a substantial lessening of competition, and that is generally done by testimony supported by analysis showing that prices to consumers would likely rise. Justice appears to have done that here," he said.
He also said that there are a few ways this case can go: complete Government victory, complete AT&T-Time Warner victory or some sort of modified approach whereby a "moderate structural remedy" could push the deal through.
Divestiture of the Turner channels was one example he gave of a "structural remedy." Whether AT&T-Time Warner sees that is "moderate" is not clear, but they may not have a choice.
That there is a third way is consistent with reporting on the subject. As two experts told CNN, Judge Leon has broad powers in this case.
"There's really no limit on the scope of what the judge can do," former senior DOJ antitrust attorney Jeffrey Blumenfeld said. Jonathan Pitt, described as the co-chair of Williams & Connolly LLP's antitrust practice group, also said Judge Leon very well may decide on something that isn't a merger block and doesn't cater to all of what AT&T-Time Warner seeks.
"A judge in these kinds of cases has very broad equitable power to fashion the remedy that he thinks will best address any potentially lessening of competition that could be occasioned by the merger," he said.
The Washington Post pointed out that Judge Leon also has a history of choosing third ways in big mergers like this one.
He approved the Comcast-NBCUniversal merger in 2011, but not before making the parties settle on his conditions. One of those requiring audits.
3) This one could go either way.
Rutgers Law Prof. Michael Carrier called the impending decision on the merger an "important" one. He said the "vertical" merger case is not one the DOJ has explored for some time now. He also said both sides have offered strong arguments.
"This is an important trial. The Department of Justice brought a case based on a 'vertical' merger (since AT&T and Time Warner were not direct competitors), which it had not done in years," he said. "And while it offered a strong argument that AT&T could use the merger to increase price and harm potential rivals, the merging parties poked some holes in the Government's argument. So this really could go either way."
Carrier indicated that the merging parties poked holes in the Government's economic model argument when they said the argument that prices would go up contained assumptions that could be questioned.
Judge Leon did dispute Shapiro's mention of the Turner networks, which Time Warner also owns, as a way to leverage prices. Turner channels include CNN, TNT, Turner Classic Movies, Cartoon Network and TBS. The Judge was not convinced these networks will "take orders" from AT&T, which owns DirecTV.
Shapiro did say that he made an "assumption," but that it was based on "the standard of review" for mergers. Shapiro is a former Deputy Assistant Attorney General for Economics in the Antitrust Division of the DOJ.
AT&T reached an agreement in Oct. 2016 to buy Time Warner in a cash-and-stock deal, a deal which both companies have of course said makes great business sense, as USA Today reported. AT&T chairman and CEO Randall Stephenson called it a "perfect match."
"This is a perfect match of two companies with complementary strengths who can bring a fresh approach to how the media and communications industry works for customers, content creators, distributors and advertisers," he said. "Premium content always wins. It has been true on the big screen, the TV screen and now it's proving true on the mobile screen."
Time Warner Chairman and CEO Jeff Bewkes also said the deal would spur on innovation.
"Joining forces with AT&T will allow us to innovate even more quickly and create more value for consumers along with all our distribution and marketing partners," he said.
It remains to be seen if the Court will think agree if this is a "perfect match," the opposite or something in between.
[Image via Amir Levy/Getty Images]
Have a tip we should know? [email protected]