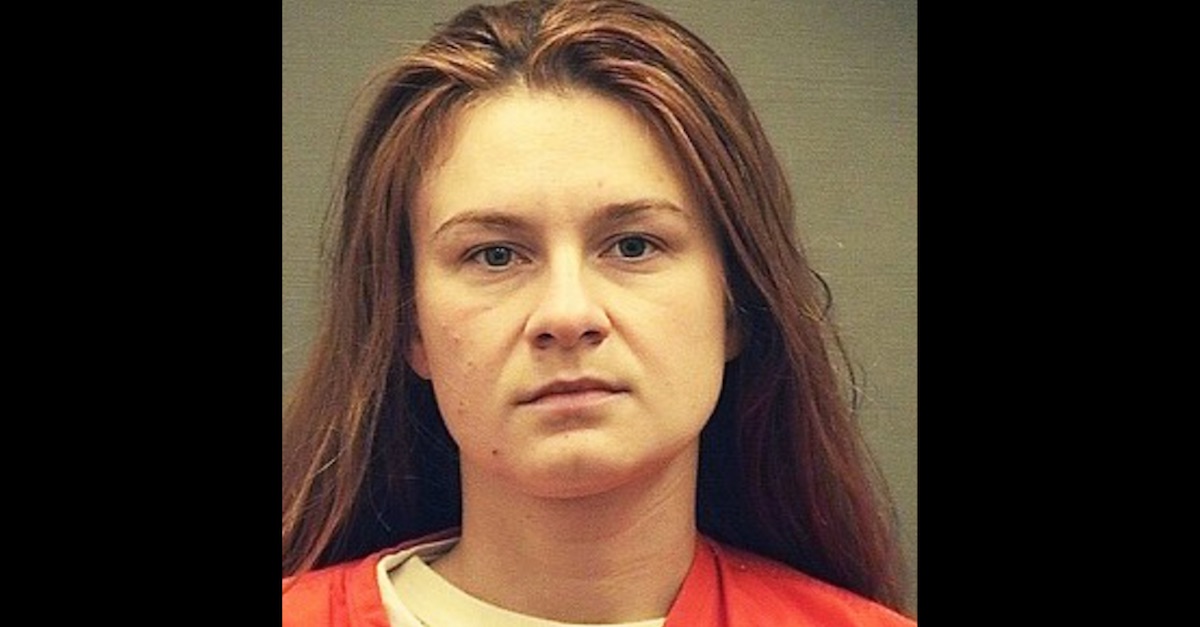 The Russian national accused of illegally conspiring to influence American politics officially changed her plea to guilty as expected on Thursday. Maria Butina pleaded guilty to one count of a conspiracy to act as a foreign agent as part of a plea deal that includes cooperation with the government. Butina could be punished with up to five years in prison.
Judge Tanya Chutkan agreed to the plea change and found that Butina was "fully competent to make this plea." Butina admitted that she traveled to the U.S. to attend an NRA convention, met members of the Republican Party and eventually asked her Russian official handler, believed to be Alexander Torshin, whether she should develop a relationship with President-elect Donald Trump's inner circle. The now familiar phrase used here is that Butina admitted to doing this "under the direction" of the Russian official.
Torshin, a high-ranking official of Russia's Central Bank, is considered a political ally of Russian President Vladimir Putin.
That Butina was going to change her plea to guilty comes as no surprise, as in recent days, there were reports that the accused Russian spy was going to change her plea. Furthermore, she had previously maintained her innocence. Changing your strategy from innocent to something else was a clear sign that a guilty plea was in the works.
The news of the "change of plea hearing" came down on Monday and the preview of what was to come turned out to be accurate:
Per ABC News:
[Butina] admits, as part of the deal, according to a copy obtained by ABC News that is expected to be filed to the court, that she and an unnamed "U.S. Person 1," which sources have identified as longtime Republican operative Paul Erickson, with whom she had a multiyear romantic relationship, "agreed and conspired, with a Russian government official ("Russian Official") and at least one other person, for Butina to act in the United States under the direction of Russian Official without prior notification to the Attorney General."

Based on the description, the "Russian Official" appears to be Alexander Torshin, deputy governor of the Russian Central Bank and a close ally of Russian President Vladimir Putin. Under his direction, the agreement said, she "sought to establish unofficial lines of communication with Americans having power and influence over U.S. politics."
The interesting development here was that Butina's GOP operative, her NRA-connected boyfriend Paul Erickson, was implicated in her crime. Erickson allegedly "agreed and conspired" with Butina to "establish unofficial lines of communication with Americans having power and influence over U.S. politics."
Erickson issued a statement on Tuesday through his lawyer Bill Hurd to deny that he has ever done anything to hurt America.
"Paul Erickson is a good American. He has never done anything to hurt our country and never would," Hurd said. Erickson, a U.S. citizen, has reportedly received a "target letter" from prosecutors and may be charged for acting as a foreign agent.
As mentioned, the government is seeking a maximum penalty of 5 years, but given that Butina is cooperating and Erickson appears to be a target, that number could come down.
One other thing we learned from the hearing is what that sudden, sealed, and unexplained conference call between the judge, Butina's lawyers and government lawyers was about.
Judge Chutkan revealed that the government had recordings of Butina carrying on a jail phone call with a journalist, a fact that raised questions as to whether the gag order on the case had been violated. This could also explain why, immediately after that phone call, Chutkan entered an order appointing federal public defender for the District of Columbia A.J. Kramer as advisory counsel to Butina. Butina's lawyer Robert Driscoll had already been scolded for extrajudicial statements about the case.
Butina is now the first Russian national to plead guilty to a crime related to influencing the 2016 election. It should be noted that this was separate from Special Counsel Robert Mueller's investigation.
Butina could be deported after doing time, but may also be eligible for supervised release if she stays in the U.S., the judge suggested. A status hearing has been set for Feb. 12. She waived her rights to trial and appeal as part of the plea.
You can read Butina's plea agreement below.
Maria Butina's plea agreement by Law&Crime on Scribd
[Image via Alexandria Detention Center]
Have a tip we should know? [email protected]