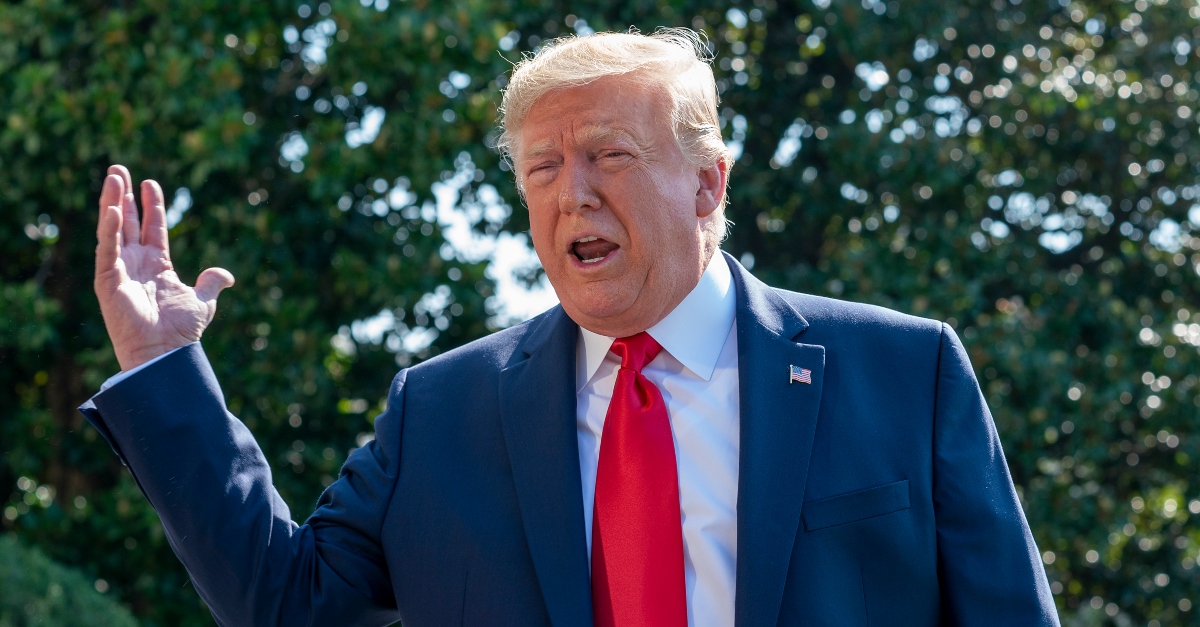 President Donald Trump is getting flak for appearing in a photo with the orphaned son of two victims in the El Paso mass shooting, but the child's uncle said the boy's late father was "very supportive" of POTUS. Andre Anchondo's brother Tito Anchondo was reportedly at the president's side during the picture with the infant boy. He told NPR in a Thursday report that their family had always been Republican conservatives. The surviving Anchondo brother acknowledged the controversy over whether Trump's rhetoric on immigration contributed to inciting the violence, but defended POTUS nonetheless.
"I can see why people would believe that," he said. "And yes, maybe he said things in bad taste. But I think people are misconstruing President Trump's ideas."
A gunman killed 22 people–including Andre Anchondo and wife Jordan Anchondo–and injured dozens of others at a Walmart on Saturday, cops say. The suspect, who was taken alive by police, is believed to have possibly posted a manifesto online. This document made clear the motive behind this shooting was racist: The writer articulated a clear hatred for immigrants, Hispanic people in particular.
This incident set off another Trump-related controversy. The president, after all, launched his campaign by attacking immigration from Mexico. A regular thread through his administration is whether he's soft on, condones, or even inspires acts of white supremacist violence through his rhetoric.
To say the least, the president is pro-active about attempting to shape public view of his behavior, and his controversial visit to the hospital is one of them. The optics on this reached a fraught point because of the picture with the infant boy.
From the First Lady's twitter account, this appears to be the baby both of whose parents died shielding him from the El Paso shooter. The baby in question was discharged the day before and brought back for Trumps visit. Child is not id'd on @flotus account. But appears to… pic.twitter.com/17L6XQROMS

— Josh Marshall (@joshtpm) August 9, 2019
I interviewed the kid's grandfather this afternoon and he confirmed that the White House sent two people to his home to ask him to be present during the visit. No one arranged for the photo beforehand but FLOTUS decided to hold the baby, who has a broken hand…

— David Alandete (@alandete) August 9, 2019
Critics lambasted the pictures, and the circumstances around it.
I am genuinely confused and horrified by this image. Am I taking this the wrong way?

Why is Trump and Melania posing, GRINNING, and giving a thumbs up with the infant who's parents were murdered by the shooter in El Paso.

Seriously… WTH is going on? pic.twitter.com/0YA2hIQeP3

— Bryan William Jones (@BWJones) August 9, 2019
Trump taking a smiley photo with an infant whose parents died in a mass shooting inspired by Trump's anti-immigrant words is what nightmares are made of. The photo itself is physically sickening. The fact that Trump pulled the kid from the hospital to take it is unconscionable.

— Jena Friedman (@JenaFriedman) August 9, 2019
The president vehemently denies wrongdoing on these matters, and often attributes mass shootings to mental illness, not political motivations as in El Paso, nor on easy access to guns.
"Guns should not be placed in the hands of mentally ill or deranged people," he wrote on Friday.
Alleged gunman Patrick Crusius is charged with capital murder, and prosecutors said they're pursuing the death penalty. His attorney of record did not immediately respond to a Law&Crime request for comment.
[Image via Tasos Katopodis/Getty Images]
Have a tip we should know? [email protected]