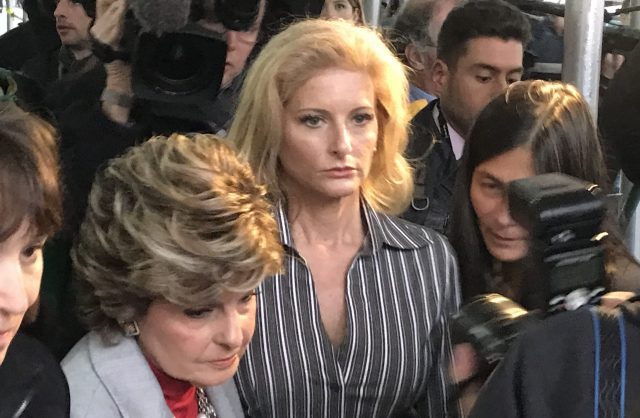 Oral arguments took place in a Manhattan courtroom on Tuesday, for Summer Zervos' defamation case against President Donald Trump. Zervos alleges that Trump made false and damaging statements about her, when he claimed that allegations she made that he sexually assaulted her in 2007 were fabrications. President Trump's personal attorney Marc Kasowitz went on the record on his behalf, arguing, in part, that Zervos' claims were part of a political vendetta to secure a Clinton presidency. Zervos is represented by celebrity attorney and women's advocate Gloria Allred, but Allred's local co-counsel Mariann Meier Wang handled the arguments.
The claims and questions focused mainly on whether Trump should be subject to this litigation while in office. Supreme Court precedent set in Clinton v. Jones said that a sitting president can face civil litigation, but that a court has discretion in deciding whether or not a matter should be held off until after the president's term is over.
This decision only applied to federal courts however, as specified in one of the case's footnotes.
Kasowitz was quick to argue that Clinton v. Jones doesn't govern the current case, which is taking place in New York state court.
"A state court may not exercise jurisdiction over the president of the United States while he or she is in office," he said during his argument.
Judge Jennifer Schechter asked if any case law supports his argument. Kasowitz admitted that there is none, but pointed to the Clinton v. Jones footnote.
Kasowitz's argument on this issue centered on the Supremacy Clause of the Constitution. He claimed that constitutionally, a state court could not exercise control over the president.
Judge Schechter then asked if Kasowitz was saying that she as a state court judge couldn't hear a state court case.
"Not with respect to the president, your honor," he replied.
Zervos' attorney Mariann Meier Wang argued that the Supremacy Clause wasn't at play here, because there's no conflict between federal and state law in this case.
"By presiding over this case, would I be exercising direct control over the president?" Judge Schechter asked.
"No, you would not," Wang answered.
Judge Schechter and Wang then discussed the issue of whether or not litigating this case might interfere with the president's schedule and ability to do his job. The judge asked if Zervos' team would agree to videotaped depositions. Wang said yes, and that she would work out arrangement with Trump so as not to "intrude on his official duties."
Wang emphasized the importance of having this case move forward now, as opposed to holding off until after Trump is out of office. Wang said that could be seven years from now, and valuable evidence could be lost in that time.
Next, Wang turned to the defamation issue, arguing that calling a report about a sexual abuse allegation false is defamatory. She added that Trump didn't just say that the report was false, he also accused the report of being motivated by a desire for Hillary Clinton to win November's election. Judge Schechter asked if that statement was directed at Zervos, and Wang said yes, because it referred to her by implication.
One issue that Kasowitz raised in a previous court filing is that California's Anti-SLAPP (Strategic Lawsuit Against Public Participation) law should apply, because Zervos' alleged injury occurred in California. That law is geared towards knocking down frivolous lawsuits meant to stifle speech. Judge Schechter asked Wang if that law should apply here. Wang said no, arguing that it's a procedural law and that because this is a New York case, New York law should apply. She mentioned the Erie doctrine, well-known to first-year law students, which governs choice of law issues in federal cases, and said because this is a state case, it does not apply.
When Kasowitz began his rebuttal, Judge Schechter asked him about the Anti-SLAPP law, and Kasowitz insisted that it should apply. When the judge asked if any other states apply the California law, however, Kasowitz admitted, "Not that I'm aware of, Your Honor."
Finally, Kasowitz tried to argue that Trump's remarks about Zervos' allegations are protected, as it was part of a political conversation that Zervos started.
"She injected herself, she instigated a debate," he said, saying that the allegations were "purely political," because they were made weeks before the election, and meant to damage Trump at the polls.
Judge Schechter said she would take both sides' arguments into consideration before issuing her decision, but she did not indicate when that would take place.
Allred addressed reporters after the hearing, commending the judge, saying she was "very well prepared" in questioning Kasowitz on his claims. Allred hesitated to discuss what she thinks Zervos' chances would be should the case go to trial, focusing on the issue at hand, which is whether the court will allow it to proceed at this time.
[Photo credit: Ronn Blitzer]
Have a tip we should know? [email protected]