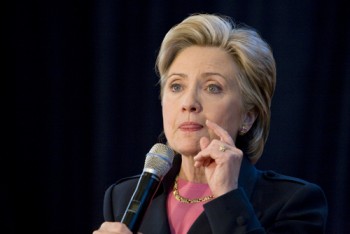 The State Department and Judicial Watch, a conservative legal advocacy group, reached an agreement on a longstanding dispute surrounding the questioning of several individuals who worked as top aides to Hillary Clinton while she served as Secretary of State.  The Joint Proposed Order was submitted by the two parties late on Friday to U.S. District Court Judge Emmet G. Sullivan, who is presiding over a Freedom of Information Act (FOIA) lawsuit brought by Judicial Watch over Clinton's use of a private e-mail server.  In February, Judge Sullivan granted Judical Watch's request to conduct narrowly tailored discovery into the issue of whether the State Department sought to help Clinton thwart open-records laws through the use of her private e-mail server.
Under the terms of the agreement, the scope of permissible discovery will be limited to questions about the "creation and operation of clintonemail.com for State Department business as well as the State Department's approach and practice for processing FOIA requests that potentially implicated former Secretary Clinton's and Ms. Abedin's emails and State's processing of the FOIA request that is the subject of this action."
Furthermore, the Joint Proposed Order states Judicial Watch is not entitled to question the aides about any matters unrelated to "whether State conducted an adequate search in response to [Judicial Watch's] FOIA request."  This provision specifically bars Judicial Watch from asking questions about the "storage, handling, transmission or protection of classified information … and any pending FBI or law enforcement investigations."
The agreement also grants the State Department's request that the court allow for a three day period to review any deposition transcripts before they are made public, in which time the State Department may file a motion for a protective order asking the court to prevent the release of certain testimony if it relates to classified information or information about pending investigations.
Assuming Judge Sullivan approves this order (judges almost always sign joint proposed orders), it paves the way for the questioning of several senior Clinton aides, including Patrick M. Kennedy, Cheryl Mills, Huma Abedin and Bryan Pagliano.  The agreement calls for the depositions to take place within eight-weeks of the judge singing the order.
This makes for a busy next couple of months for the Clinton Camp with regards to questioning over the private e-mail server.  Several media outlets have reported that the FBI is also close to wrapping up its investigation into the Clinton e-mail matter and is set to interview Clinton and her aides in coming weeks.  Additionally, a second federal judge also granted Judical Watch's request to conduct discovery on the Clinton server issue in separate FOIA lawsuit.  Finally, Sen. Chuck Grassley recently submitted a series of questions to Clinton that he hopes to have answered about the possibility that the Romanian hacker 'Guccifer' may have also hacked her e-mail account.
[image via shutterstock]
Have a tip we should know? [email protected]