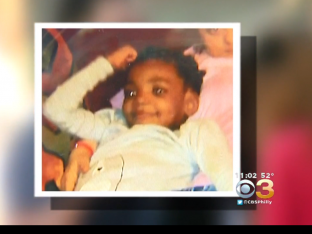 A 4-year-old girl is dead after she was shot in the face on Saturday in her home in the violent Kensington neighborhood of Philadelphia.  Police say she was not the victim of a stray bullet or gang violence, rather she was shot by her 5-year-old brother with a handgun left unsecured that was owned by their father.
Capt. James Clark, who works for the Philadelphia Police homicide division, told reporters that investigators recovered a semiautomatic pistol from inside the home but no arrests had been made as of 9:00 p.m. on Saturday night.  According to Clark, investigators have been unable to locate the girl's father, Maurice "Stephon" Phillips, 30, in the aftermath of the shooting.
"We desperately need to find the father, who for whatever reason, fled the scene," Clark told reporters.  "We're looking for him."
According to the Philadelphia Inquirer, Phillips' Facebook page contains several photos of weapons, including a pistol with a box of hollow point bullets and possibly an assault rifle, along with pictures of several children.
Several neighbors interviewed by reporters in the aftermath of the Saturday afternoon shooting incident identified the girl's mother as Tera Riddick.  Neighbors said the girl's parents had always been very protective of all six of their children, rarely allowing them to play outside because of violence in he neighborhood.
KYW, a CBS affiliate in Philadelphia, reported late Saturday that Phillips was eventually detained and was being questioned at police headquarters.
According to the Law Center to Prevent Gun Violence, a California based non-profit group to promote gun control, Pennsylvania does not have a state law to prevent children from having unauthorized access to firearms.
UPDATE:
The local CBS affiliate in Philadelphia is now reporting that "a father" has confessed to accidentally shooting his daughter on Saturday inside the family home. Initial reports indicate that the man who confessed is the same individual who fled the home after the shooting, but authorities have not officially released his name at this time.
[image via screengrab]
Have a tip we should know? [email protected]