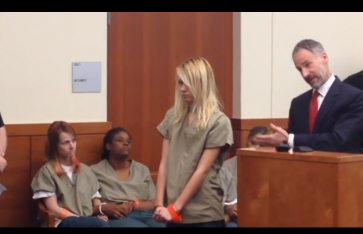 Marina Lonina, the 18-year-old Ohio teen accused of livestreaming the rape of her 17-year-old friend on the app Periscope, appeared in court on Friday where she pleaded not guilty to several charges related to the incident.  At the hearing, Lonina's attorney suggested that his client filmed the incident to use as evidence against her friend's alleged attacker.
Lonina's lawyer, Sam Shamansky, told the court his client was a regular presence on Periscope, often livestreaming her daily activities on the app, and he confirmed that she did livestream the incident that evening.   However, Shamansky said she was actually trying to get her friend out of the situation and the video evidence proves it.
"She does everything possible to contain the situation even to the point of asking while it's being filmed to these Periscope followers, 'What should I do now? What should I do now?'" Shamansky told the court.
Franklin County Prosecutor Dan O'Brien rejected these claims, telling the court that Lonina is only briefly heard on the video trying to help, while the victim is said to be heard repeatedly calling out "stop and "no" during the alleged assault.  O'Brien did concede that Lonina told police she recorded the incident for evidence, but he says she only made those claims after she was arrested.  O'Brien suggested that whatever her initial intentions may have been in recording the video, she seemingly became caught up in all the "likes" it received and didn't follow through on getting help to her friend.
"She got, I guess, taken up with all the 'likes' that her livestream was getting and therefore continued to do it, and did nothing to aid the victim," O'Brien said.
WATCH:
According to the New York Daily News, the attorney said Lonina and her friend (the alleged victim) met the accused rapist, Raymond Gates, the day before the incident at a local mall where he bought them vodka.  All three persons involved in the incident are of Russian decent, according to the prosecutor.  He also added that the comments in the video are also in Russian.
The judge set Lonina's bond at $125,000 and Gates, who also pleaded not guilty, had his bond set at $300,000.  A public defender representing Gates declined to comment to reporters.
[image via screengrab]
Have a tip we should know? [email protected]